oh No, This is not a result of a fight with the barber, nor did he pay less. He is a high cast Brahmin performing death rites at Banaras. The priests shave their heads in different styles, leaving more hair, many styles there. You would have seen HARE KRISHNA crowd chanting and dancing on the streets with shaven heads and little hair dangling behind.
These guys are performing post death rituals. Buying a ticket to heaven for the departed soul, its quite expensive and these Pundits, priests play with their guilt.

We treated our dad badly, here's some money can you send him to heaven ?

oh yea ! twenty thousand rupees

what ? i don't have that kind of money

fifteen ?

Ten

ok Done. But your father will go to heaven in economy class, no comforts.
How much is first class ?
Fifteen.
aaaah ! sorry dad, money is useful here, vokkay send him in economy, second class. Do you have third class ?

no toilet facility in second class
its ok, Dad was always constipated anyway.


Yeah i know, its been a while

What was i doing ?

Mostly nutting, some work, a little money camed, i traveled, i am fine, 80% fine, i was not well for some time.

nuttin serious, juss cold fever cough, avoiding any medicine traveling with fever, not a good idea,
silly meee.......
y' know i am not a sensible guy.





why shaved heads all of a sudden after a long silence ?
i know this post is very rude.


i have been getting lot of mail requesting pictures, shaved heads, roads, distance, temples, places. i'll be writing some information kind of posts and stay away from annoying you

for a while.

i dun knows why so many are interested in shaved heads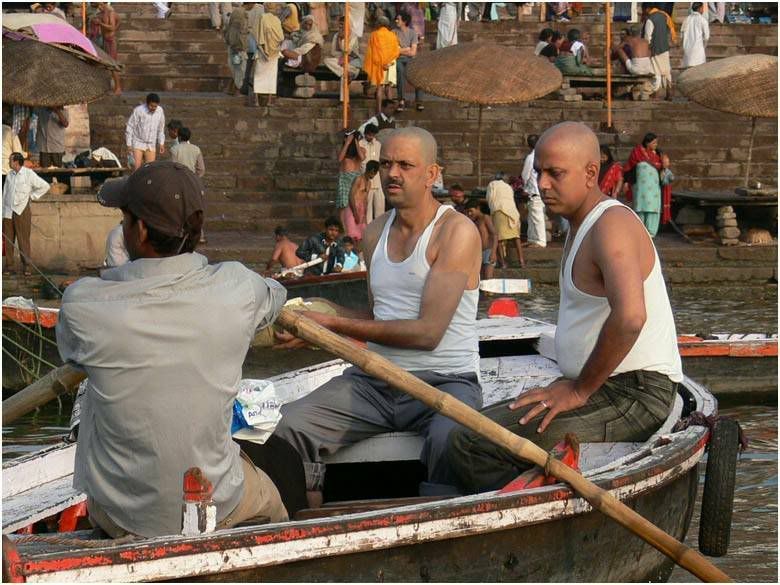 Shaving of heads is mostly connected with post death rituals.

it has to be post death, there can't be a pre death ritual.
oh na na na, pre death ritual is called murder


The chap is holding the ashes to be immersed in the river Ganges thus polluting the river.




Many South Indians go to temples like Tirupati to shave their heads after fulfillment of a vow




'if i get a green card i'll shave my head at Thirupati temple before i board a flight to the US'


hmmm... 'Not a good idea' friends advise. 'Go to US report for work, make some money and you can always come back to Thirupati temple to shave your head.


They never forget. They always come back to fulfill their promise to god.
There are a few adjustments with god


Shaving of head is a kind of sacrifice.

is it ?

i dun knows
buttoo women shaving their heads is a huge sacrifice.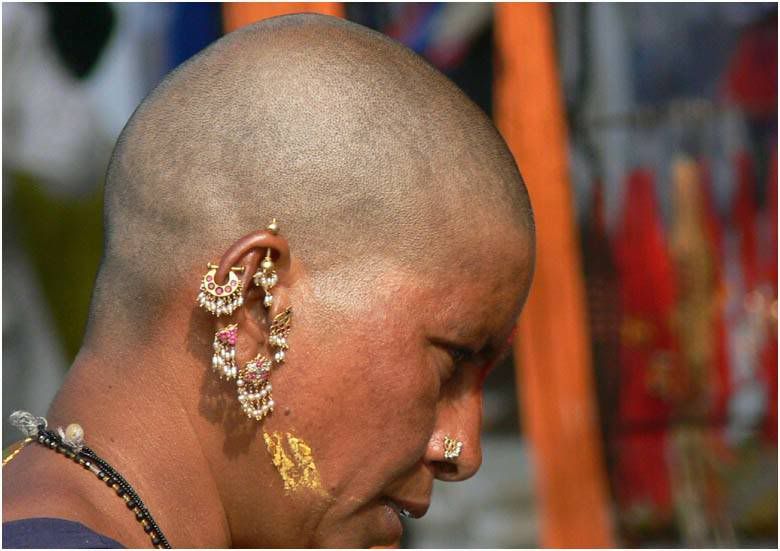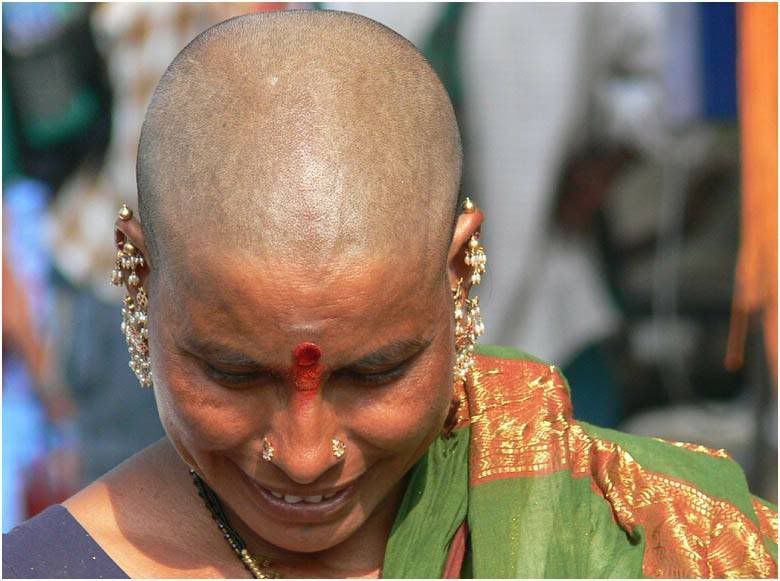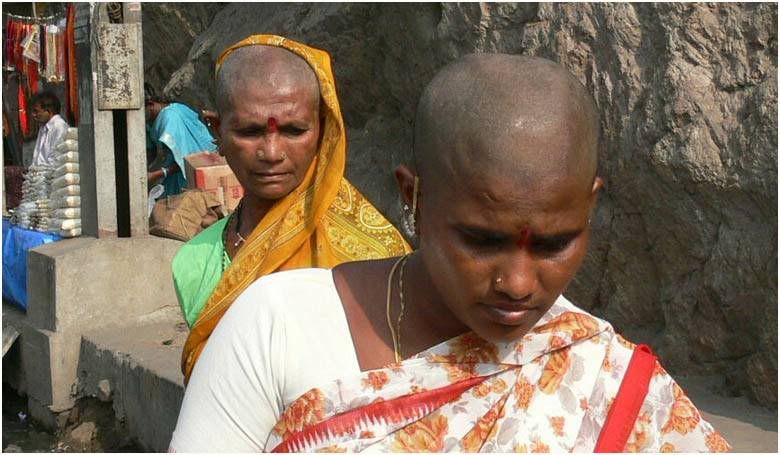 .
Women shave their heads too. The temples collect all the long hair and sell them to wig makers. Tons of dem, in truckloads... i am not joking, Serious.

What ? you dun beleeve me ? .... its bijness, its money, lot of money there.

Hoye'....
You better believe me !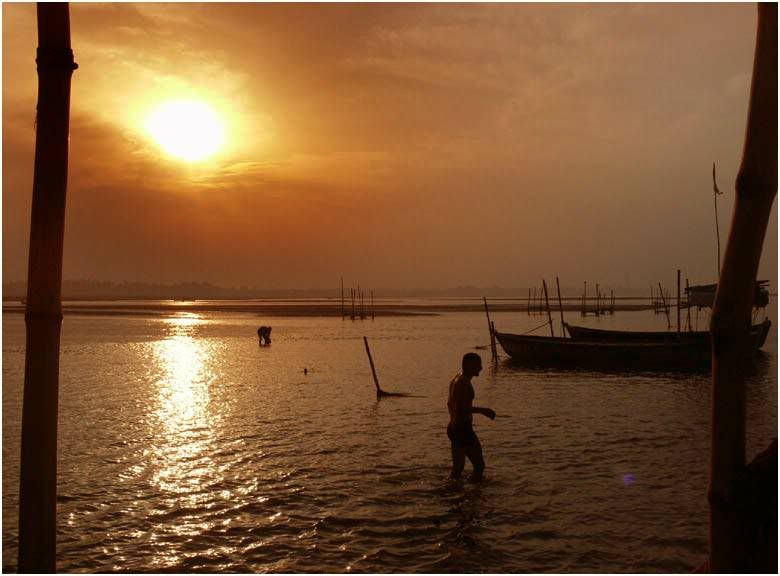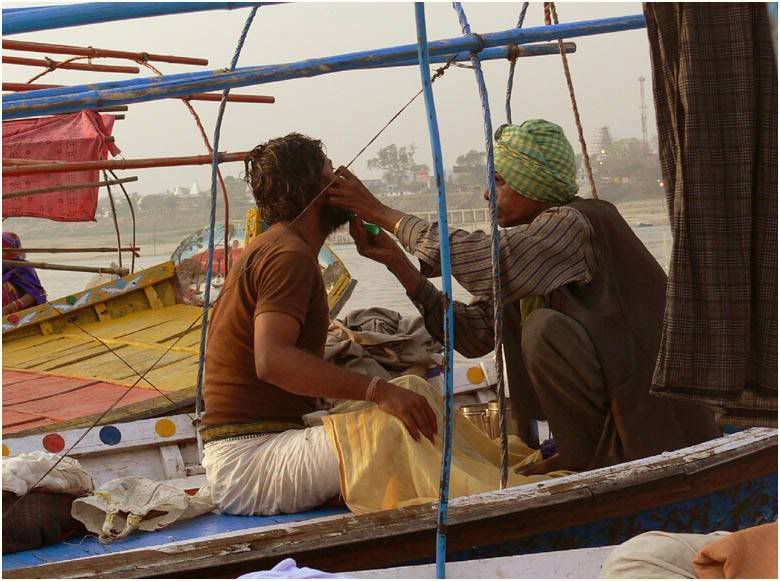 Well, this is cambleet head shave. i mean shaving of the beard den the head.
This is SANGAM

Sangam is meeting, fusion, Three rivers meet here. Ganga Jamuna, Saraswati. the place is Allahabad.

Saraswati is not a mythical river. Traces of this river can be seen in the satellite images. It doesn't exist now.

You see the Sangam of only two rivers, Ganga (Holy Ganges) and Jamuna. It was all water to me.

i couldn't see two rivers meeting.

Where is it ?

here - said the boatman

i juss believed him.

So, this is a combleet head shave in stages on a boat, holy boat on two holy rivers.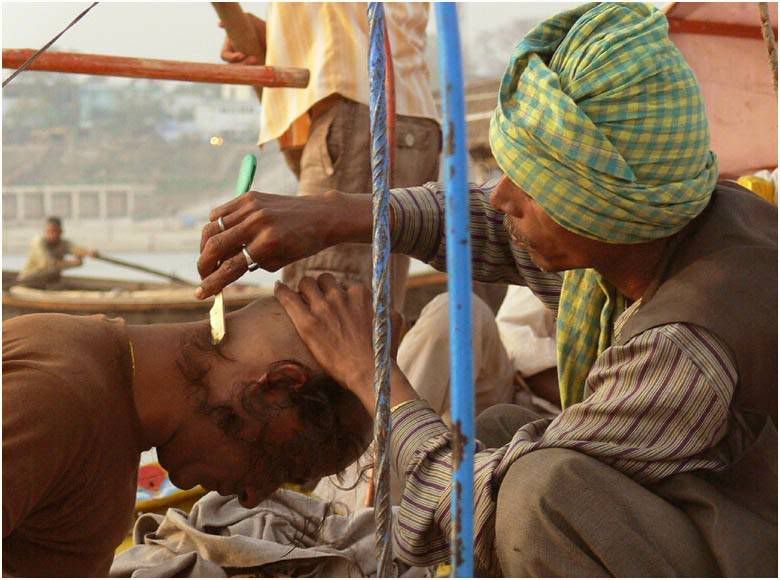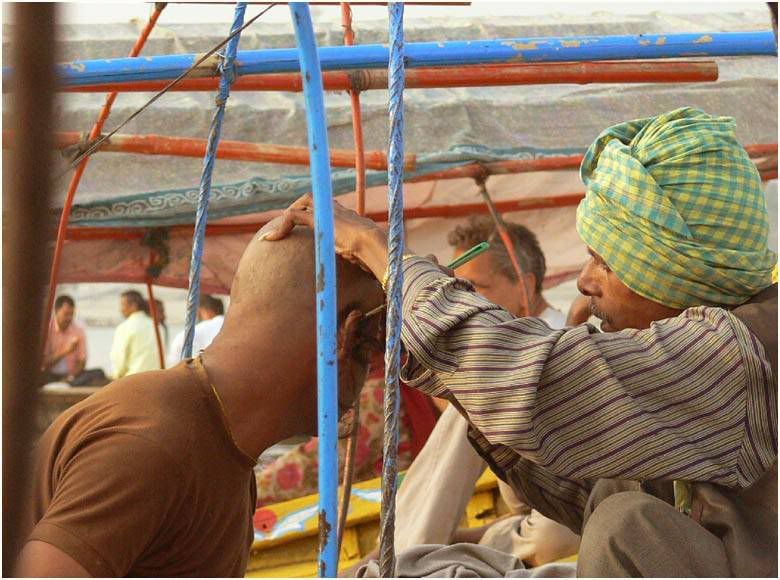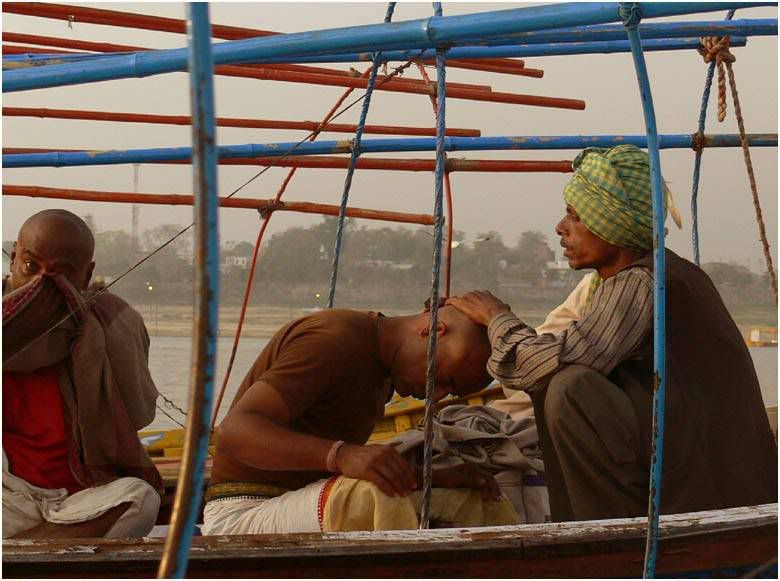 Ah reddy reddy to perform the ritual, people come here from all over India and abroad and this gorilla, yours truly went there just out of curiosity and to take pittures. i was not disappointed. This is very early in da morning.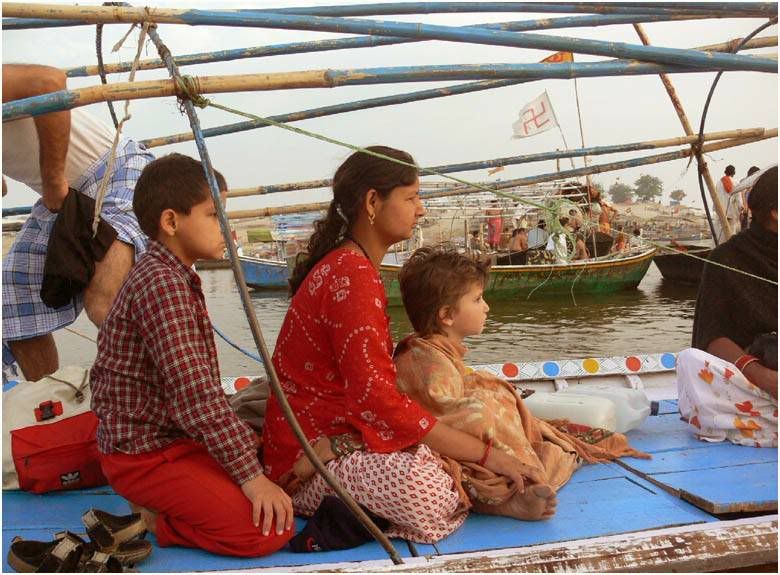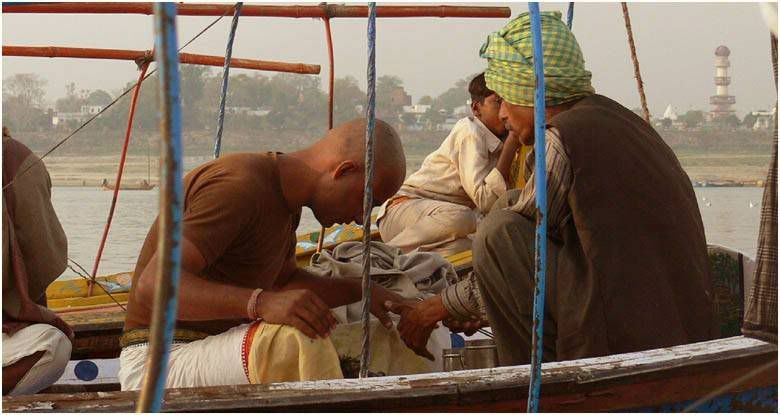 people go there for various reasons, This lady is immersing an idol, i dunno why, i asked her she kept quiet, juss gave me a cold stare. This is at six in da morning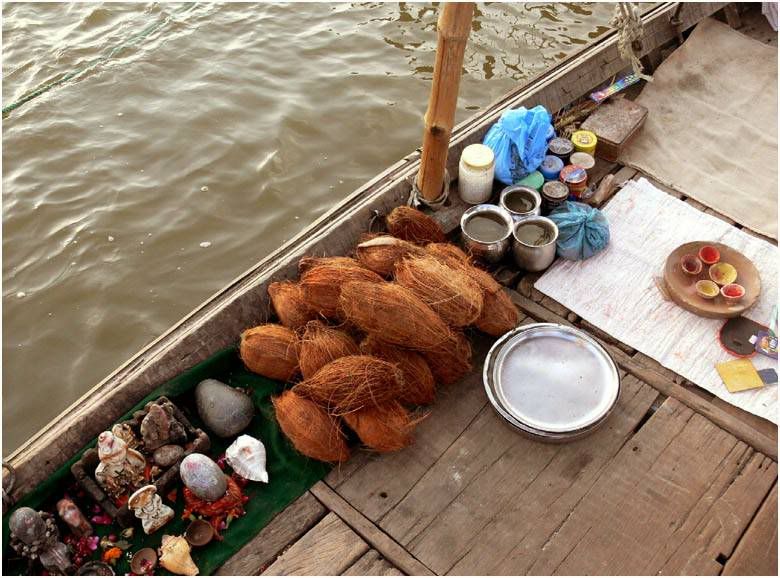 All this yappening in da middal of a river, sorry two rivers. This is a holy place.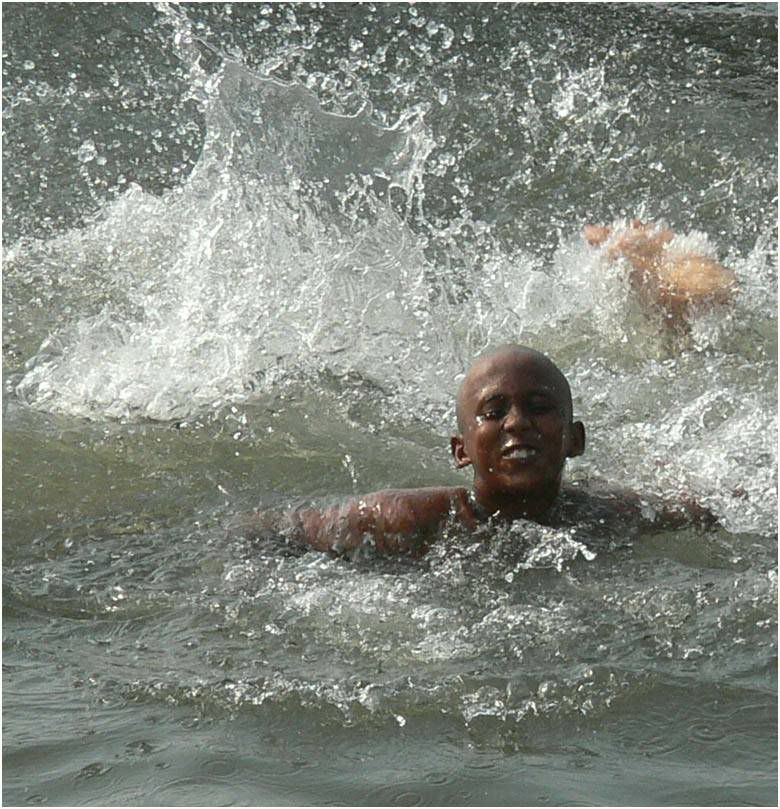 Cooling off after a head shave, he is happy, this is not Sangam of Ganga and Jamuna, This is anodder holy river Krishna in Andhra Pradesh

How you been ?

i am sorry about my absence

no particular reason

i'll be around

some more traveling to come

have to get well soon

all my love