i am not being modest, by now all of you know that my English is rotten. i pour my heart out without caring a hoot for the queen's language, i just want to be understood.
Humongous, is a word i picked up from gorgeous Sonal's blog some months ago.
i lost my sleep.
i wanted to use this word some where.
i had to use this word
There was a burning desire to slap this word on some one
Being very lazy i very seldom look into the dictionary
i just had an idea what the word should mean in the context.
But a picture of huge reddish yellow mango always appeared on my mind when ever i thought of this word which i kept repeating to myself
Humongous Humongous Humongous Mangos mangos mangos Humongous mangos and i get very hungry, its like some one humongus sitting in me eating everything i eat. it had to come out
i recently missed a chance of using the word when i picked up my cousin from the airport, she was already in a state of panic, i didn't want to knock her down with a shocking word,
and i had to be very gentle.
the word did not fit the suitcases any way.
The suitcases were bigger than the word.
Oh my gawd !! you are carrying such humongous suitcases !!
Mangos ? i am not carrying any mangos, why should i bring mangos to India ? Are you mad ?
i visualised Humongous mangos bursting out of the Humongous suitcases rolling all over the airport. disrupting landings and take offs
i was obsessed with the word humongous by then.
i don't have anything humongous on me, everything is small and compact. i travel light. my wrist watch is big because i am half blind. but not humongous, what if i tie a wall clock to my wrist ?
would i be a humongous idiot ?
6 in the morning now and i am leaving for Bangalore tonight and going to Coorg and then to Silent valley from there.
i want to board the train with relief. The humongous in me has to come out, i want to take the load off my chest. i am determined to use this word today on some one.
Who ever knocks my door first, gets it.
What a Humongous head you have ?
Mango ? no saar i use vonly pyoore coe-a-kkannat oyeel saar on my yeddu
(i use only pure coconut oil for my head)
You have a humongous coconut on your shoulders then.
Aiyoo Mangoaaa ?? mango juice on my yeddaa ??
No no Saar vonly pyoore coe a-konnet oyeel saar.
Posting this picture for Sandy, This is humongous Jack fruit, tropical, very sweet and juicy, yellow inside, lots of compartments of individual fruits with seed, sticky surrounding which can be easily removed. My mom used to make curry out of jack fruit seeds. The fruit is so tasty that its hard to stop with one.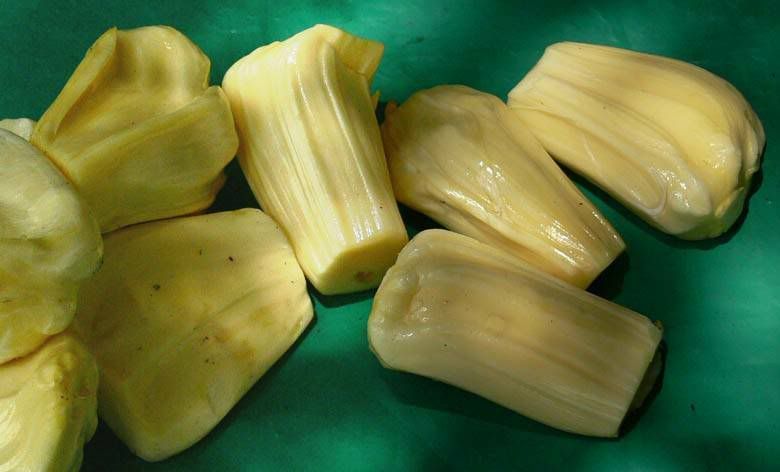 Posting this for Angeldust. This is a cut jackfruit, it has many fruits with seeds, juicy very sweet.
i'll have one today Angel
.