Never a dull moment, you'd love it. Its the people who make the place beautiful. Very respecful and courteous.
What do I mean by respectful people ?
Everybody treats you with respect, educated or illeterates.
It means a lot to me as I come from a city (Chennai) where people are very rude and arrogant with strangers. This includes educated people, greatly influnced by the crude Tamil movies they watch day in and day out. Nowhere you would find film actors winning elections and becoming head of the states.
Cheap and crude movie culture rules my city and the state.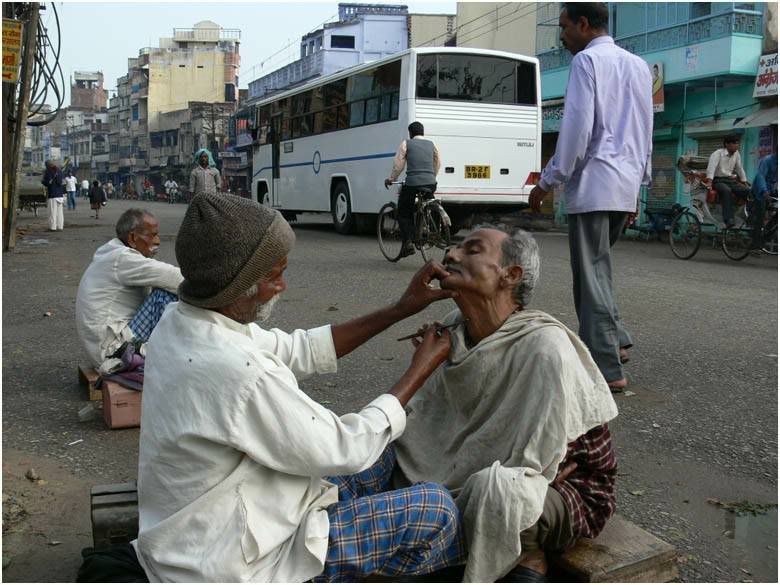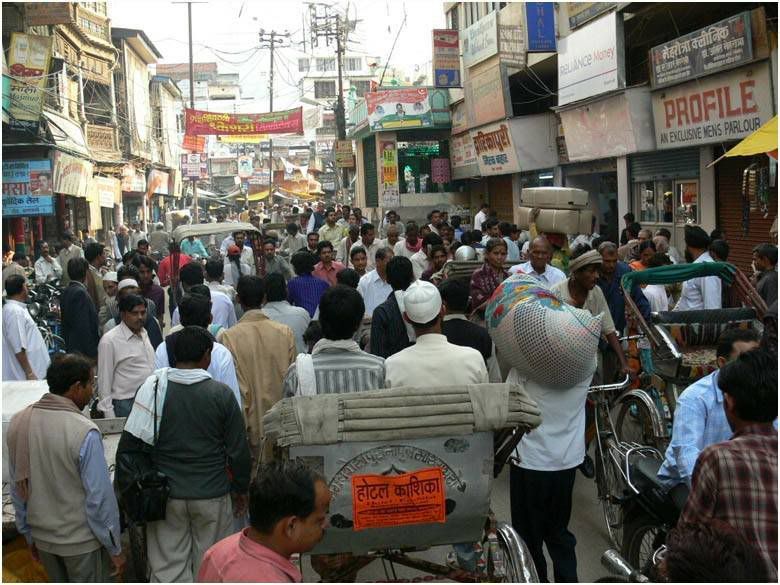 People people people everywhere, please don't be scared by the crowd. Just accept the chaos, you'll be fine.
It requires a slight shift in attitude and you'll enjoy your holiday.
I did not have any kind of bad experience. Filth garbage and the stray animals on the streets is not a bad experience for me.

You'll find all modes of transport, all kinds of contraptions on wheels, two three four.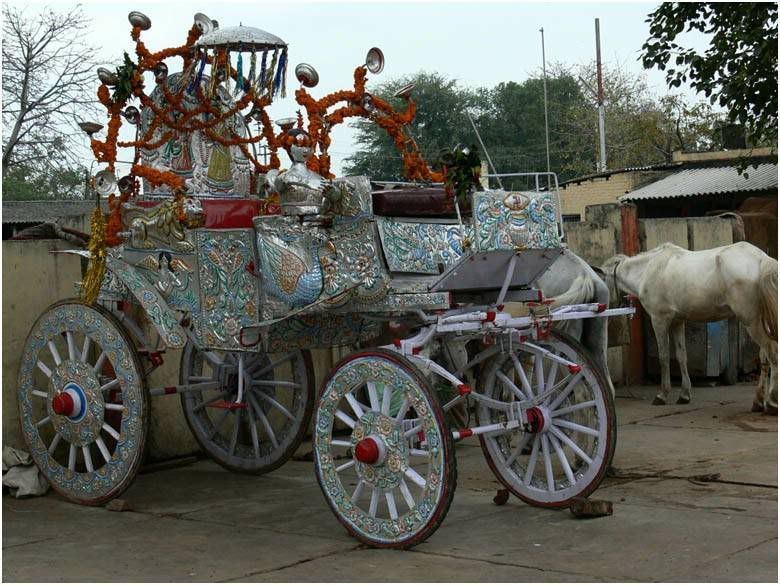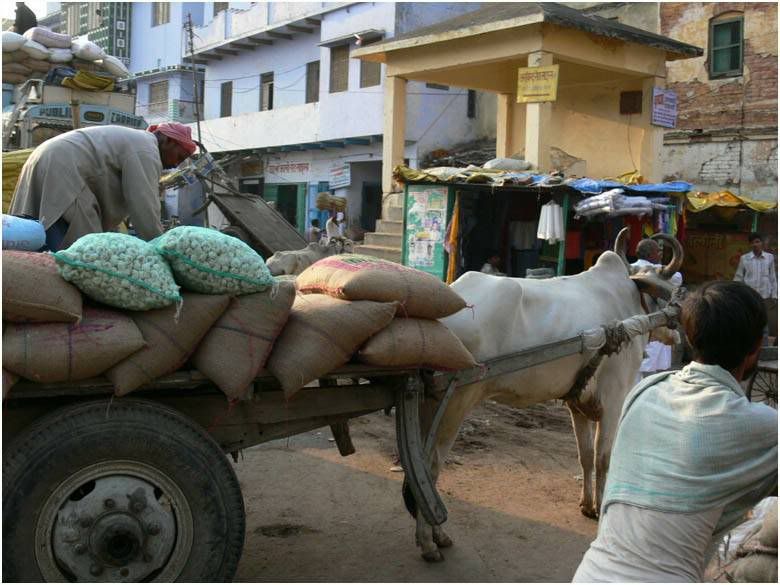 Let me explain, this contraption is called share auto. The box has two seats facing each other, that can accomodate eight people. You normally find 15 people stuffed inside the box and four with the driver. So this vehicle carries nearly 20 people. I took a ride in one such contraption in Lucknow, I'll write about my ride in Lucknow post. This cheap mode of transport is spreading fast all over India.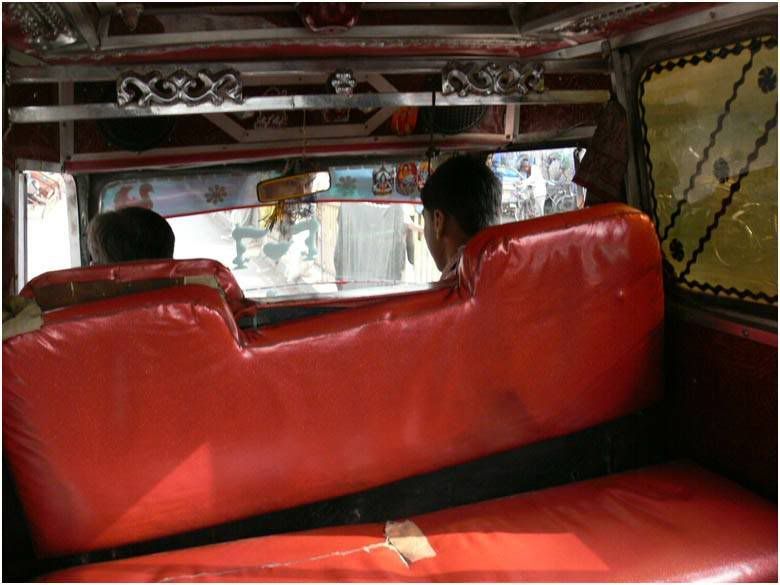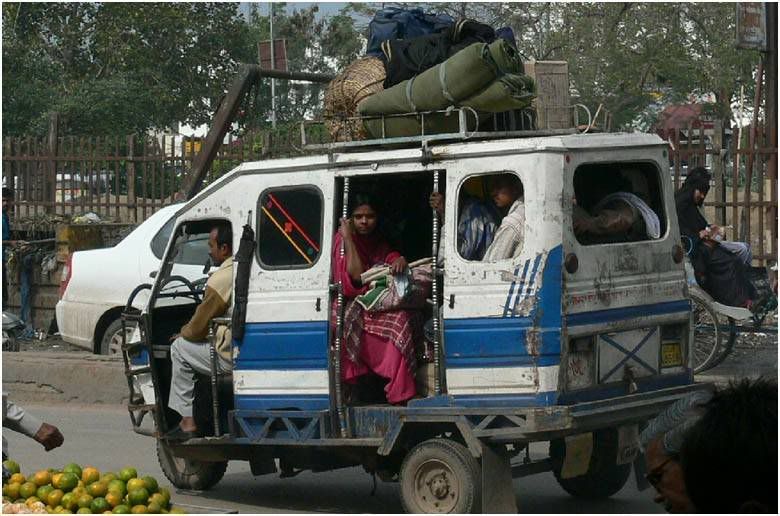 This is the art of survival. You would learn to adjust without complaining.
These are rickshaws. I avoided riding in those in Jairpur Rajasthan last year. Preferred an auto. Then I realised that I could contribute to their survival. Slight shift in attitude. Now I take regular rickshaw rides. I don't mind rattling of my bones, good for me, free exercise.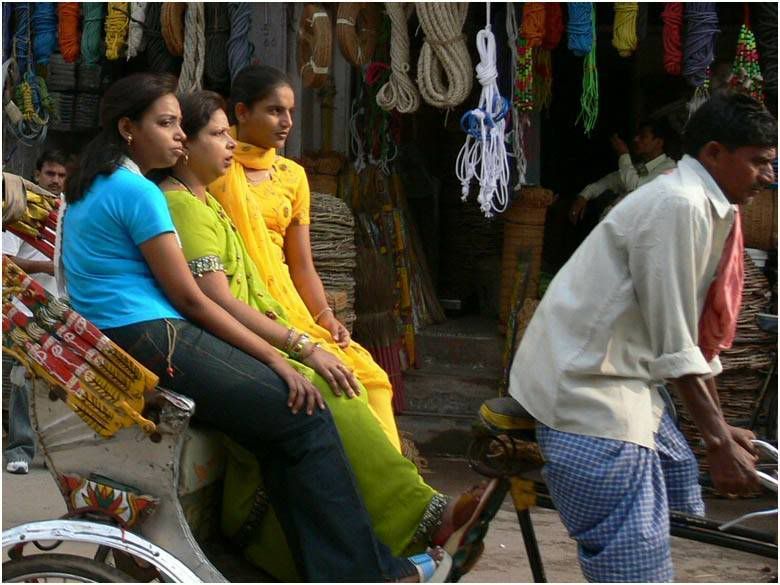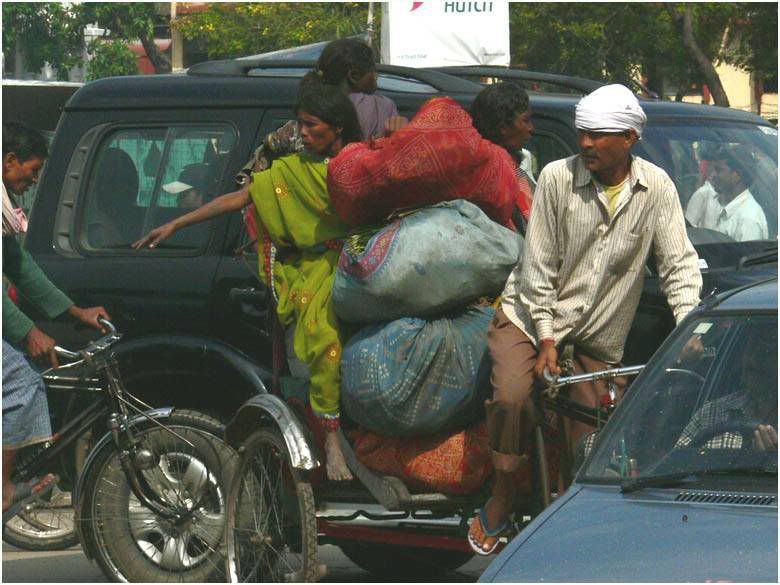 These rides are ridiculously cheap, I always pay them double of what they demand. I am never alone, I have my lunch breakfast or tea with them. They keep talking to you, they talk practical philosophy. Show them little kindness and they die for you. At the end they offer to wait for me
No Thank you Sir, I tell them, I am going to walk and take pictures it may take a couple of hours.
and he says with utmost and sincere respect that he'll wait for 2 hours, Please wear a cap sir it is getting too hot. I see them sweating. This is hard labour. This kind of care and respectful attitude always touches me. This man could steal, commit crime to survive but he chooses such hard labour in sweltering heat. This is culture, they are civilised people, uneducated or illeterates.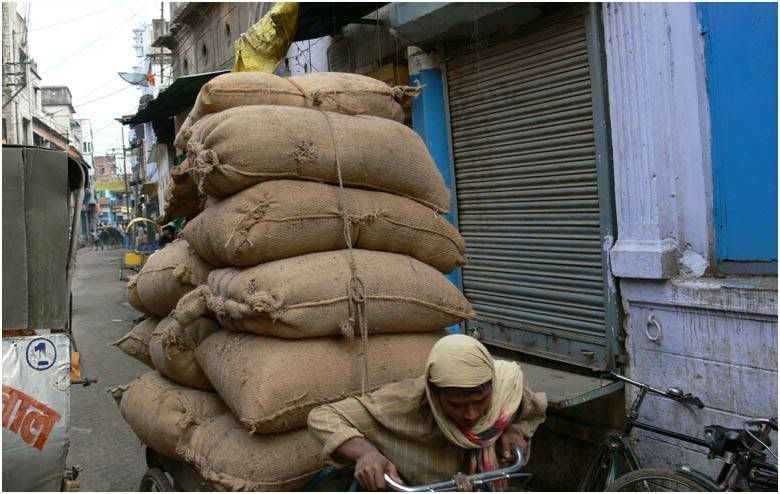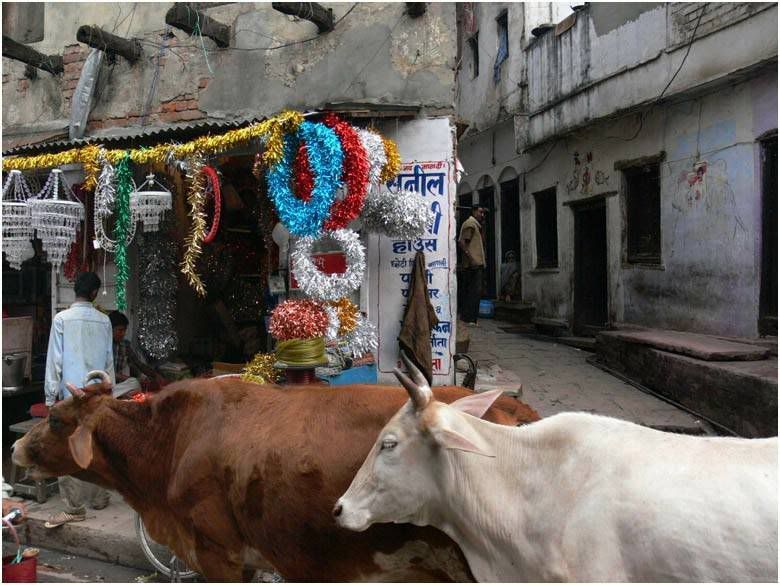 They are part of our lives. Watch your step. You would step on cow dung. They are behind you in front of you. They are everywhere. They mind their business. They have to survive eating garbage.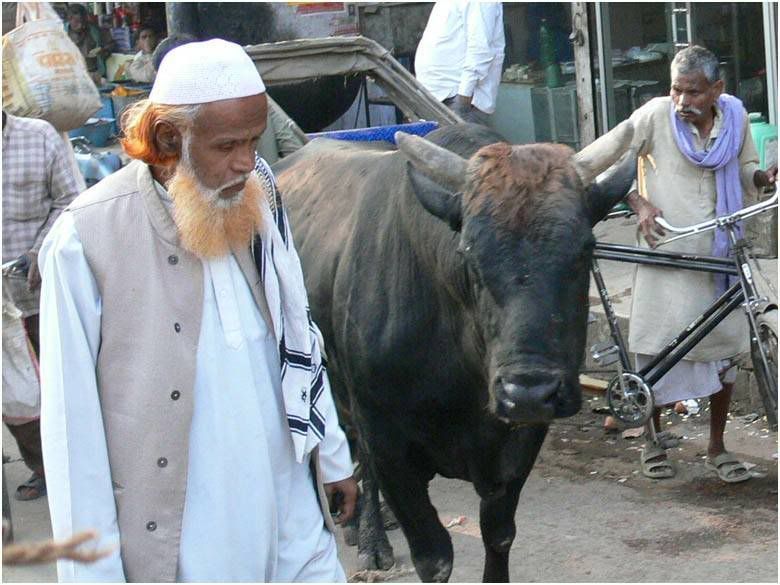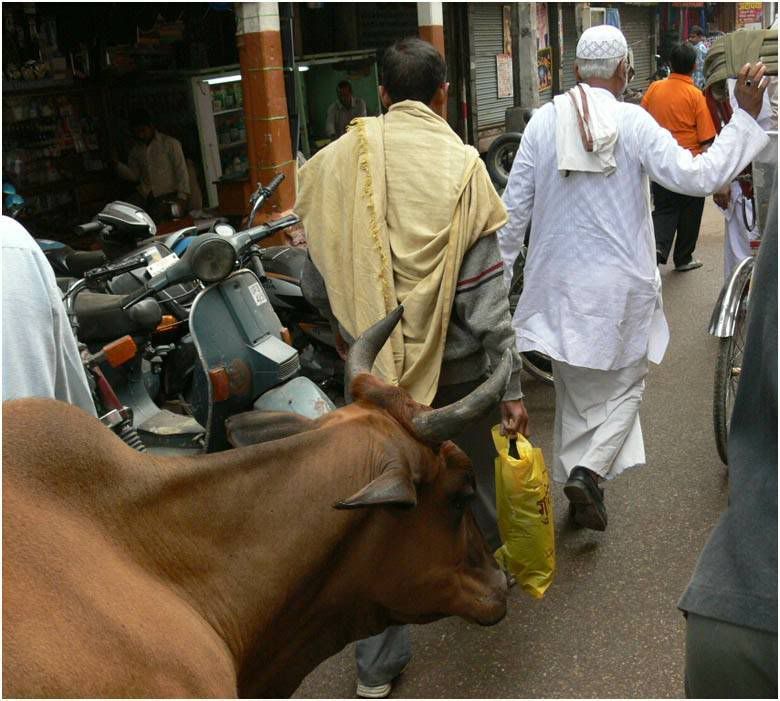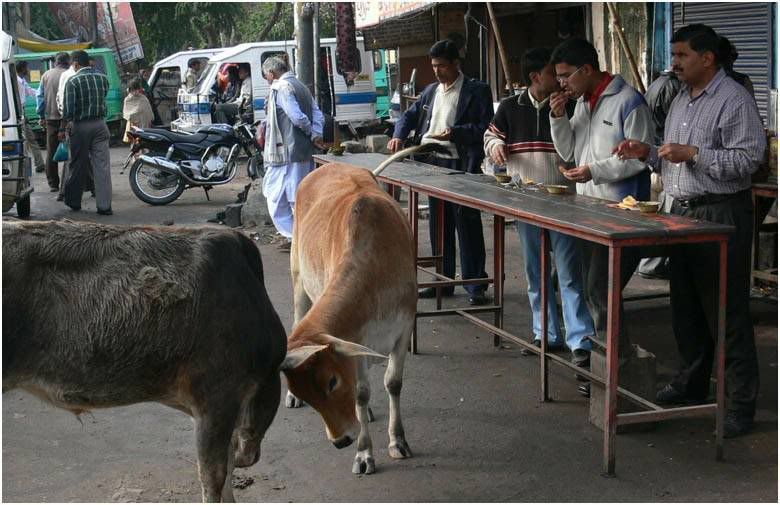 This is how I eat. Road side stuff. Fresh and hot, straight from the frying pan. You would never get any stale food because food moves fast. Always fresh. My attitude is, fill your stomach don't complain and be thankful. Taste is a bonus. And it is always tasty. Carry your mineral water bottle and eat hot food anywhere and you are safe.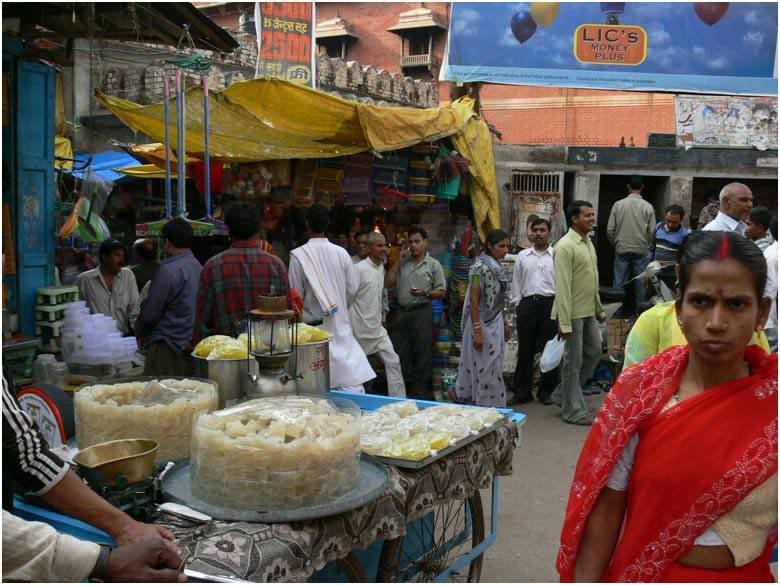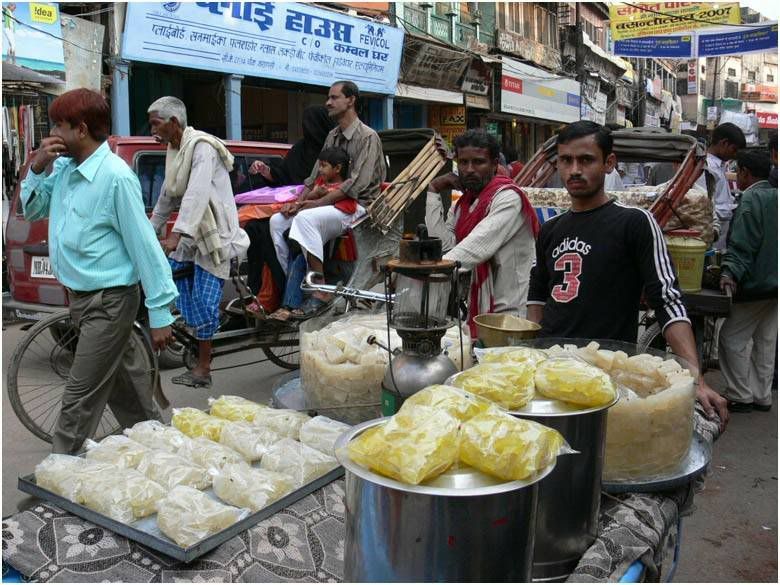 Lots of sweets, The aroma is over powering. I fight the temptation to eat every thing I see. I lost and temptation won most of the time. Told you I am pretty reckless. I love experiments, but so far away from home ?? not a good idea. Avoid eating things which are cold and not covered. Sweets are served hot as well. Like gulaab jamoons and jilebees. I had a cold ras malaai which was better than any ice cream.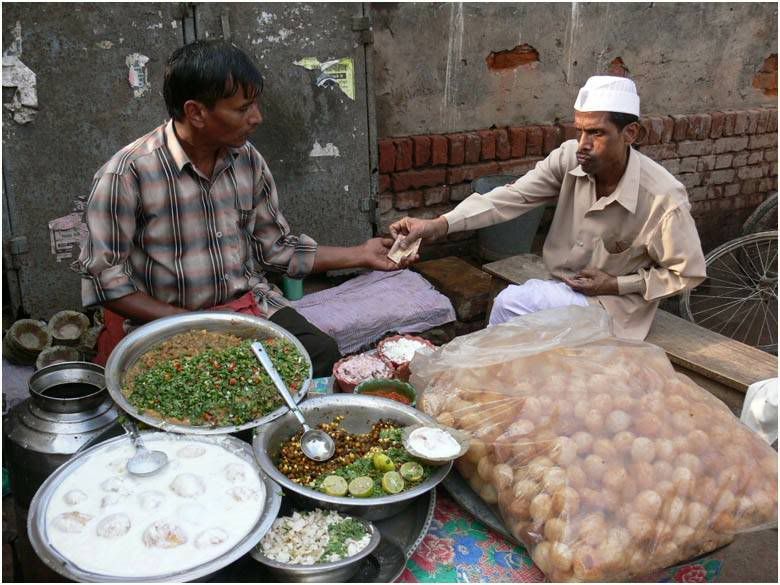 Paani poori and Dahi vadaa. I had dahi vada here, risky but couldn't resist. Its the white stuff, incredible taste. They add brownish sweet chutney and masala as toppings served on a hard leaf plate. Lot tastier than what we get in the south. I sit on the pavement and eat nodding my coconut counting the passing rickshaws. Having one more plate would be pushing things too far, have to know my limits.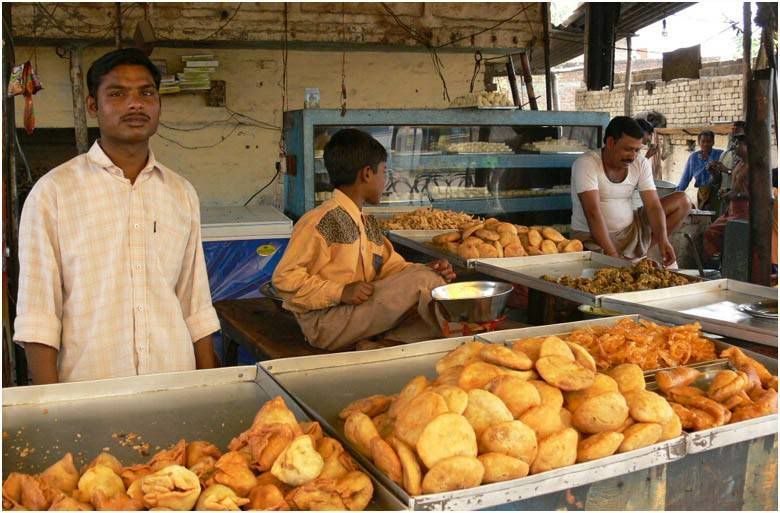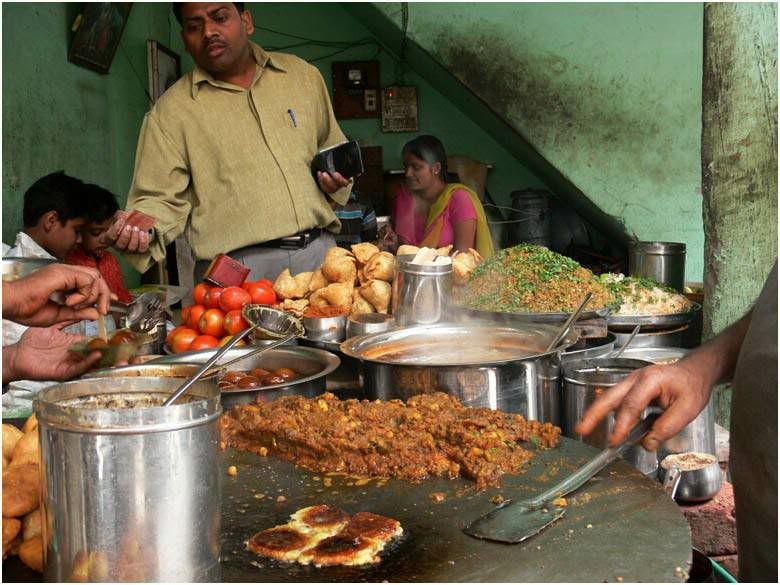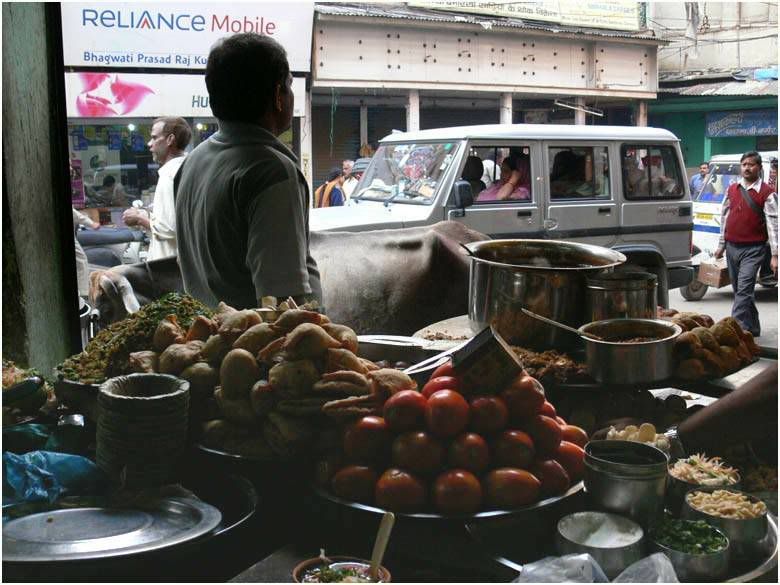 Two days in the train, and I'll be home, my train was leaving in an hour, the aroma was too tempting.
What would you have ? There were so many things
Shamelessly, shamelessly I pointed towards a gentleman eating in a mud pot. I said I want to eat that,
this.... this .... I nearly dipped my finger in his bowl. I should have dipped and tasted it. No cold stares no complaint. Some name of the dish which I forgot. Had to wait. It was so tempting that I found it hard to wait. It was served very hot in a mud pot.
I was not disappointed.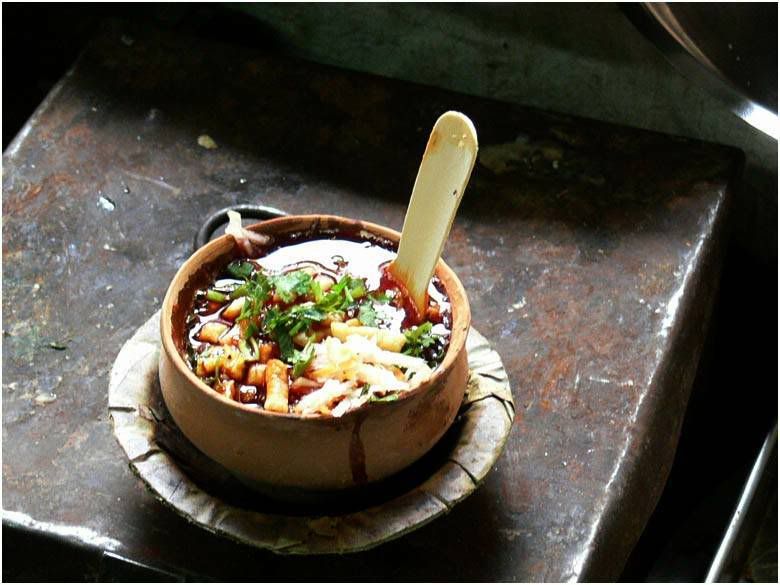 He gave me a leaf plate to keep the mud pot so that I don't burn my palm. It was just wonderful.
Too tasty for words. It was sweet and sour, tilting a little towards sweet.
He took time preparing it and I took time eating it, very slowly, glancing at my watch, looking around to see if any one is watching my greed, I was looking down at the bowl, looking up,
looking down, looking up, looking around and back to the bowl
no one is watching me. Wonderful, just wonderful. Unique taste.
Just ten rupees, 25 cents, you are in heaven for ten rupees. I loved it.
Had to rush to the station. It was quite filling. After eating you have to throw the mud pot, its for one time use only. I smashed it on the pavement. Tea also is served in mud pots which you have to break so that they are not used again.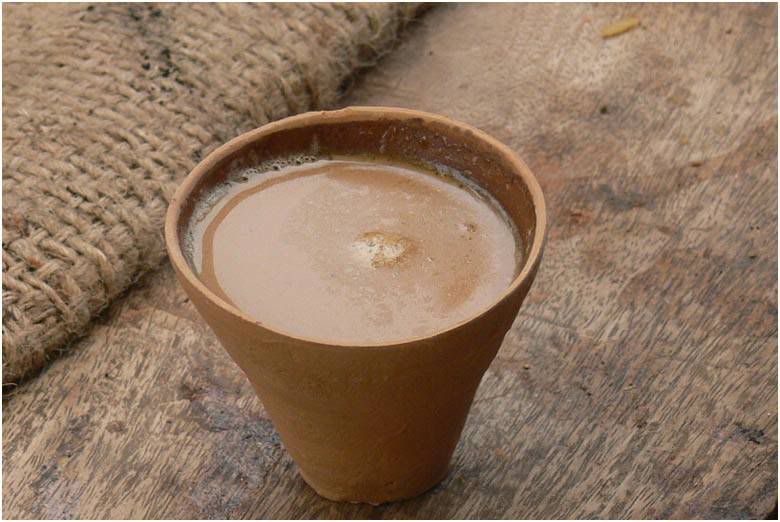 You would be in tears if you see child labour. No, legislation helped. I'll have a post on this subject soon.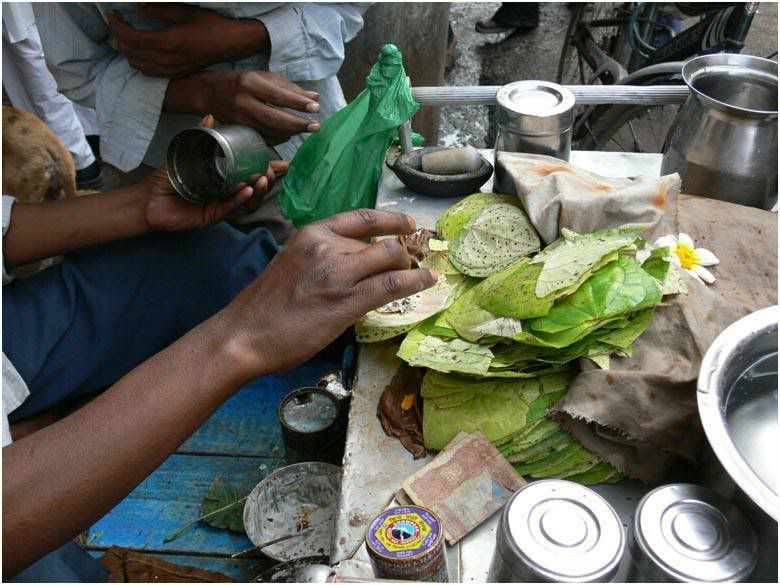 Banaras is famous for Paan, I normally don't take it but I thought let me have the pleasure. There are many different ingredients added. I chose a simple sweet one. The mouth turns red when you chew it. I kept sticking my tongue out to see if it has turned red. This is chewed after a sumptuous meal, it helps digestion they say.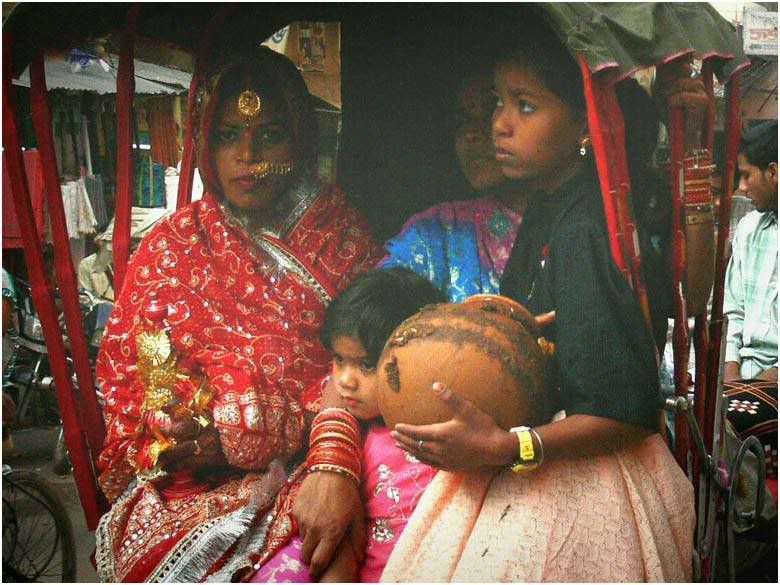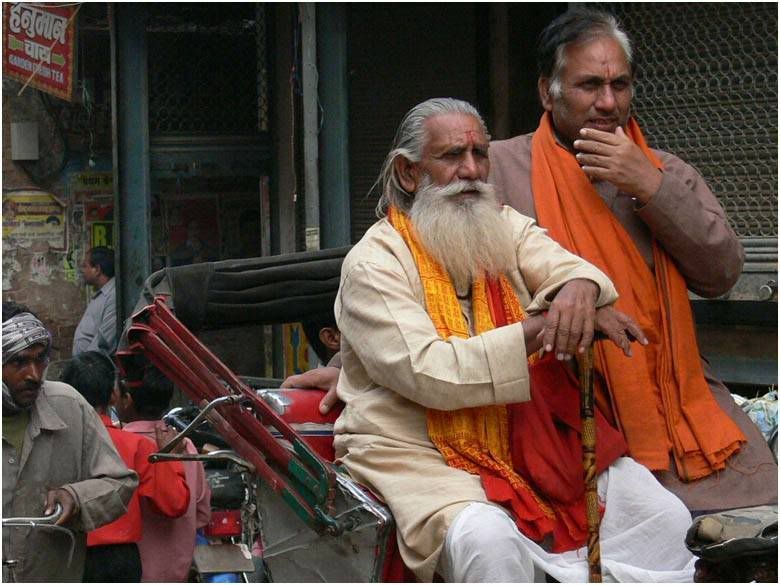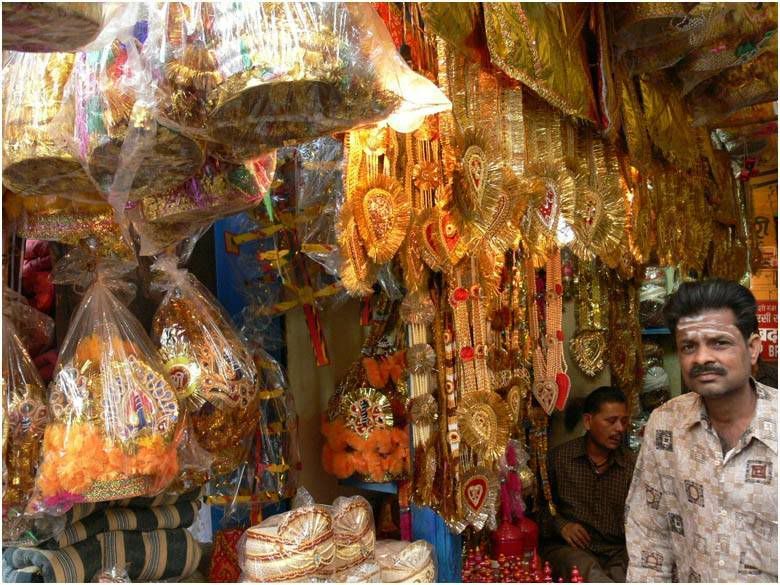 I was tired, had to rush back to the hotel room and pack. Bought just one silk piece for my niece, that would come in Banaras silk weaving post. No other shopping, though there were lots of things to buy. You can pick up stone jewelry from the pavements. Very cheap. I did not buy because my next trip was to Hyderabad, better place for cheap jewelry.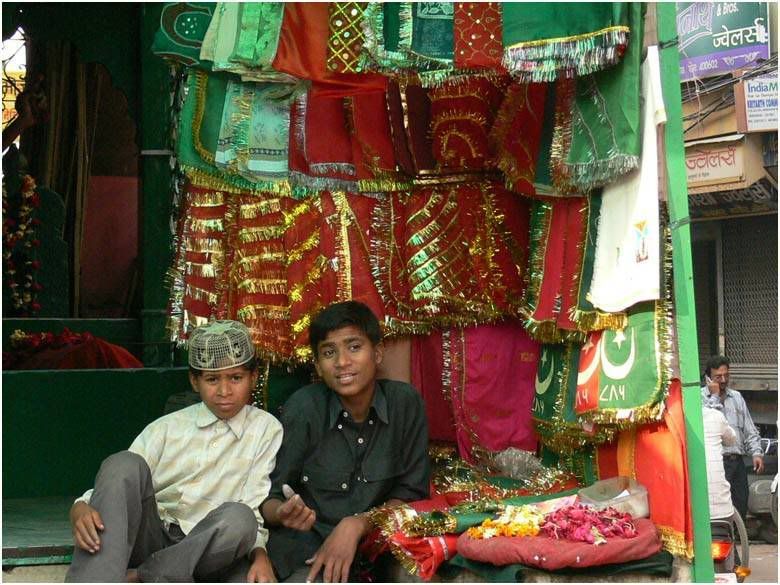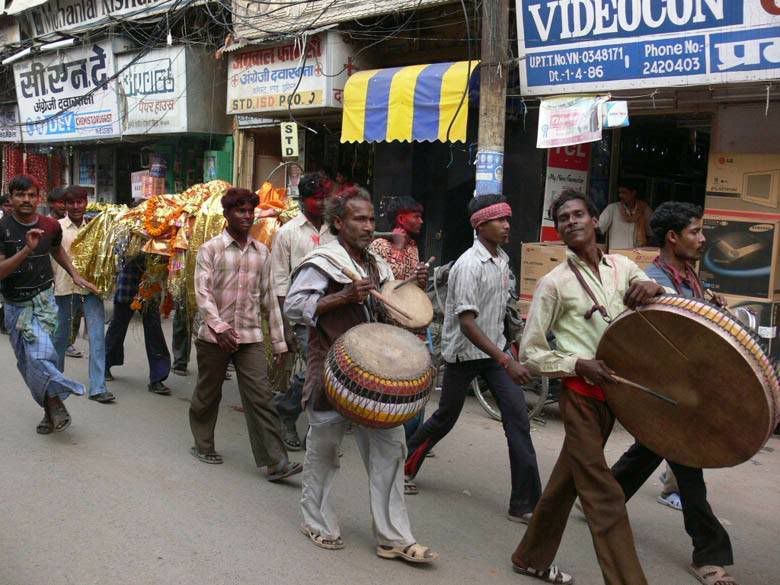 This is a funeral procession going towards the holy river ganga for cremation. Saw many such processions, The final journey.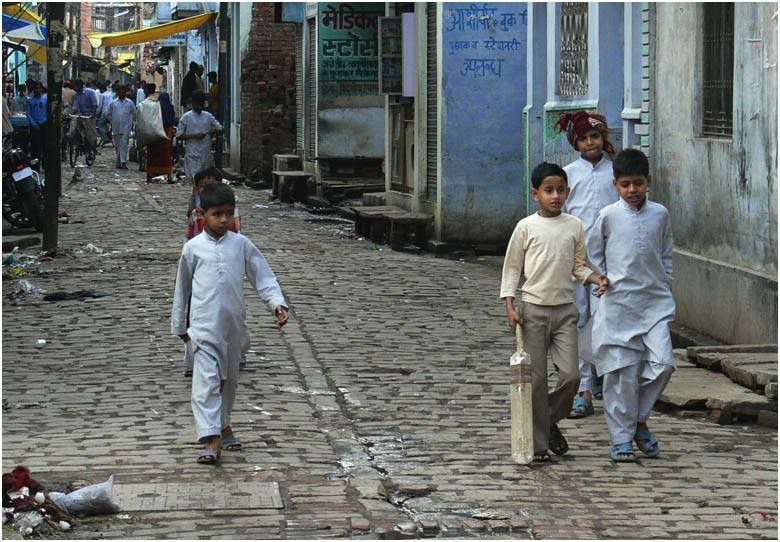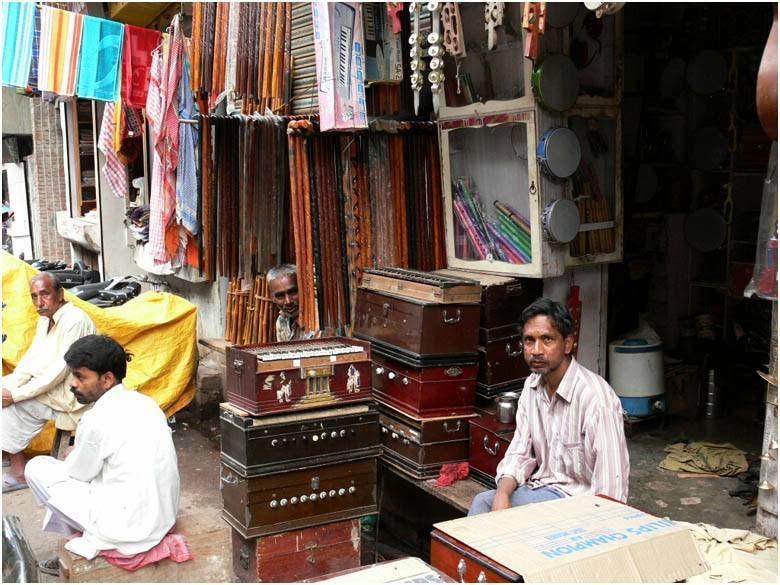 I don't have pictures of any singers or musicians. Banaras is famous for particular style of Hindustani music.
Most well known is Ustaad Bismillah Khan who recently passed away. Mala took me to his concert in my city. He was too old to play the wind instrument called Shehnaai. But what ever little he played was breathtaking. He was very witty. Perhaps the most respected musician in India. I can tell you the names of many musicians who can play sitar, sarod, flute, but I do not know of any other name who plays shehnaai other than Ustaad Bismillah Khan. He dominated the music scene for decades.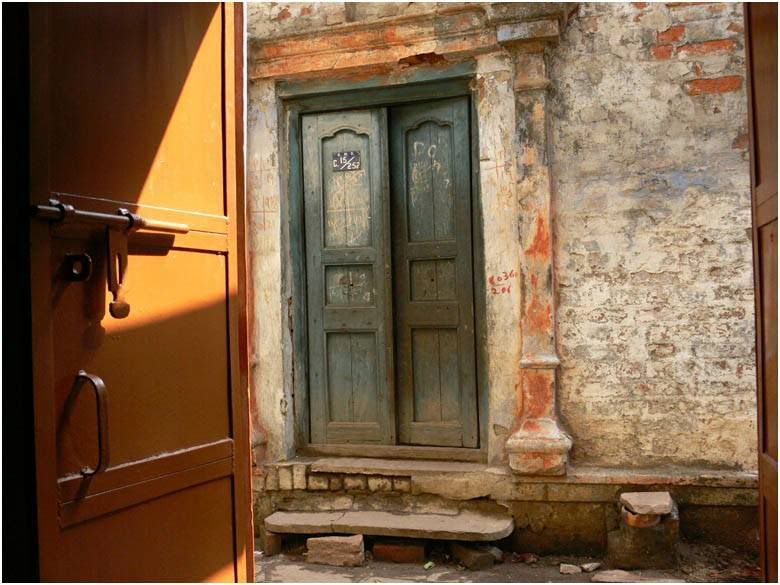 Behind these closed doors are the artistes of exceptional talent, mostly women and children, No one will see them, no one will know them, working on silk. All of them are muslims living hand to mouth, struggling to survive, living in utter poverty under the threat of communal riots which can break out any moment. They have suffered a lot and still suffering.
But I saw a great deal of communal harmony during my last three visits. India is a very complex country. W
e survive.
Silk weavers of Banaras would come next in the first part of handloom weavers series. I know you are tired of washing of sins, one more place to go SANGAM, We'll go there and wash our sins after the 4 part Weavers series
All my love
BLUNT KNIFE
WILDPIC
STREETS OF BANANAS
FOUR DINNERS misread the title of this posts as streets of Bananas and was looking for pictures of street full of bananas. Neil, you will not be disappointed, here they are for you.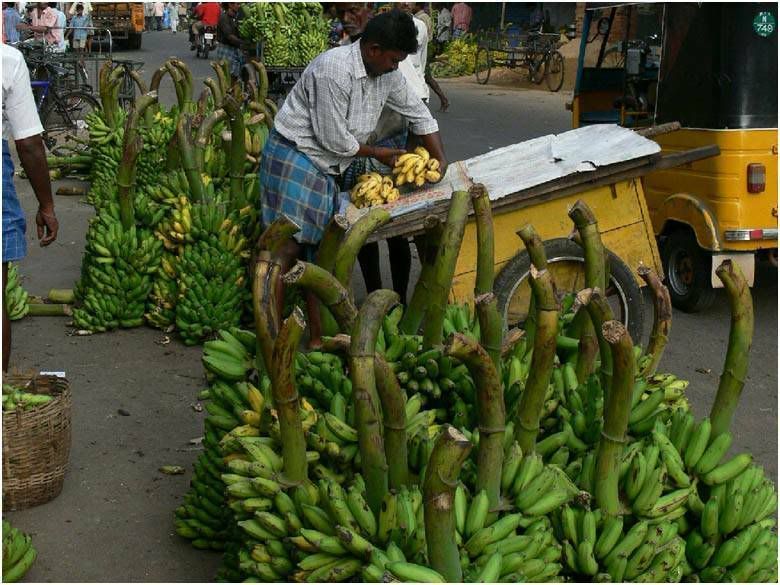 But these are not the streets of Banaras. These are the streets of my own city Chennai going bananas.
Lot more pictures there, but this post is already too heavy with pictures.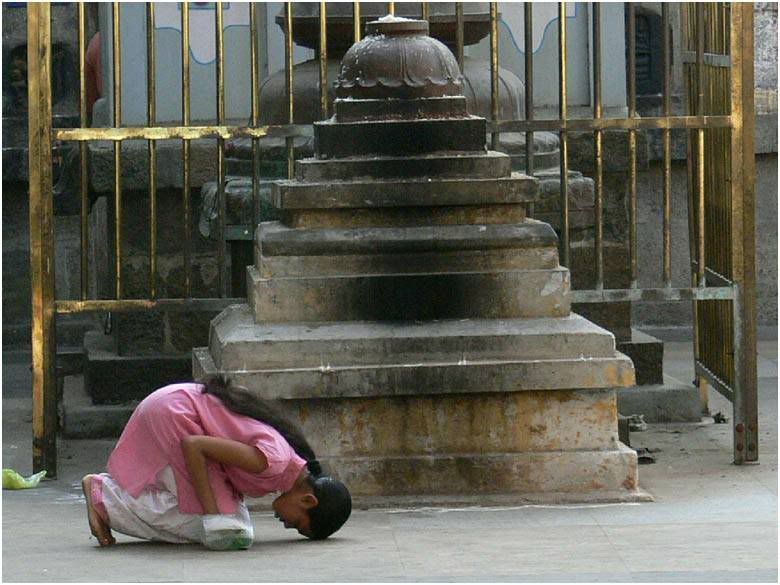 Early morning went out to shoot these pictures for you Neil, found this sweet girl in school uniform praying in a temple. This is examination time. Wish she comes out with flying colours, please pray for her too.