This is not a woman. a male enacting a female god
Had to cut short my trip to attend my dear and very close friend Jawahar's engagement
colse to a neat town called Cuddalure, 200 Kms south of my city of Chennai., had to rush from west coast to east coast. On my way up,
Chennai - Bangalore - Mysore and crossing the western ghats by bus to Cannanore. Bus was comfortable but how can I sleep when the bus is tossing me up every 2 minutes, through out the journey I was suspended in air. The road is in very bad condition
from past 3 years. Why ? I don't know. Twice my head banged against the baggage loft of the bus,
it tossed me up so high. I am thin but not that thin.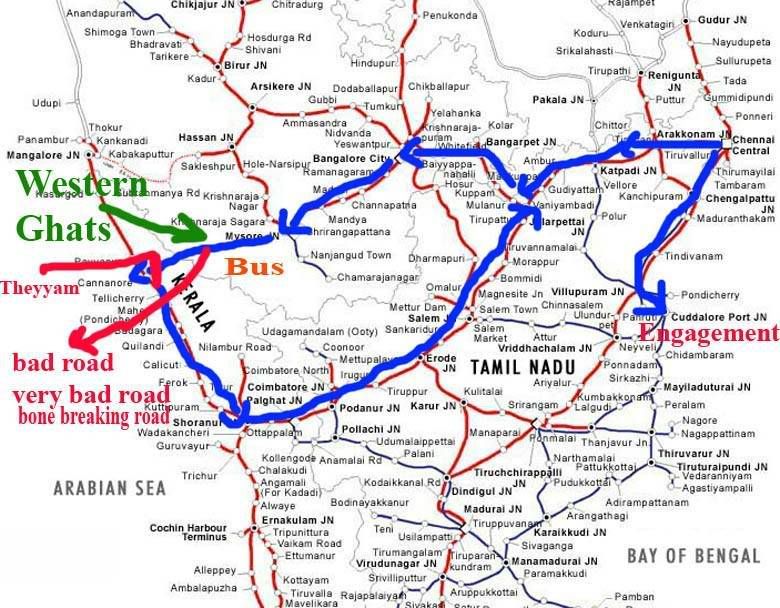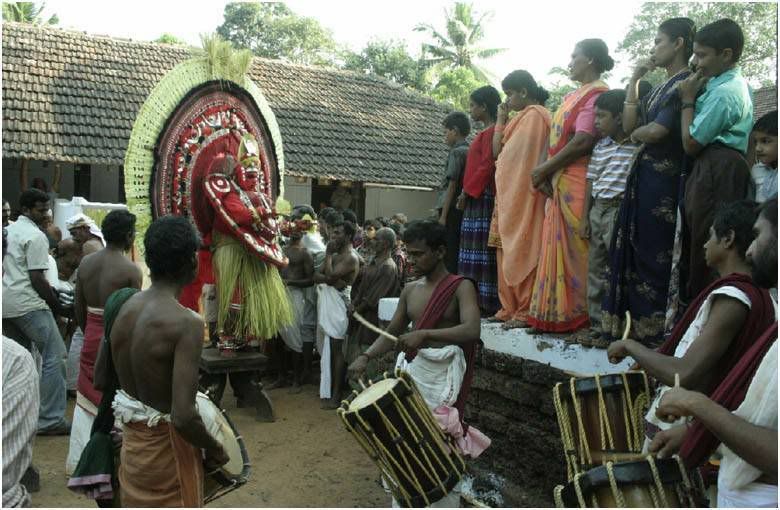 Met my friend Unni, who made me feel at home. These rituals take place early in the morning. I missed the previous night's performances as the train was late by 6 hours.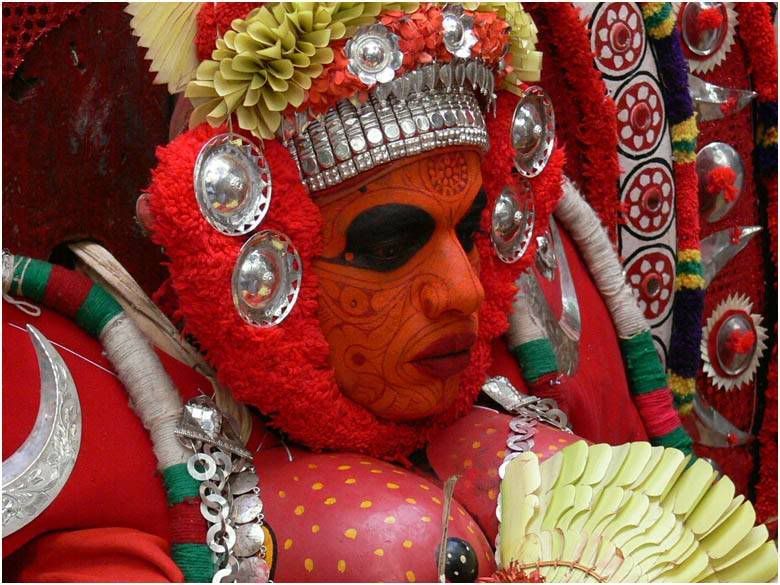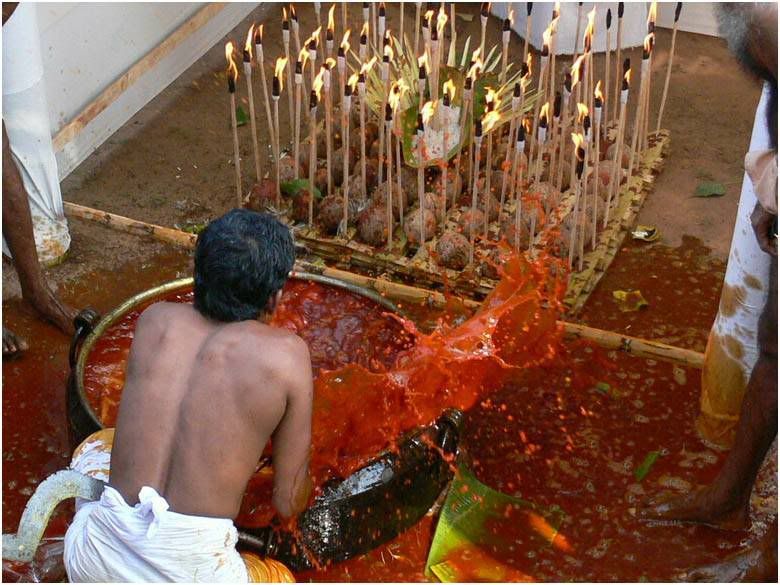 What the man splashing is supposed to be blood, thankfully it is coloured water. I was a bit upset watching some gory rituals early in the morning. I have not taken those pictures since children read this blog. I was told that there were lot more gruesome and gory rituals with animal sacrifices in the past, but they have all gone out of practice. Good to hear that. Hope what remains will be abandoned soon. Rest of the rituals and performances were all pleasant and very exciting to watch.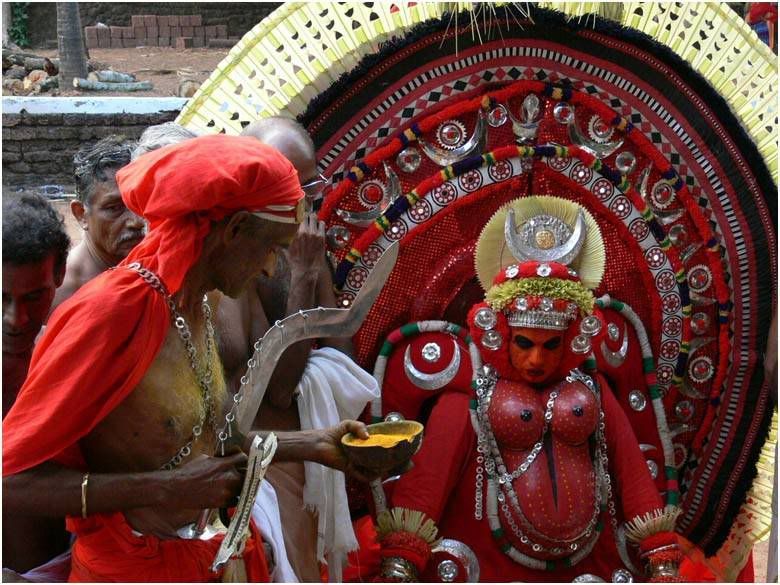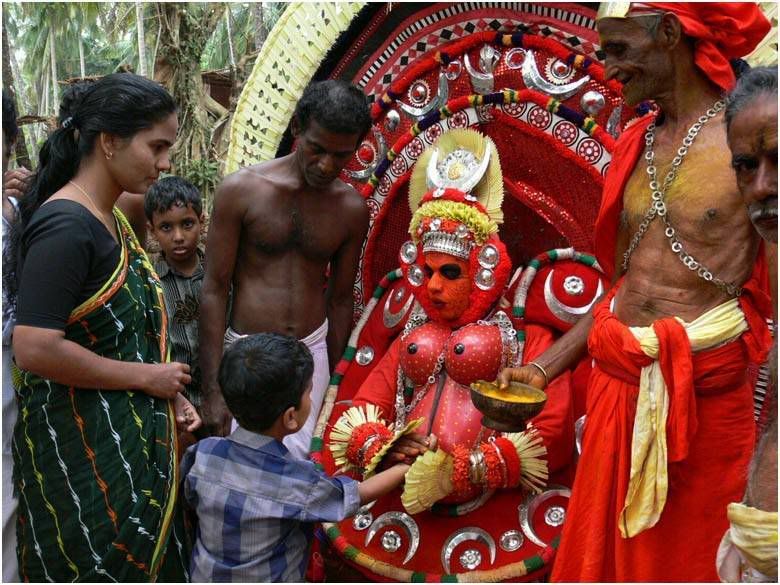 They don't enact gods. They are not performing roles of different gods, THEY ARE GODS, and are treated as such, seriously. People go seek their blessings, some tell their problems to gods and gods tell them that good days will come. Seriously. It was really good to watch gods offering advise to those who seek, as gods and not as actors or performers. The godess here is a post man in his daily life. Believe me children are not afraid, they too seek blessings, there is absolutely no element of fear.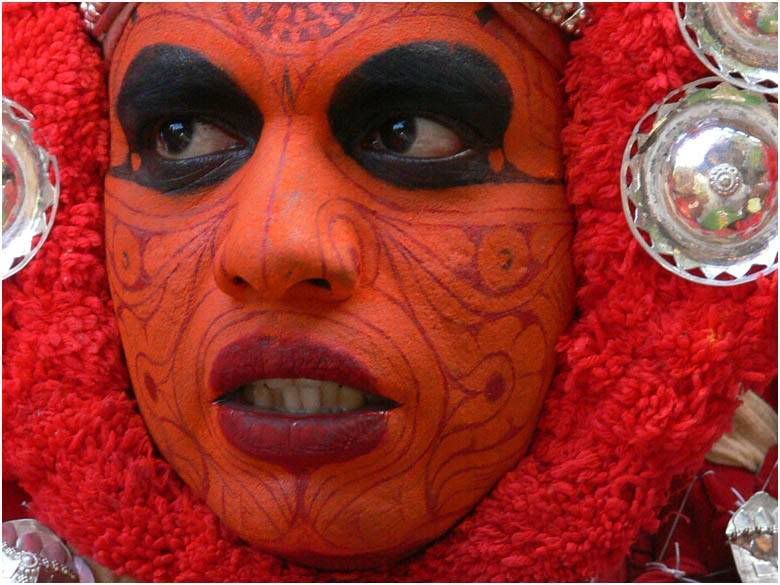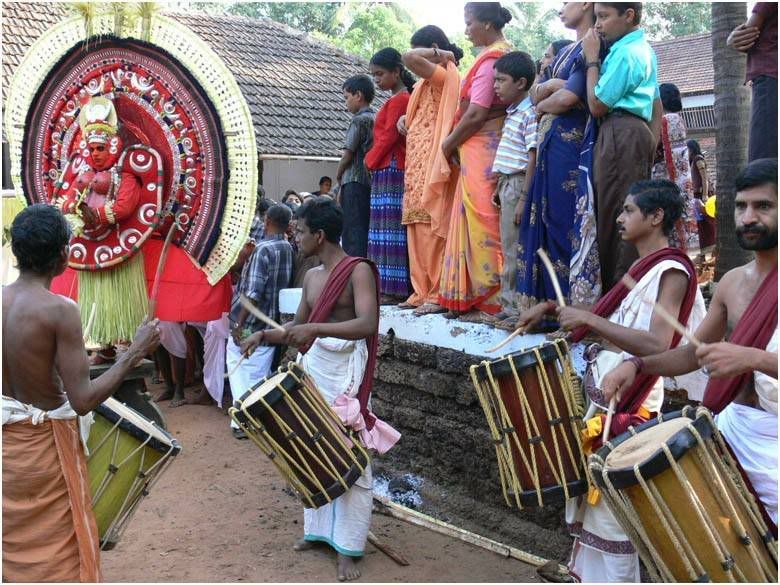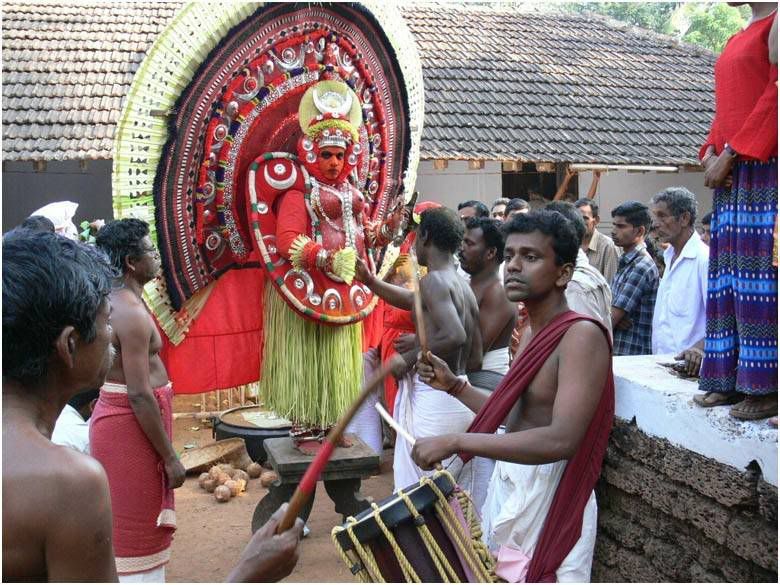 I thought the drummers beat the drums as they please. They go according to a tight format with mathematical accuracy.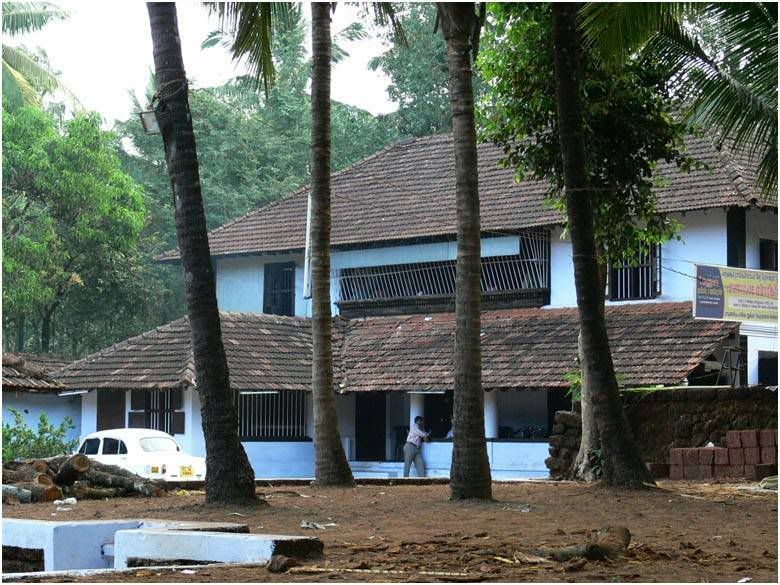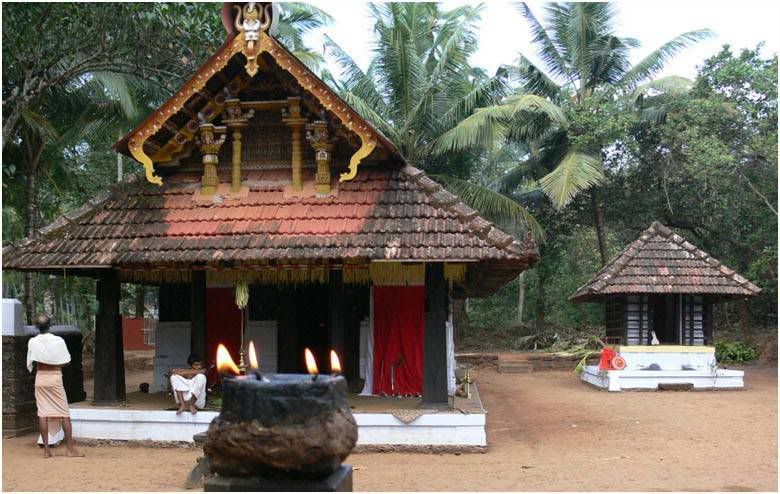 This takes place in an old Tharavad family house. Here's my friend Unni showing me around.
Its huge. You will get lost in the place, I am showing only one side of the place.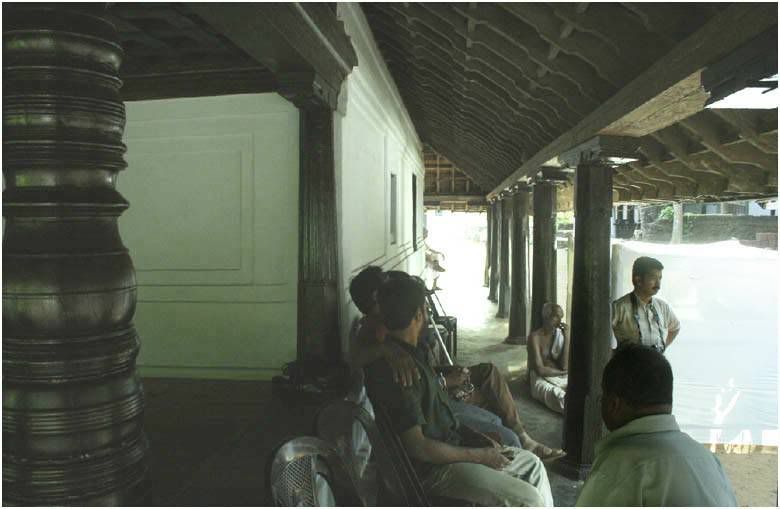 I'll tell you about Tharvad family traditions later in a post. Here THEYYAM is conducted every year with contributions from all the members of the family, running into hundreds of thousands of rupees. and there is absolutely no monetory gain for the family. They do it with devotion and as service to the local people. All are invited. Food is free. The whole atmosphere is very pleasant and friendly.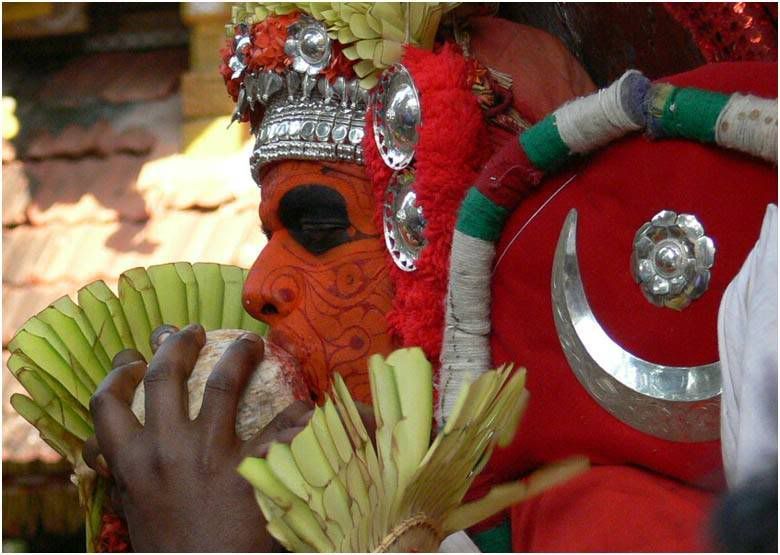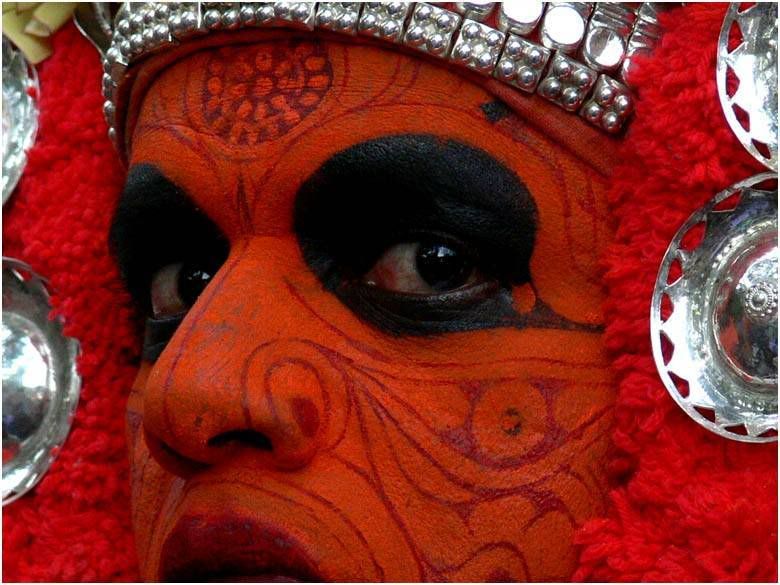 It takes hours and hours for them to prepare. Its a team work, each one having very specific task.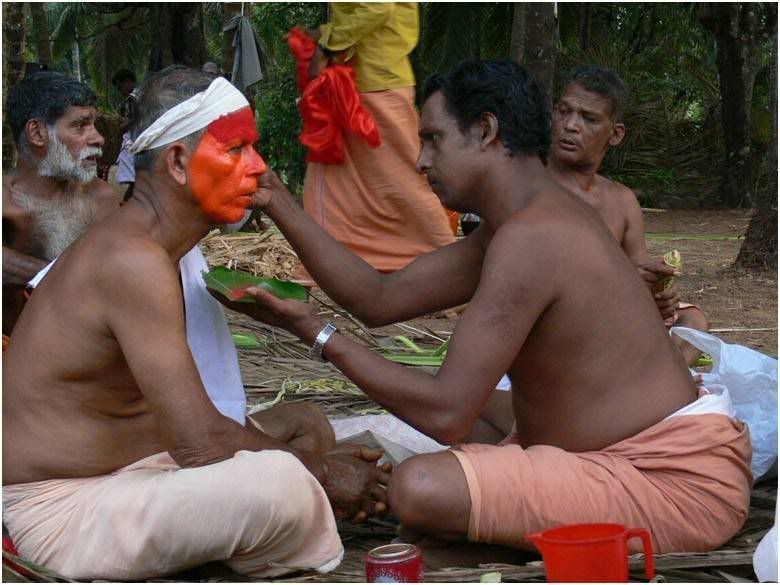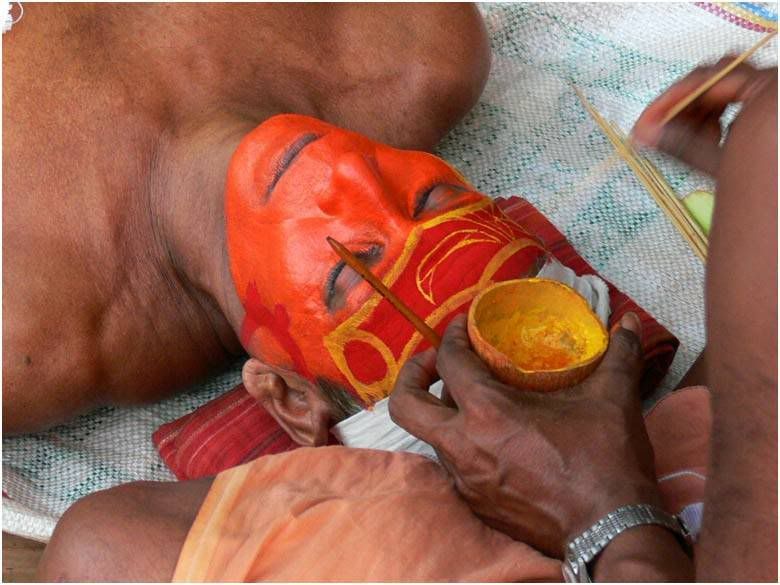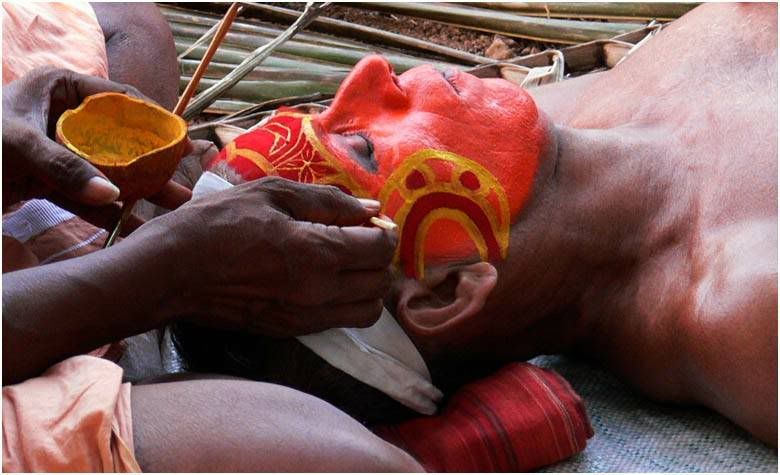 The colours used are vegetable dyes, no chemicals. they patiently wait, here the man is making what comes as a head gear.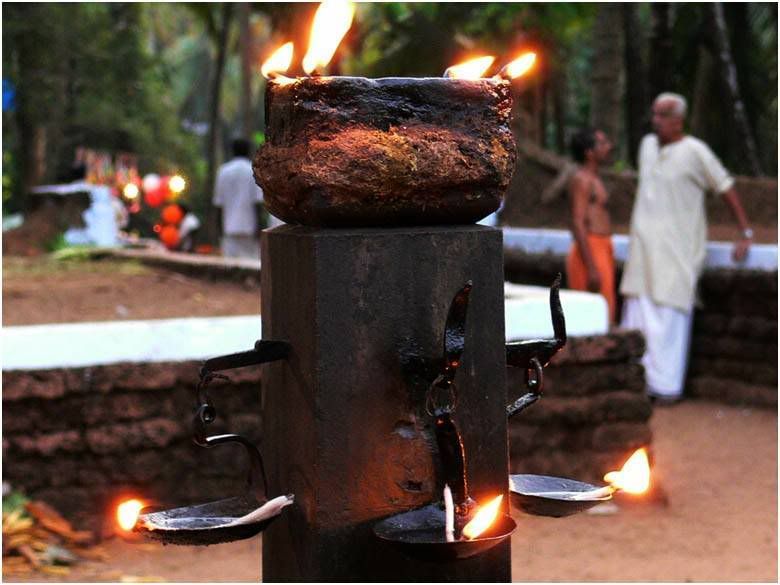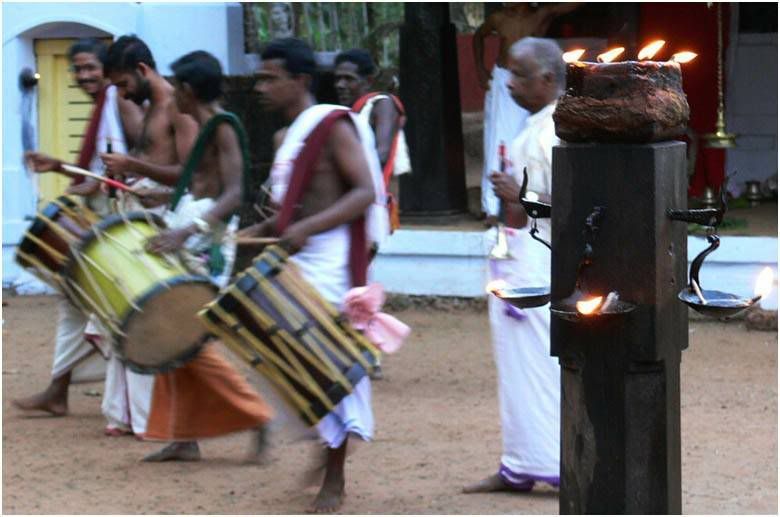 People wait, there is continuous beating of drums as the night descends. and the gods appear
.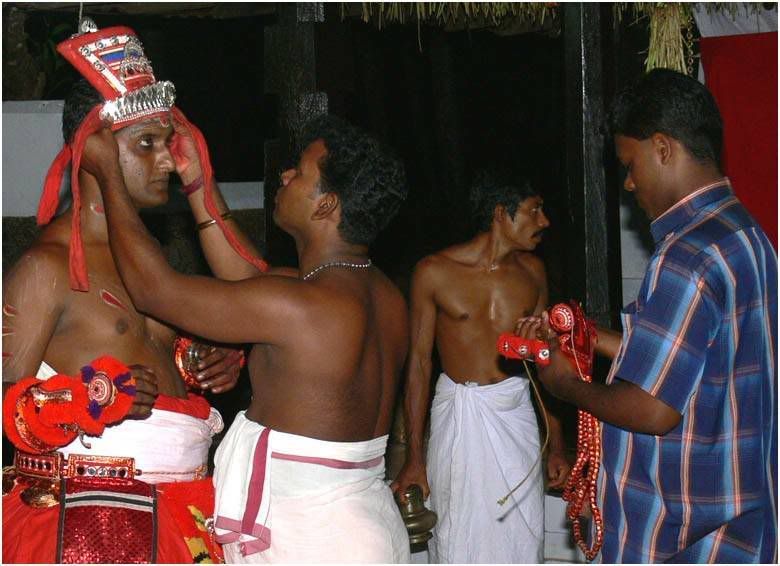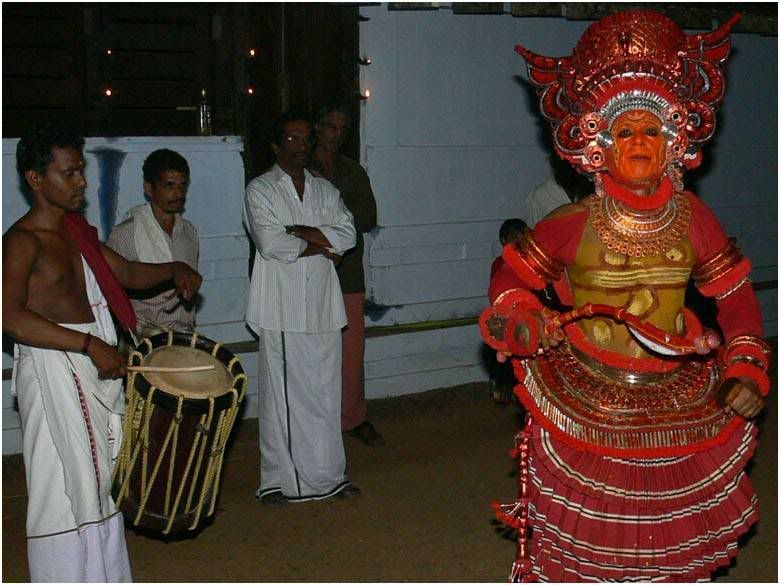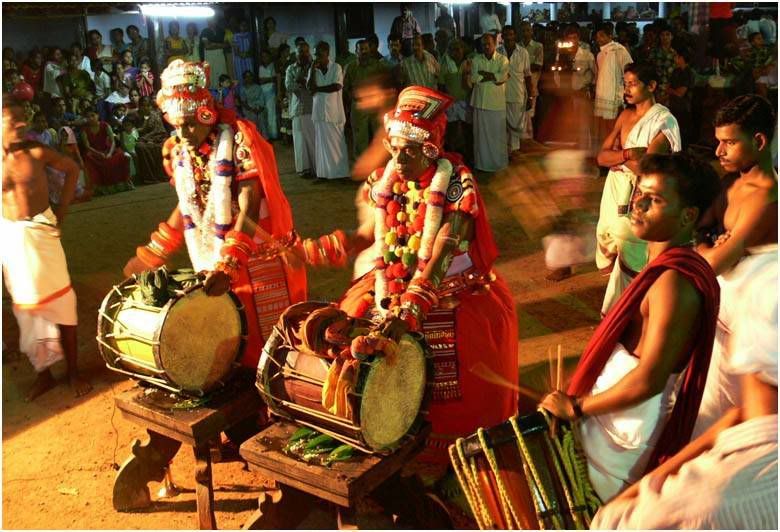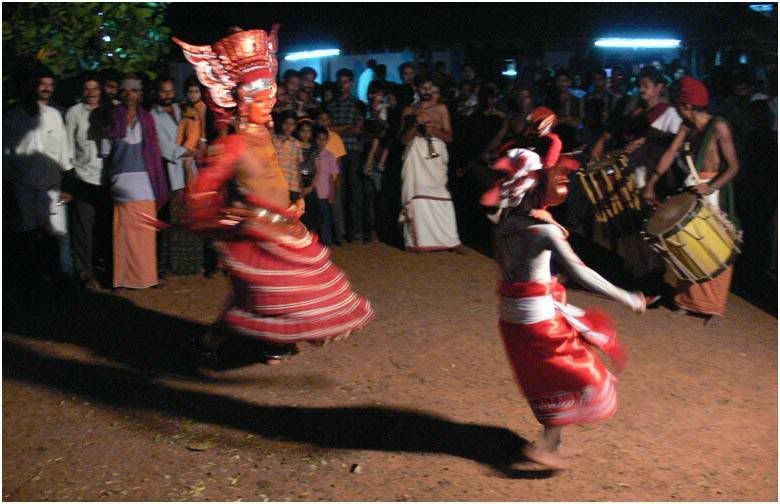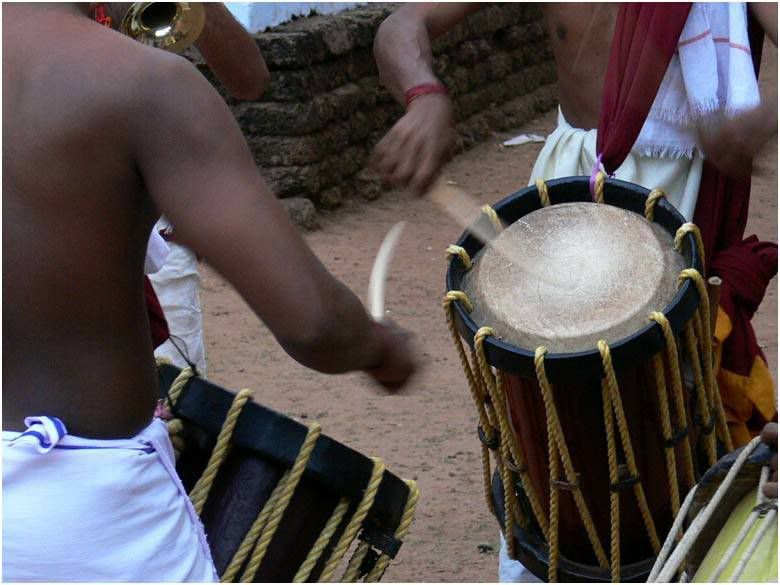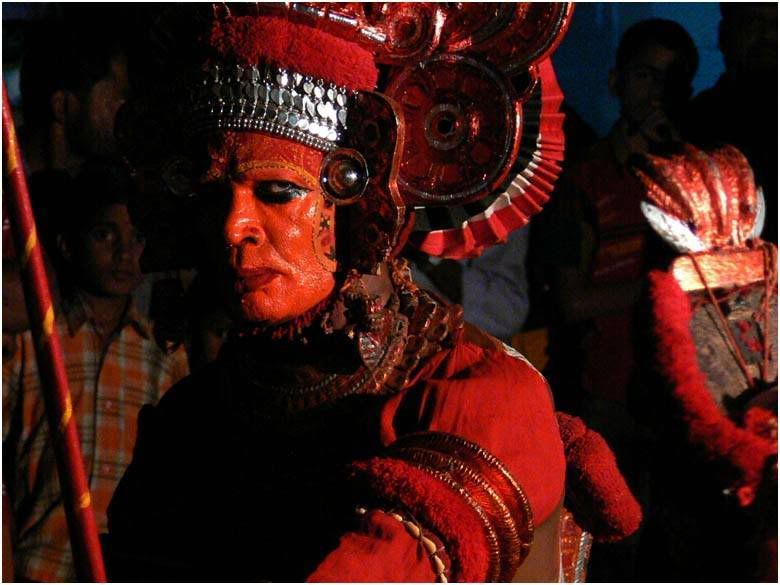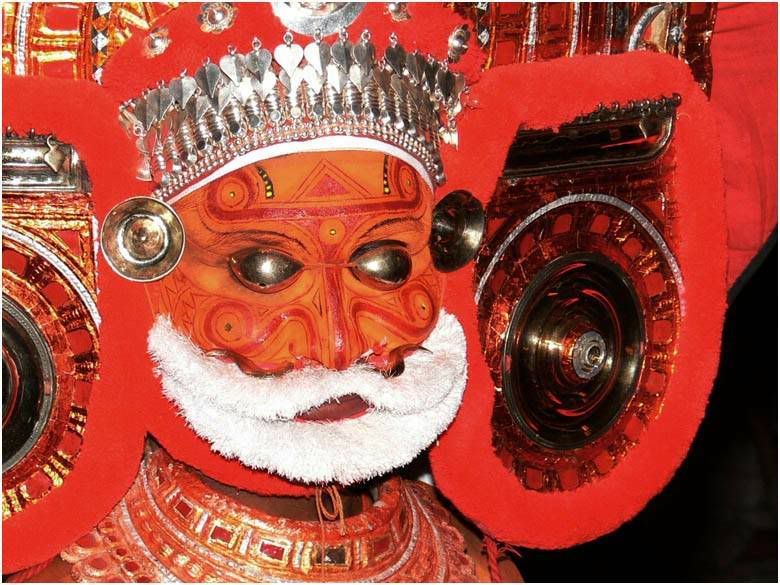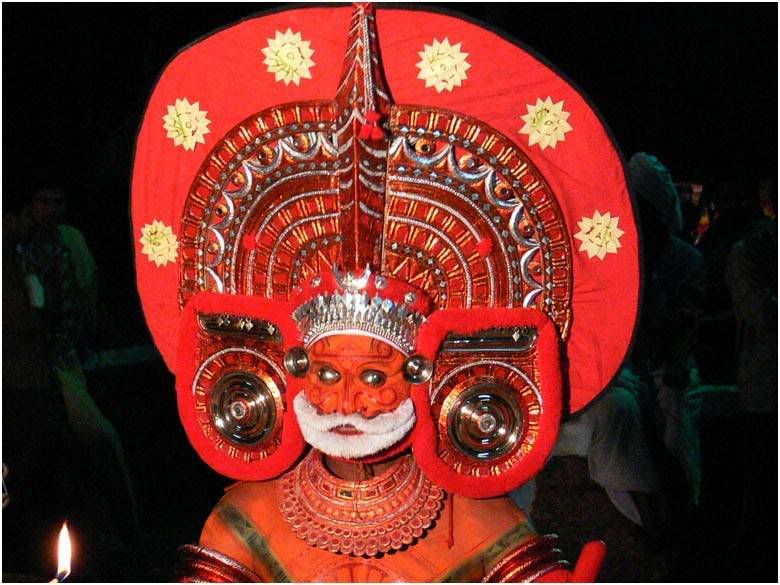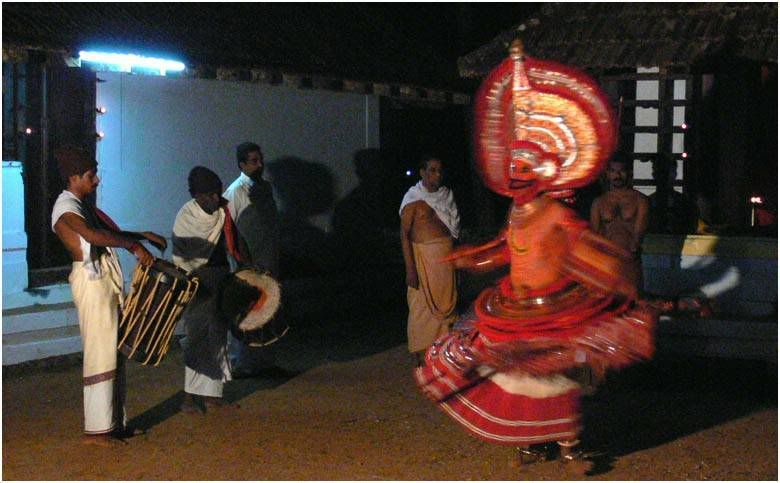 Gods appear one by one, There were friendly people telling me all the names of the gods and all the details which I was promptly forgetting. I'll ask Sindu and Unni for the information. the atmosphere was electric. serious crowd, very quiet, they couldn't defeat the sound of the drums any way. It was enough to keep every one awake right through the night.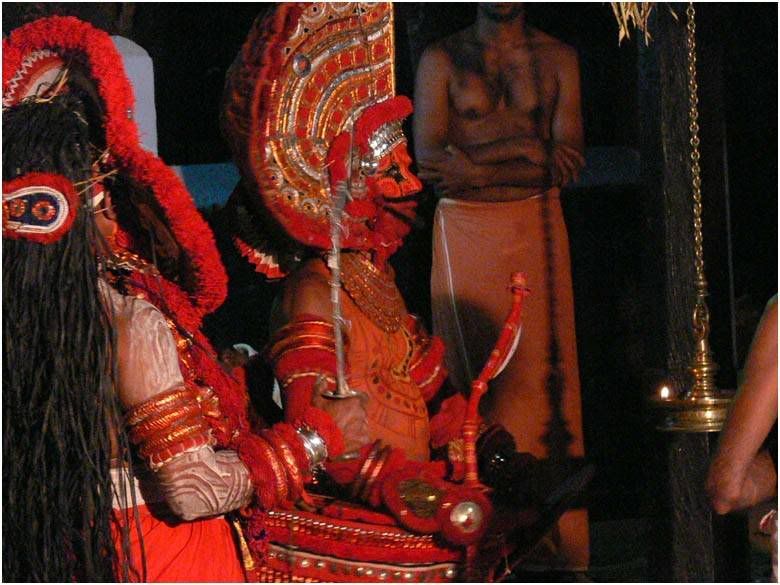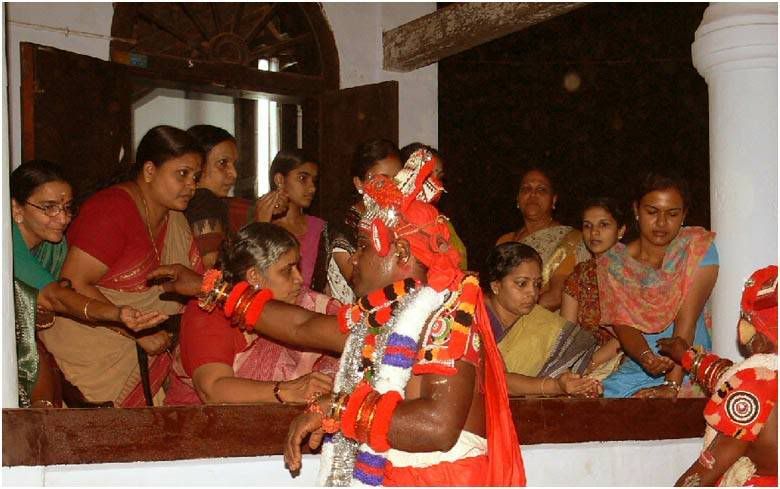 Then suddenly this happens.
I was half asleep when this god appeard. I got up to take a picture. He approached me. Probably thought that I have problems to place before him. He gave me flowers. I was looking at the flowers in my hands. Camera in the other hand. He smiled at me. Except for a lady and a child there was no one around as the crowd was with other gods. Suddenly the crowd abandoned other gods and gathered around me. I became nervous. They wanted to hear what this god is telling me or perhaps they thought i may place some unique problems before this god. i had none. I just kept quiet and kept smiling. All were looking at me. The god predicted my future.
All pleasant stuff, all in Malayalam, Yes I could follow what he was saying. My good days will come. He misfired only once as he talked about my Bhaari and Kuttiyol ( my wife and kids )
I have none. He was blessing them. Good. I took the blessing for my sister and my nephew and niece. I did not correct him nor did I tell him what I think of his blessings . Poor chap. I was patiently listening nodding my coconut in total appreciation. It was indeed very sweet of him to bless me and my family without asking. Then I took this picture and showed him the picture on the small screen.
Ha, he smiled and touched my shoulder. I did not argue with him like I do with gurus and swamies, please believe me. there was mutual respect.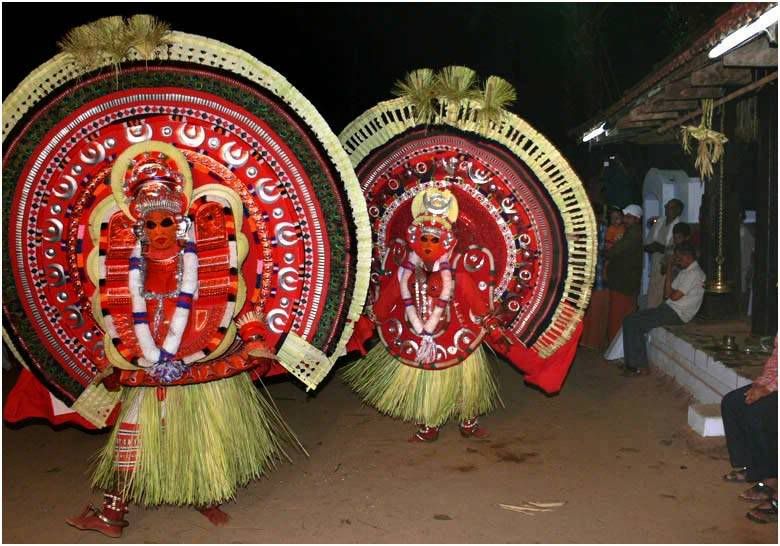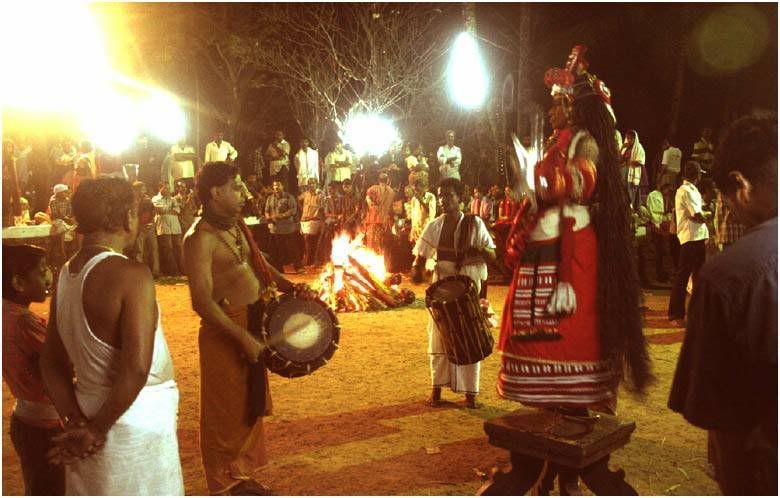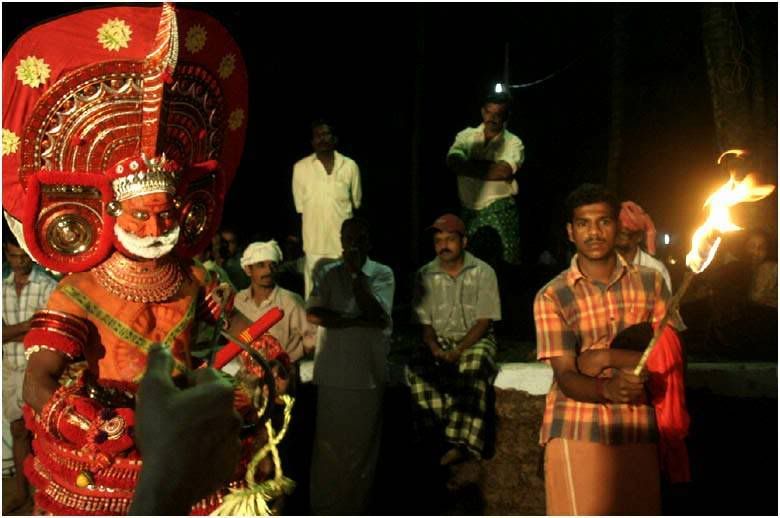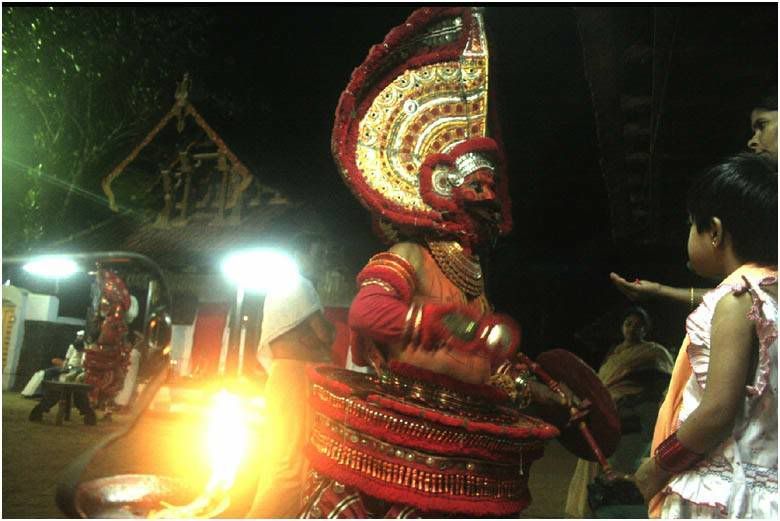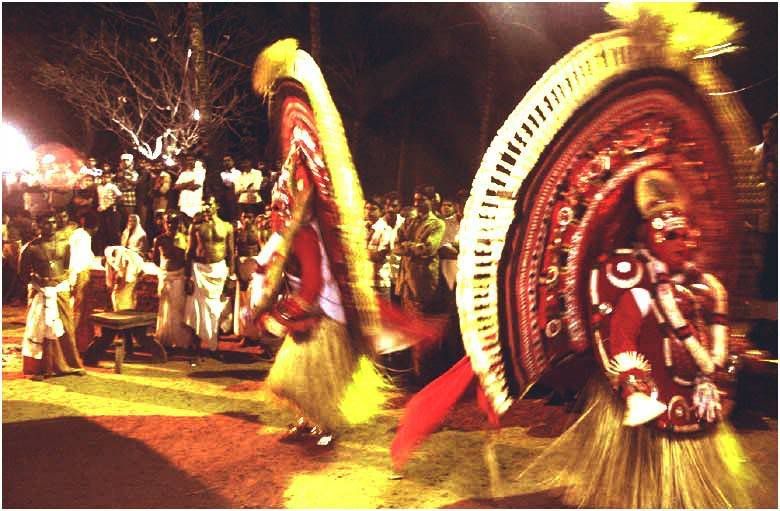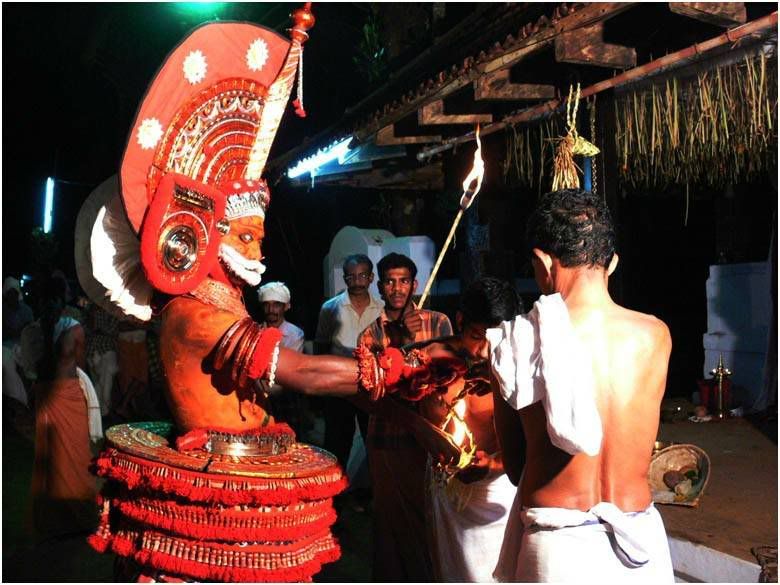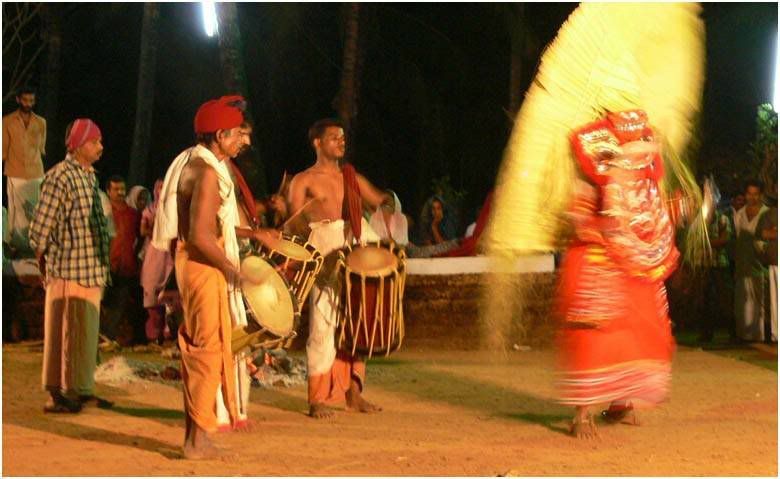 This is the grand finale
Comes towards very early in the morning.
the head gear is 30 feet tall
the crowd waits for him
A demon god or slayer of demons, it was simply spectacular, and worth waiting for the whole night.
Here he comes. Can't get near him, he is surrounded by fire, lit torches tied all aound him.
I am desperate to see his face and can't go near him, Crowd and fire all around him. My train was leaving in an hour's time and I was getting a free ride to the railway station 20 KMs away with Unni's uncle's family, very kind of them. If I miss the train I miss the engagement of my friend Jawahar. I am restless as the movements of the demon god are very slow. He has to walk with such a heavy costume, 30 feet high head gear with burning torches tied all around him
.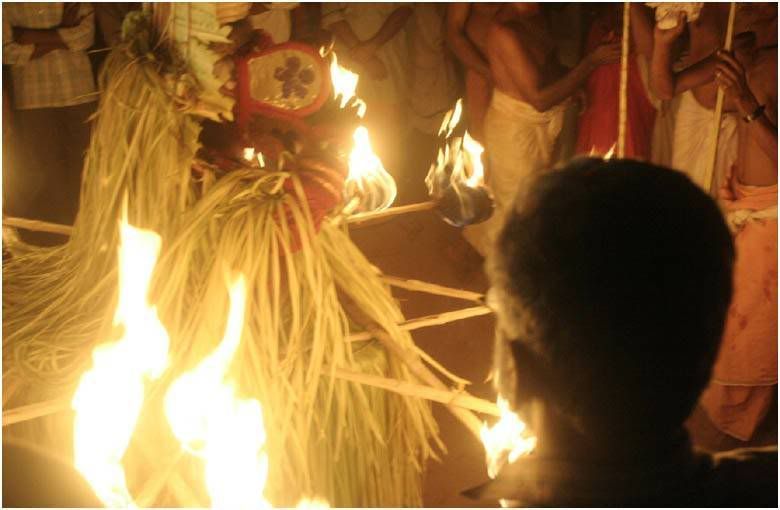 And finally I get to see his face, pretty scary but magnificiant. Wow ! I could feel the heat, I gently elbowed my way towards him. No way I could go anywhere near him with all the burning torches tied around him. Electric atmosphere. Absolute silence, no drums, then suddenly the drums came alive. My bags were already in the waiting car. I could barely take a few shots and it was time for me to leave.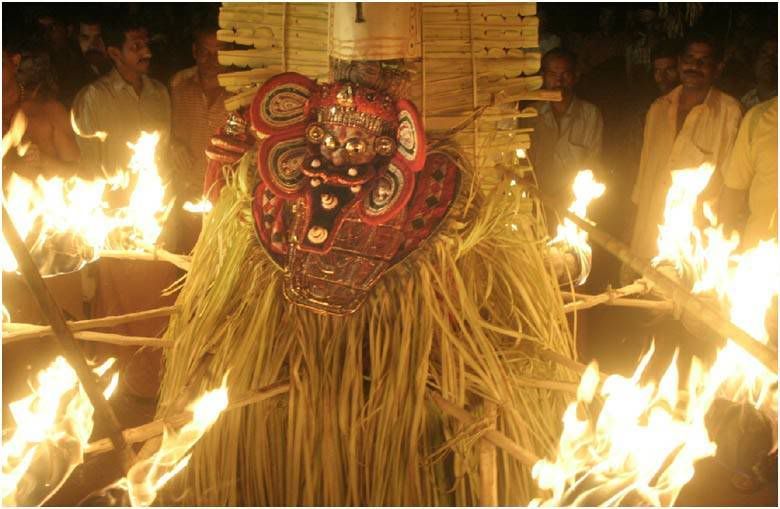 Unni was with me, his uncle's family was waiting for me. I was overwhelmed. I was still dazed with the unique experience. Just hoping to be there next year perhaps with the members of family, Sindu and Nirmal, half the pictures were taken with his camera, Ranjit and Seema, who are in the US.
Unni, mom and dad, sister Rema took so much care to make me feel at home. How sweet of them. thank you all so much, Unni's little niece Mathangi, very sweet and friendly, took away all my fatigue with her charm and innocence
.