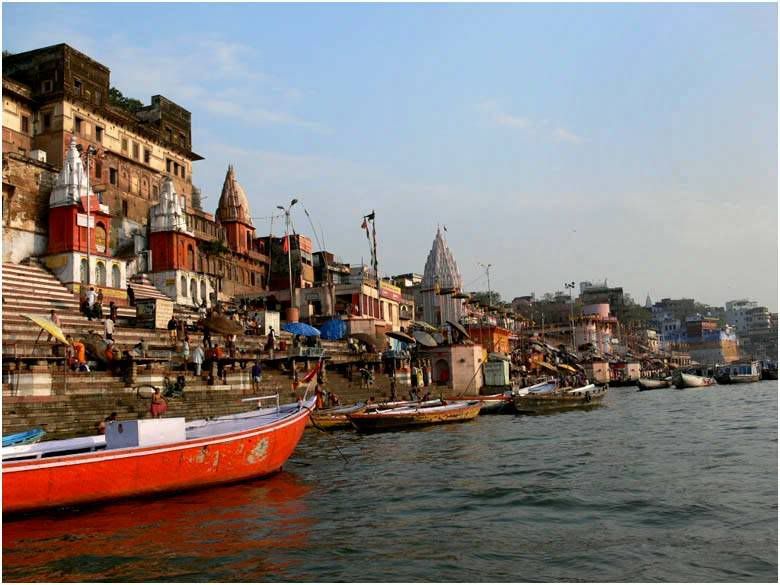 Banaras is the holiest of all the holy cities of India and the filthiest of all.
I am not angry
Oh no ! Yes I am angry
The civic authorities make absolutely no efforts to keep the city clean, a city which attracts thousands of tourists and pilgrims every day. You'll find stray dogs cows buffalos pigs, sick horses too, they seem to rule the place. Oh yes I forgot the donkeys. There are no roads, only pot holes, in between potholes there are patches of roads. A few roads leading to the ghats are in reasonably good condition.
I am pretty comfortable with filth and garbage. I belong to the streets anyway.

The local people make up for the lapses of the civic administration and the employees. Exceedingly sweet courteous and respectful.
What ? Fooding and lodging ?
He has communicated hasn't he ? Absolutely no hesitation. They communicate. You know what it is, you just go there and eat, simple !. I have to learn the art of communication and the art of survival from these people. I had my breakfast here, Aaloo Paratha (Roti stuffed with potato) steaming hot, with some jam and pickle. The kind of respect you receive is not fake, pretty genuine it is, very much unlike the 5 star hotels. They may not follow your language but they will pick up a couple of words and connect and try to help you. If they do not know the directions, they will make enquiries for you and spend their time on you.

Its the people who make the place beautiful and make your stay a memorable one. I ignored all the filth stray animals and the garbage, I enjoyed my stay in Banaras. Good room with TV for 300 rupees a day very clean, little over my budget though, but I did not look for cheaper ones as it was raining and I was tired after a 300 KM bus journey from Lucknow.

A newly married couple is going towards the ghats, not to wash the sins they have not committed yet, perhaps to a temple, you can see the bride behind a cow's behind, don't know what mud pot is for or whats in it. The cow is not a part of the family, if it is, I am not surprised.
It is going in the same direction.

He looks very angry. Perhaps his visa application was rejected by the American embassy. Where is his mouth ? Perhaps he is angry with John Lennon too, he is the one who showed them the way to fame and fortune in the west. Believe me there are thousands of them here. You can adopt any one of them, an in- house guru,
here they are ! a few of them.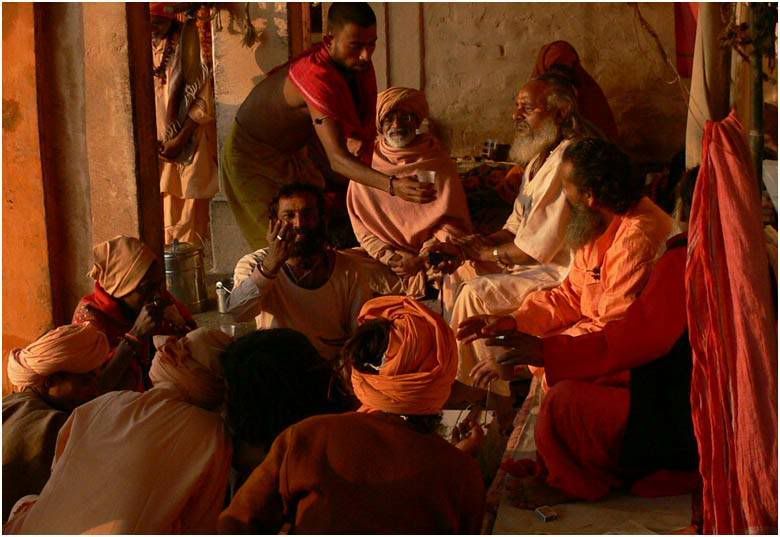 Just make an announcement that you want to adopt one guru who can offer a unique philosophy. There would be a stampede of gurus and swamijis and you'll come under them. Tell them to get organised, you will have a queue 4 mile long. Tell them that you'll interview only those who could speak English. Still you'd have 3 and half mile long queue. They know how to communicate and each one has his own style of Nirvana.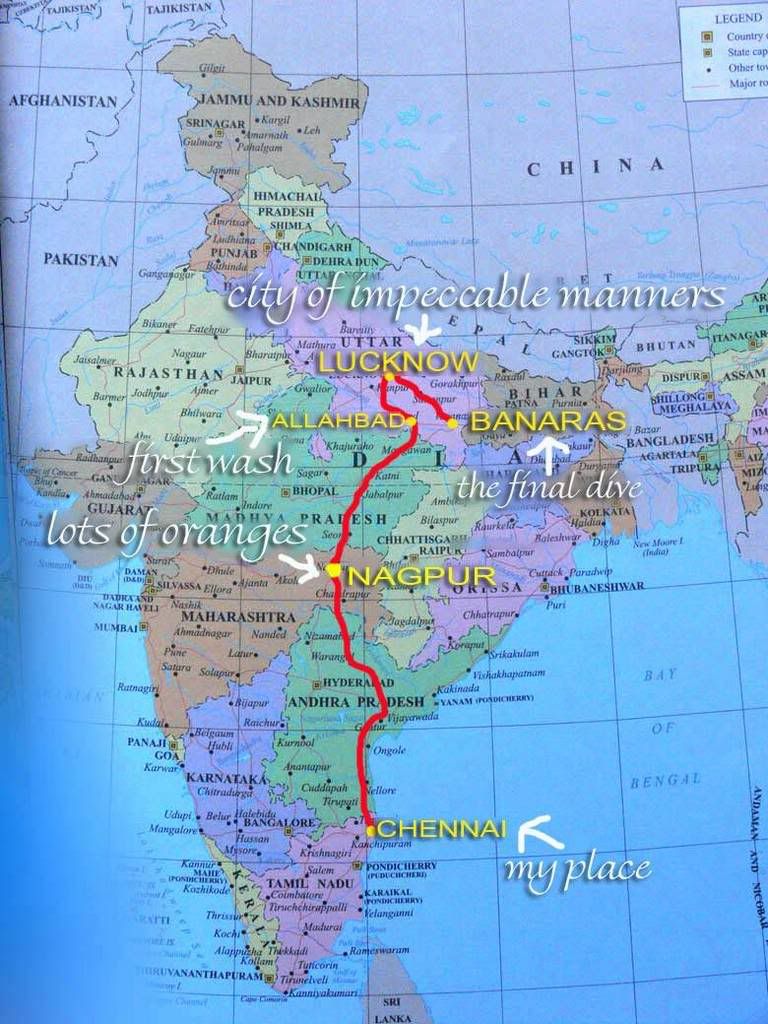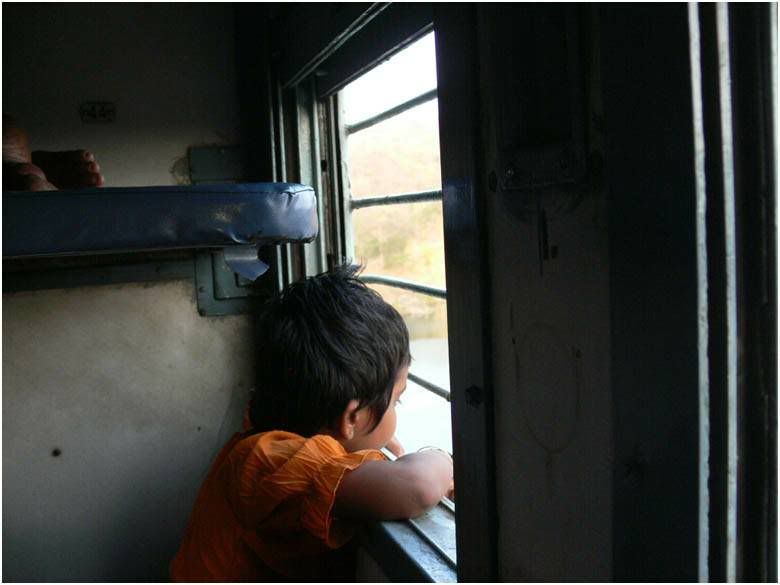 Pleasant experiences in the 2 day train journey. Sweet memories of a little girl Vasini who kept offering me everything she ate. Sweet adorable child. Since it was a 2 day journey, all my things were scattered all over the place, she and her mom kept gathering and arranging my things. I am very lazy clumsy and very disorganised. There's always a mess around me.

This is how I reached Banaras. Chennai - Allahbad - Lucknow - Banaras or Varanasi as it is called now. You start getting oranges in the train 100 kilometers before and after Nagpur. 10 rupees for a bagful.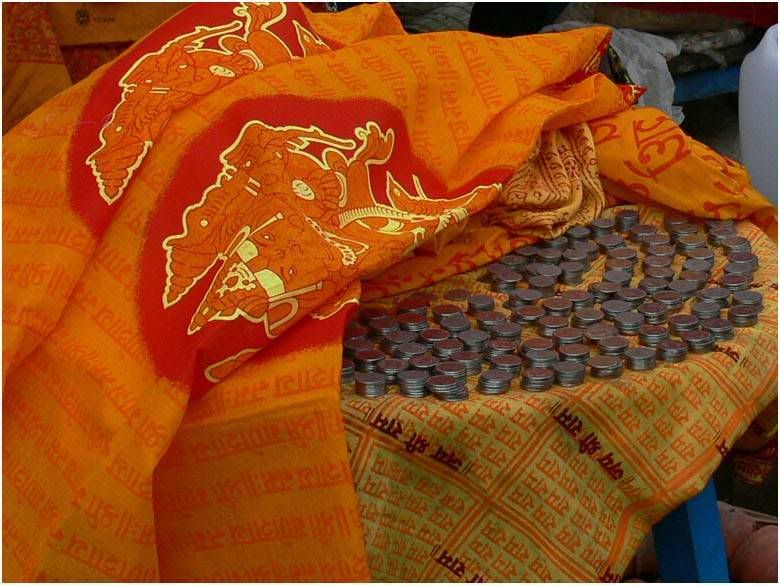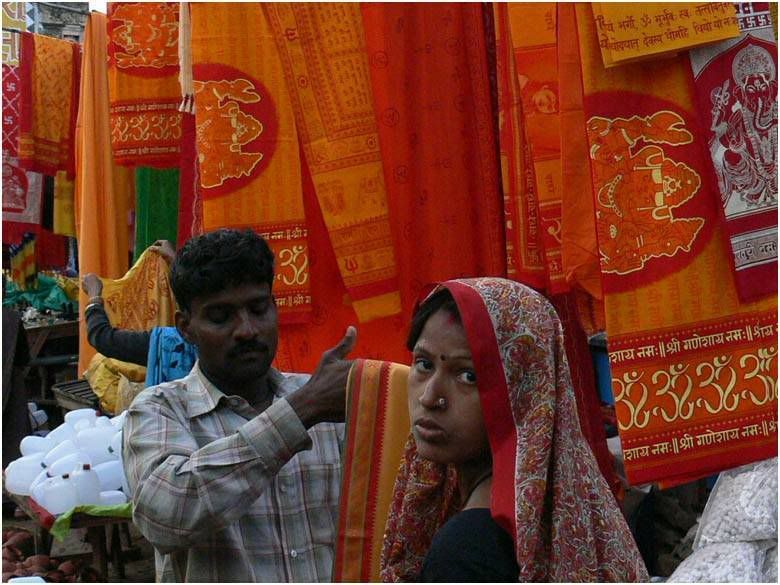 Back to Banaras. You can buy one of these and become a guru yourself. Before you enter the ghats, the pundits would start pestering you, offering pujas, puja material, or offering direct tickets to heaven for your dear departed ones.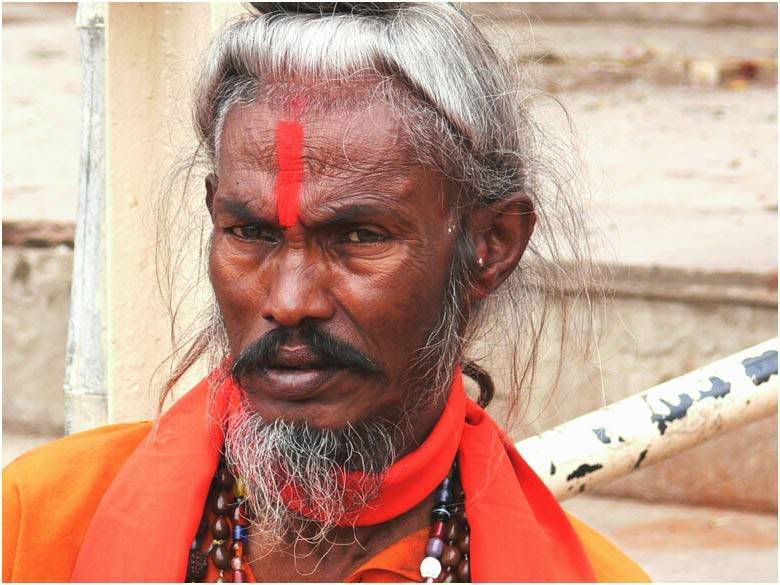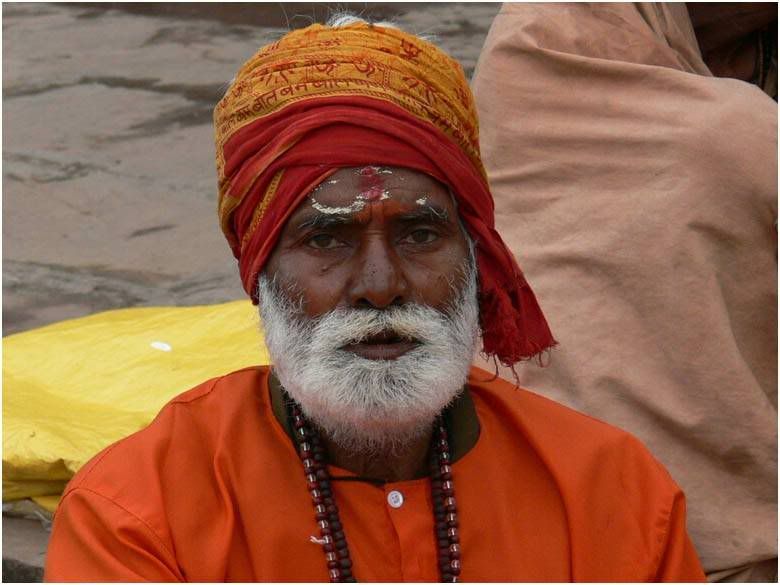 What would you call a place where you have 500 photographic oppertunities every minute. Its a photographer's paradise. Please avoid drinking or eating near the ghats and temples. Had a tough time avoiding cops with guns in the pictures. They were all over the place. Mood spoiling it was, and to make matters worse I look like a terrorist. I did not go near the temples as I heard that metal detectors are installed there. When I pass through a metal detector, it doesn't just beep, it starts singing and dancing. In my bag I carry 3 iPODs and three different chargers for those, a portable CD player, I am very greedy, 4 sets of batteries and a charger, 2 cameras, one borrowed from Nirmal and two chargers for the cameras. I'll have a tough time explaining to the cops, who can just harass you and waste your time. Luckily I had no such problems. Any one can walk into the temples, there is no restriction.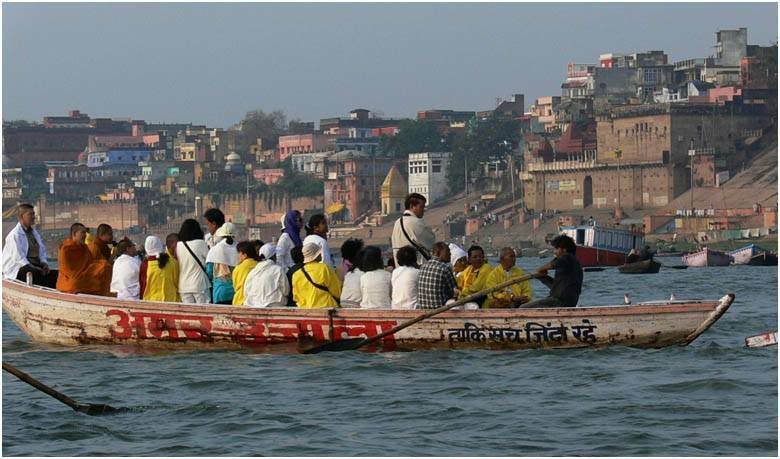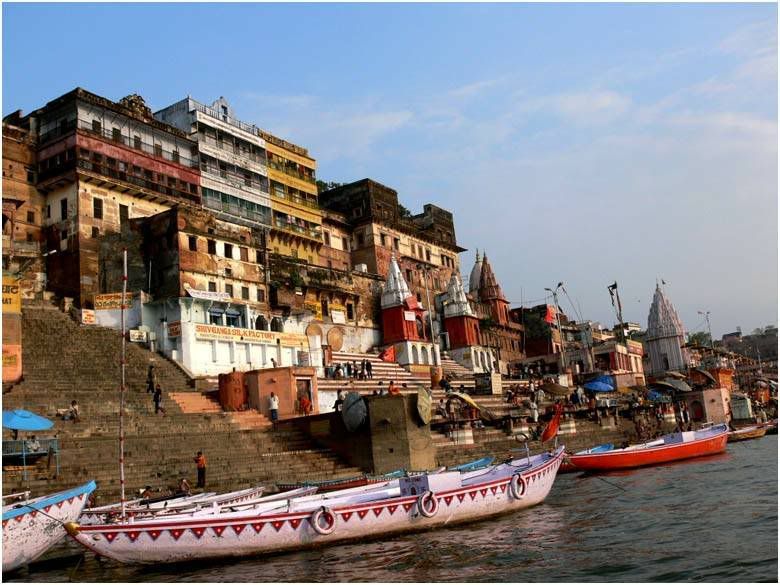 Took a boat for 50 rupees and I did not bargain. But they fleece you. Had the boat to myself and took my time. I did not even dip my finger this time, to wash away the sins my finger committed. Its a matter of faith. Every one wants to purify himself or herself. I can't argue here. So I will keep my personal views aside, once again.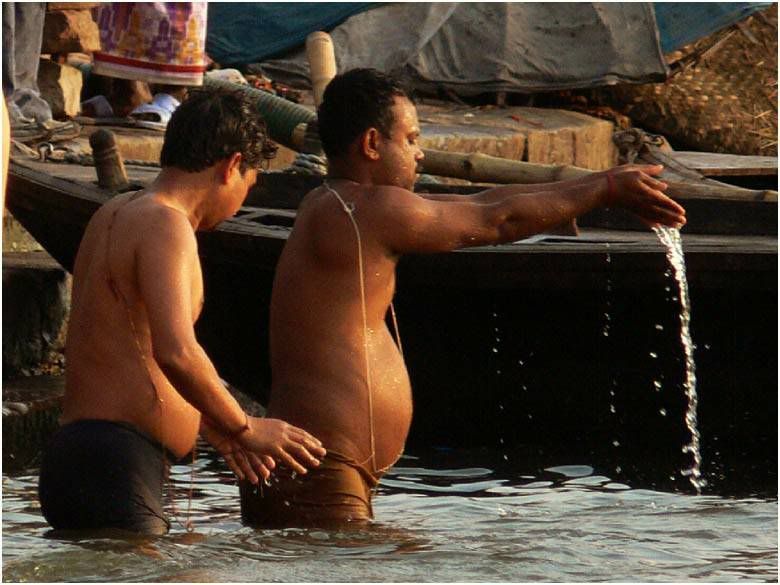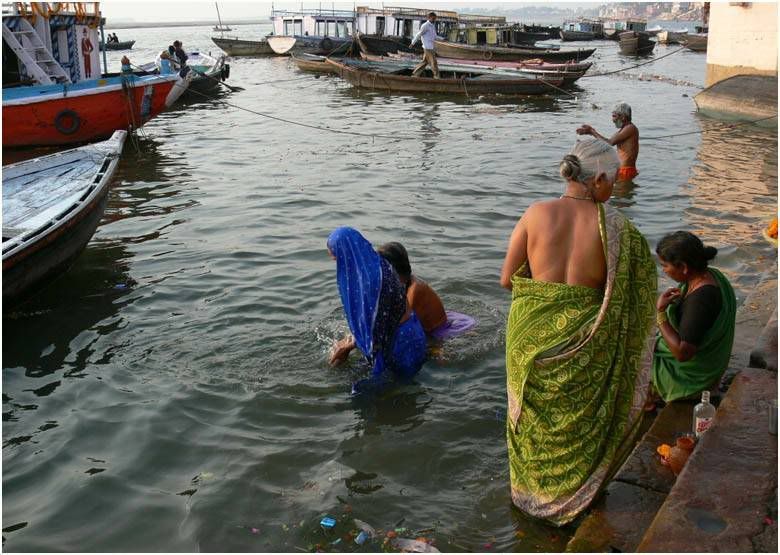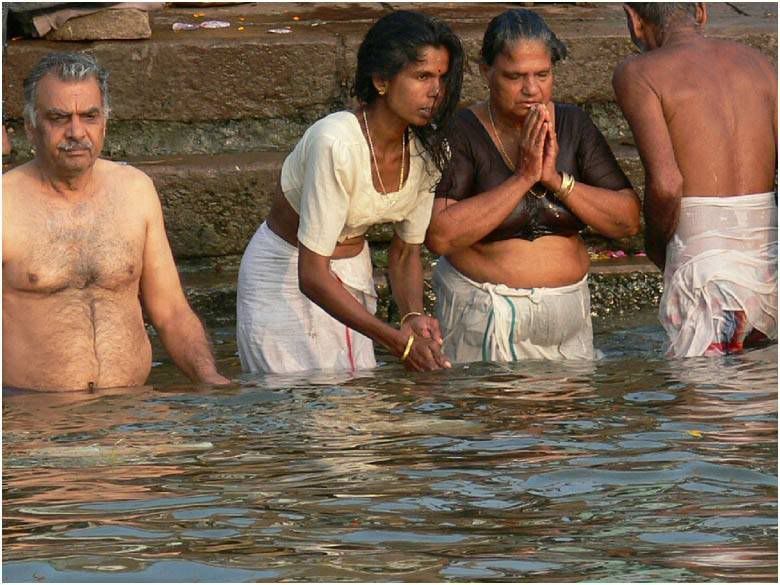 Big scale washing of sins goes on every second and the river Ganges carries them all, Ganga mai, Ganga mataa it is called ( Mother Ganga) Yes It is the mother who suffers for all the sins her children commit. Mother earth, mother nature.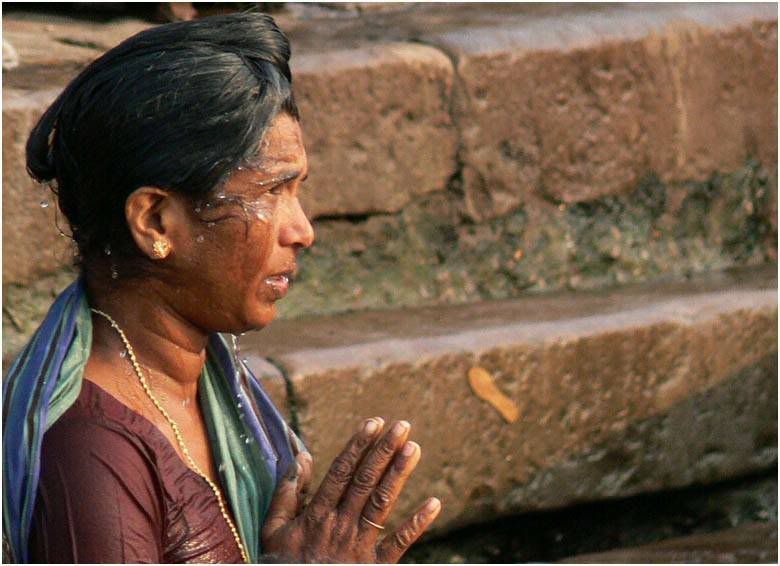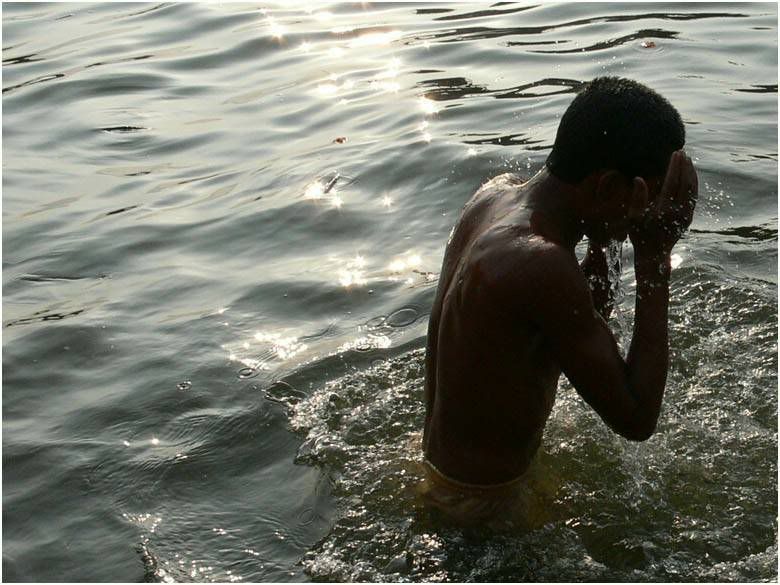 Its more like a purifying ritual, they all know that they cannot wash away their deeds of the past. Some sincerely believe and clear the old account and get ready to commit fresh sins.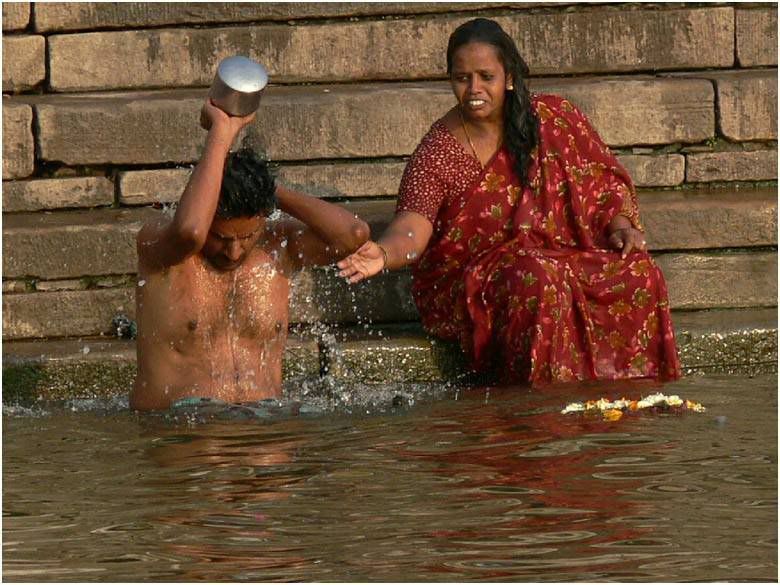 washee washee ! Wife helping husband to wash away his sins.
You tried to kill my mother remember ? you pushed her off the staircase and she broke her leg ? she was in the hospital for three months ? remember remember ???
Here, washee washee Dippee dippee for that. Wife thinks that she has not committed any sin. She is interested only in washing her husband's sins.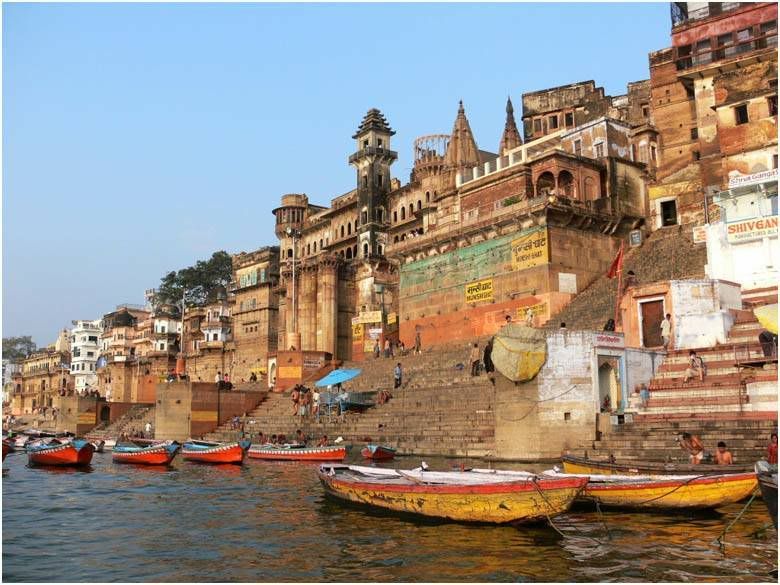 No money for gurus and pundits in washing the sins. Big money lies in funeral rites. After the cremation people bring the ashes to Banaras for the final send off. Guilty children spend a lot of money to sent their parents to heaven. If you have money you can buy anything. Sending parent's soul to heaven. Wonder why FedEx is not in business here. These gurus are smarter than FedEx and DHL. They know the route. No stamping, no visa to heaven.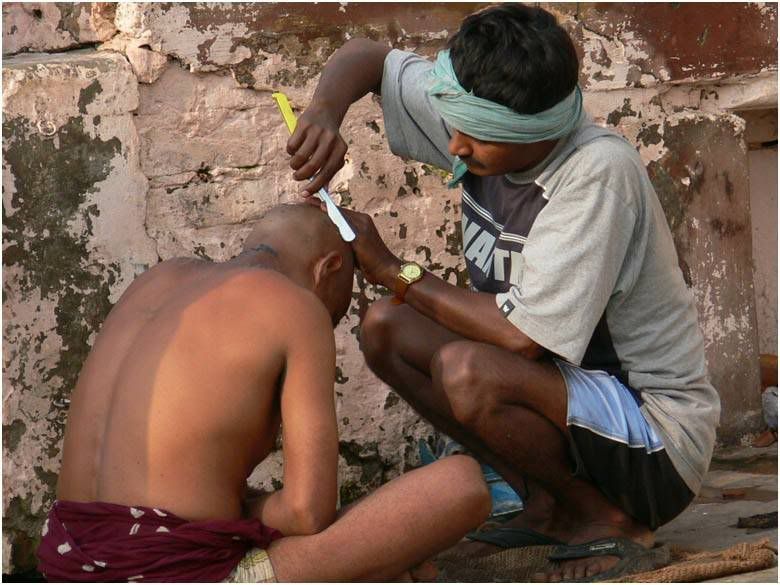 First is shaving the head. little hair is left at the back of the head. You would have seen Hare' Rama Hare' Krishna people having it. It is called kudumi in Tamil, don't know what is the significance, please contribute if you know.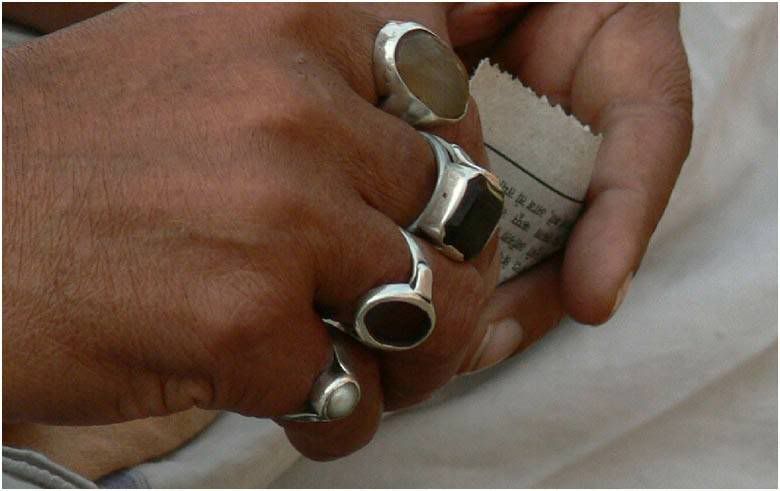 Then comes elaborate rituals, offerings (always money, Ticket to heaven is not free) Pujas, forgivance, deleting the sins parents committed from the hard disk, money money money for everything. Finally the ashes are taken to the recycle bin. immeresed in river ganges, which pollutes the waters. The authrities have stopped the practice of cremation on the banks of the river, saw half burnt dead bodies floating in the river last time. But dropping the ashes still continues. Further down people drink the same water, wash the clothes utensils.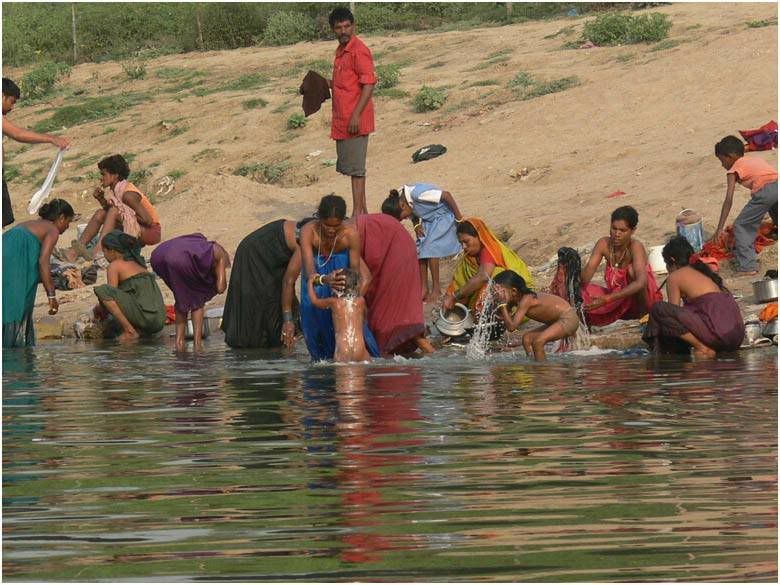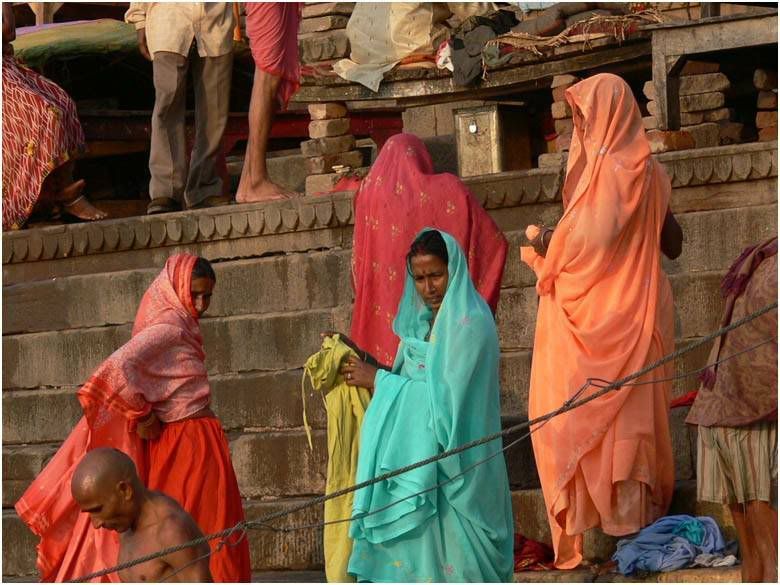 Some tough looking chappees carrying the ashes to be immeresed in the river.
Ok now, bye bye dad ! don't come back, we have spent a lot of money for you, be a good boy in heaven. Don't come back okay ?? here we go ! DHOOMP !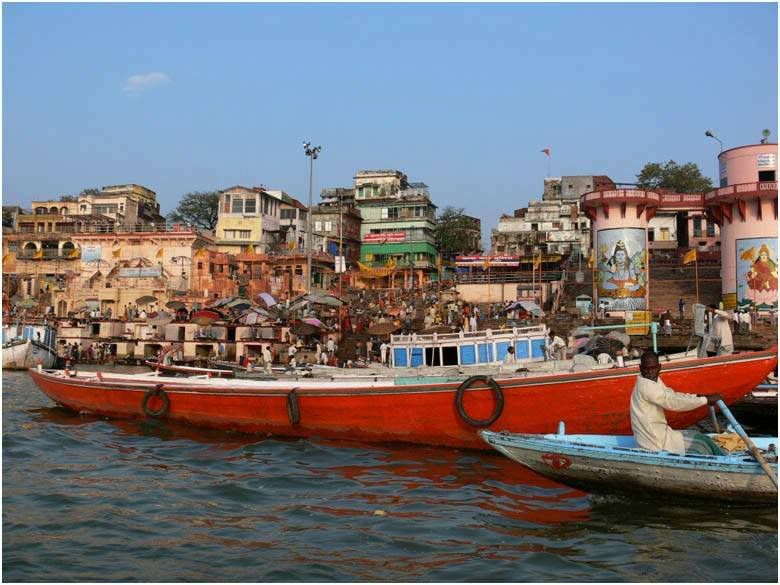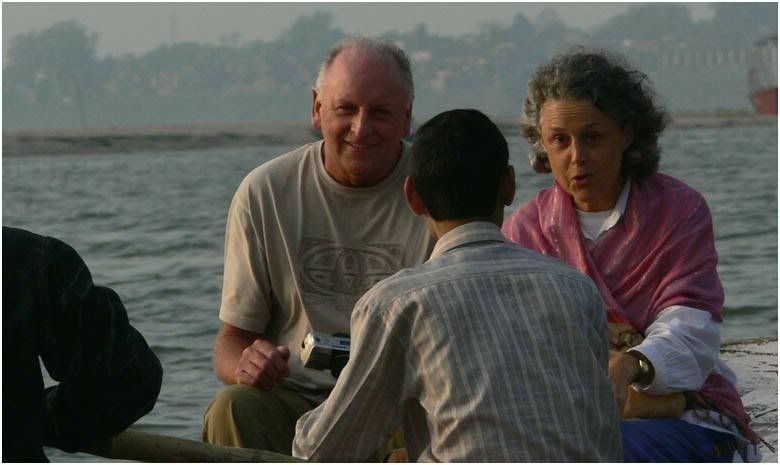 The boatman telling a story to the tourists and they eat it. Tourists are absolutely safe in Banaras. They may fleece you thats all. Obviously this boatman can't speak English but he is communicating
.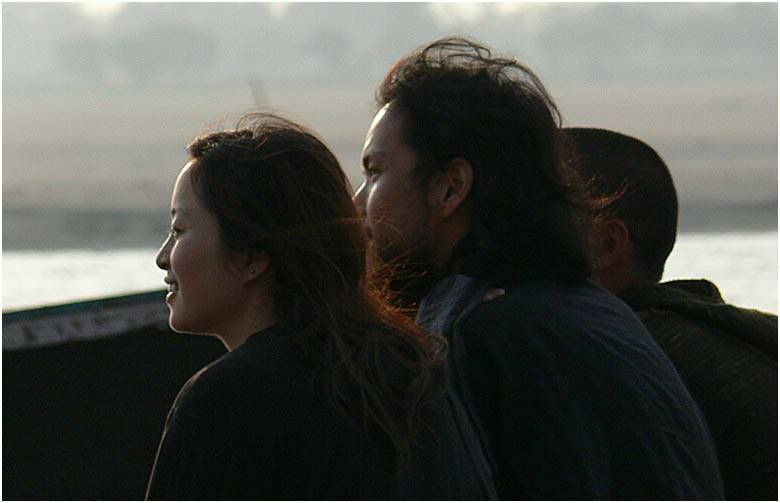 Except for removing the footware in the temples, there is no restriction on the tourists. Total freedom, you can take pictures of anything anywhere, no one would object. You would keep clicking until your finger is tired.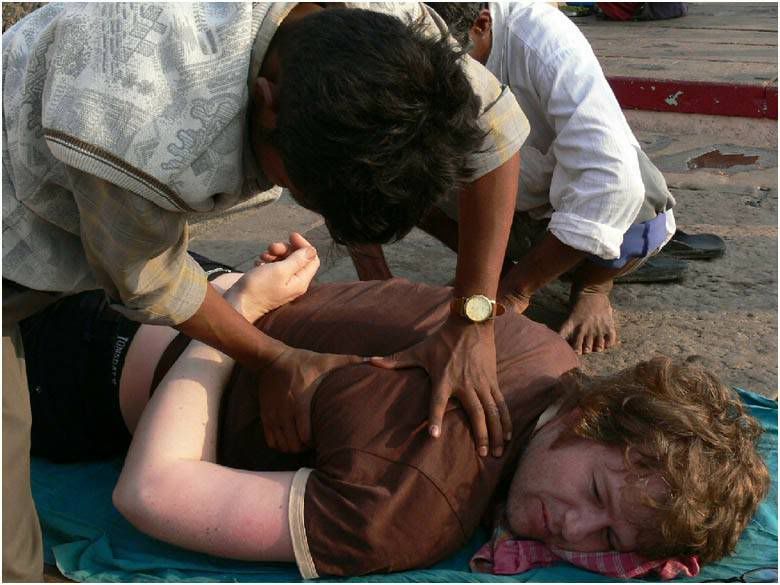 This poor American is not getting bashed up by the locals. He is getting a body massage on the banks of the river. No it is not a massage, something more vigorous than that. I heard his bones cracking. I spoke to him after it was done. He said it was an awsome experience.
'Feeling top of the world now' he said Why don't you try it ?
Oh no ! Not me.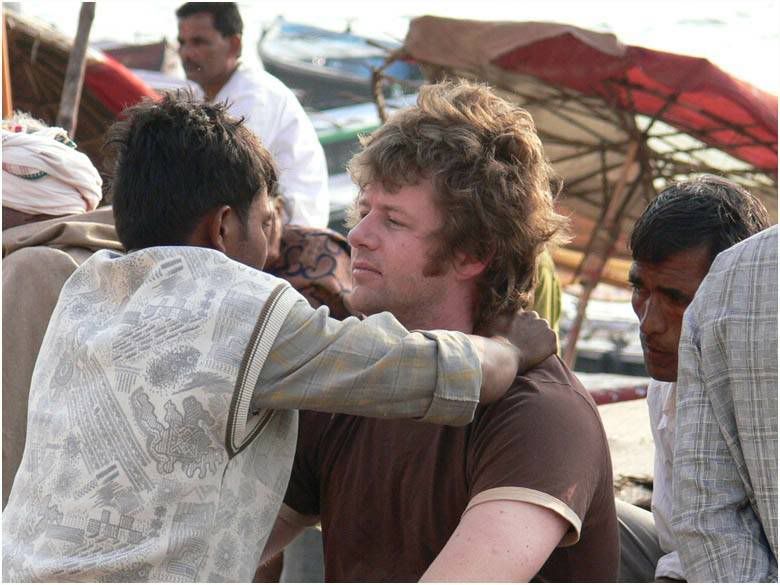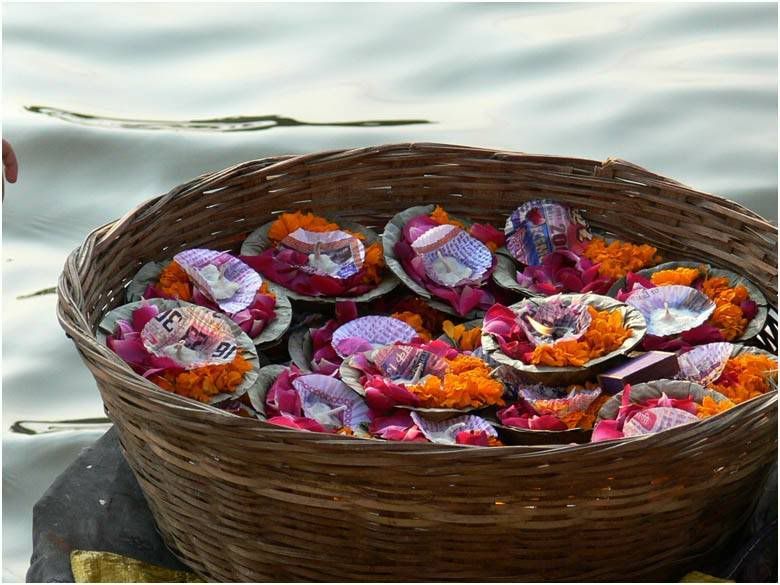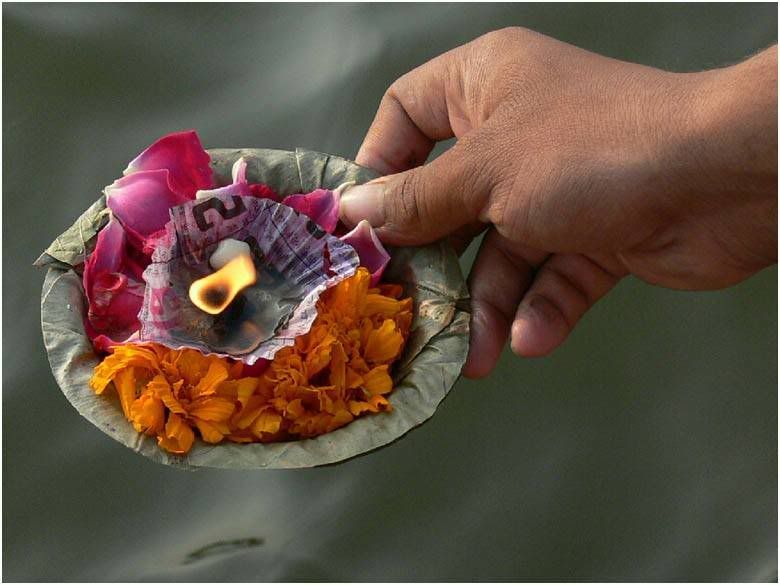 No its not my hand. Wanted to take a picture. You pay 5 rupees and buy one for your departed soul. for whom ? For my grand mother I said. and You let it float in the river.


There she goes, my grandma, poor old thing. Sorry grandma, couldn't send you in first class. 5 rupees was all I could spend.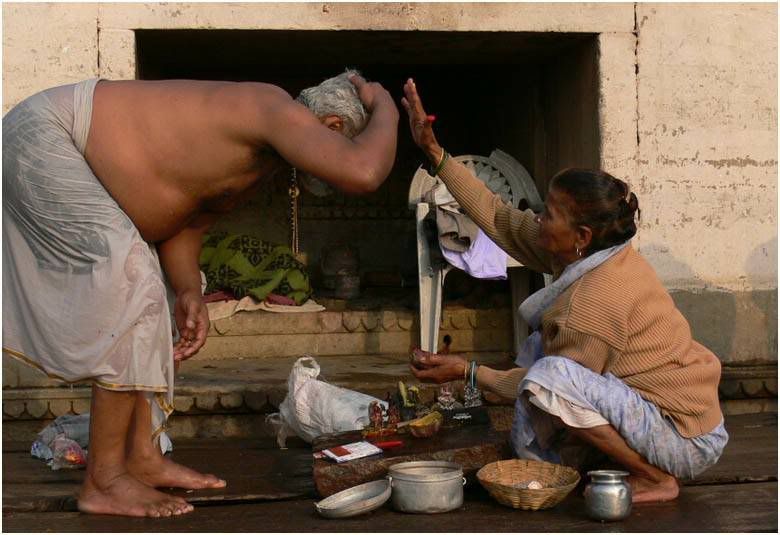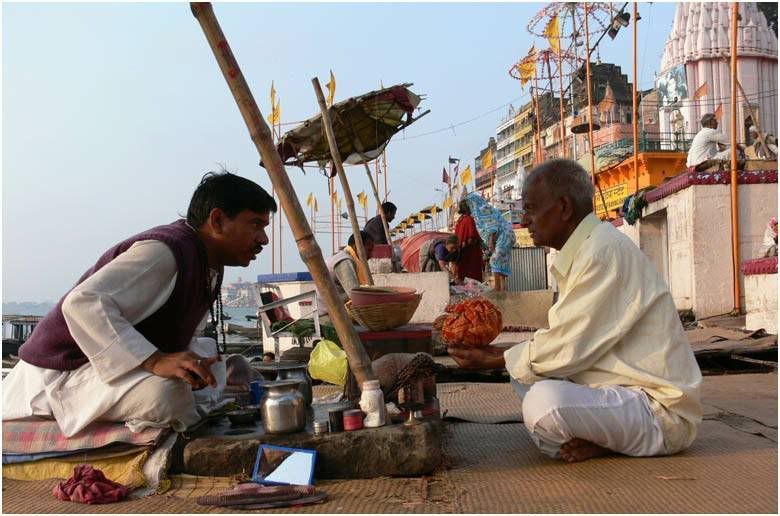 This man is holding the mortal remains of his dear departed one, performing rituals, spending money. Wonder what is the mirror there for. It must have some function. I found some women pandits too performing rituals.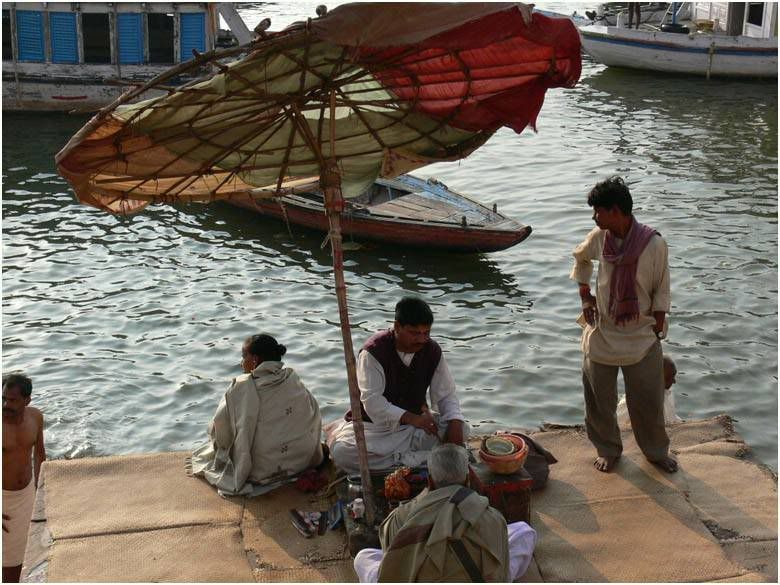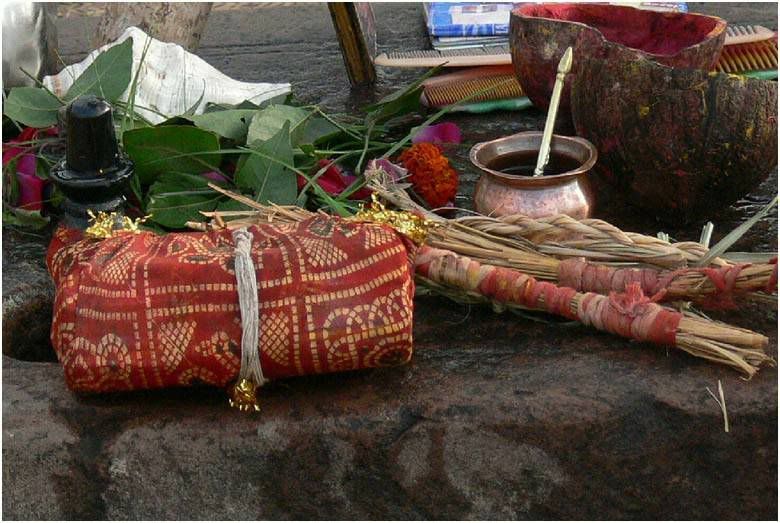 You can buy lot of things there. You have to bargain a lot. Very cheap. They will follow you, sometimes its a pain. But not one will yell at you get angry or use foul language if you bargain.
They all are very respectful people. they treat you with genuine respect.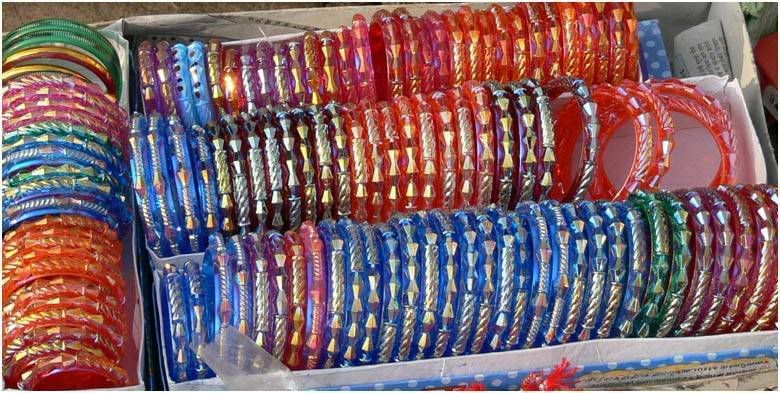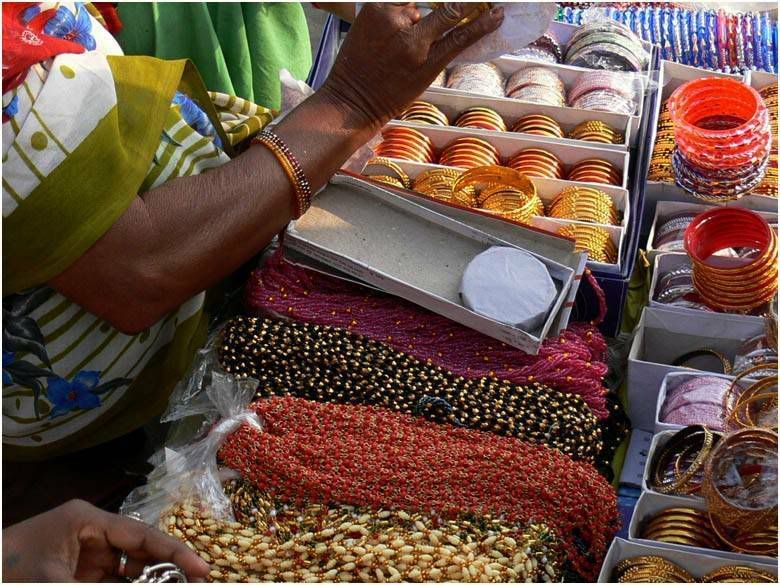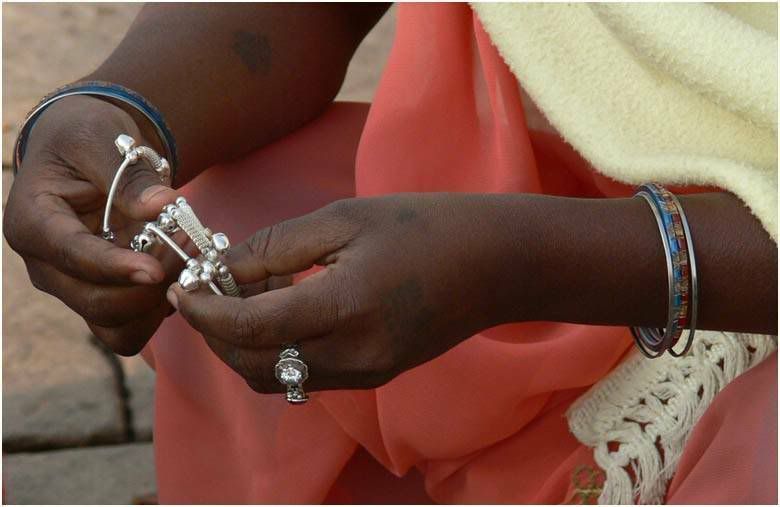 One thing I have to tell you. If you go for shopping in an auto or rickshaw, just go about collecting cards or addresses and don't buy anything. . After some time ditch the auto or rickshaw and go back to the shops to buy, it will be a lot cheaper. The shop keepers have to give 40% commission to the person who takes you there which eventually has to come from your pocket. Sohrab Khan, the gentleman who helped me take pictures of the silk weavers there gave me this information. Just too many things to buy.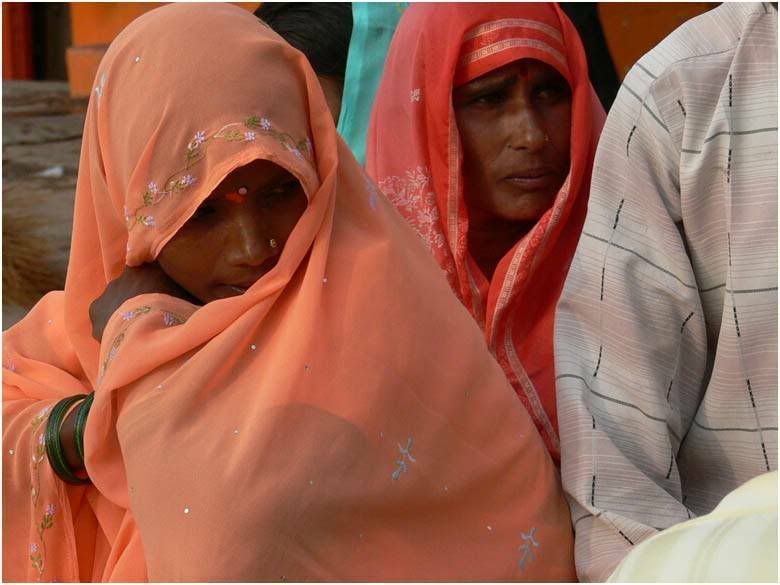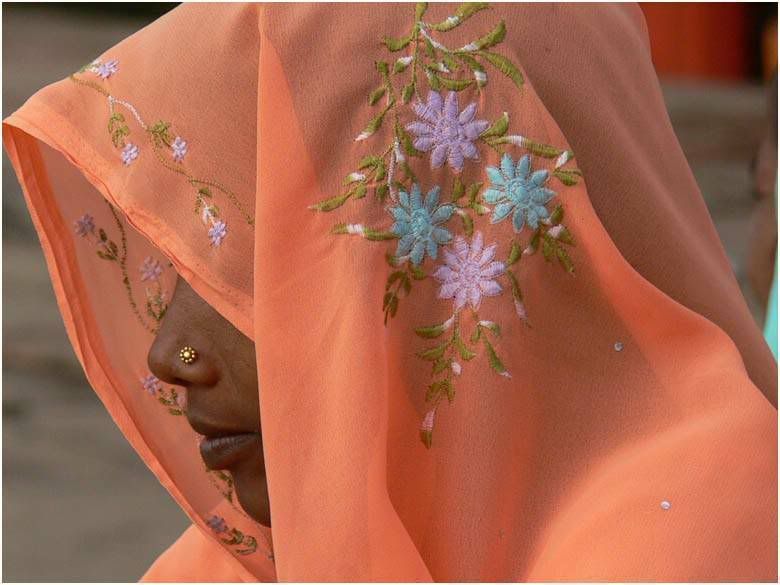 Streets of Banaras will come in the next post. This trip gave me a lot, the people gave me so much of love and care, more about this later. Though I don't believe I am saying this, I felt lot richer spiritually. Just the attitude of the people. Not the rituals, washing the sins or the sacred river. Just ignore the filth, garbage and stray animals, and ignore the cops, you would love the place. It has so much to offer.

I am not happy about the template, I'll change the tree there. I am going to Hyderabad today.
I am traveling with no gaps as it gets unbearably hot in April. Have to travel this month. I'll be back on 24th and respond to all your comments and mails.
Please believe me, Banaras is awsome. I loved it. Every minute.
All my love
Blunt Knife
Wildpic