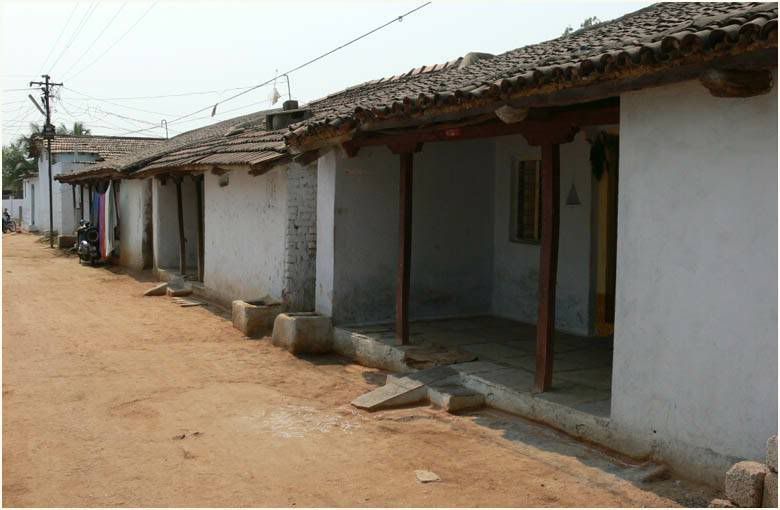 Pochampalli is one of the cleanest villages i have seen in India,.
pronounced PO - CHUM (like Chart not Cart) PALLI, now PALLI is pronounced with rolled tongue stuck to the top of your mouth for a couple of seconds more, not Pally. Its in Andhra, 42 Kilometers from Hyderabad. Sorry Hyderabad is pending for a long time, i'll have a post soon.
Once you move away from the market, rest of the village is very clean. i was happy one hot April morning.
it is TELUGU, not Telegu as i have written, Mystic Rose Corrected me, Thank you Mystic Rose.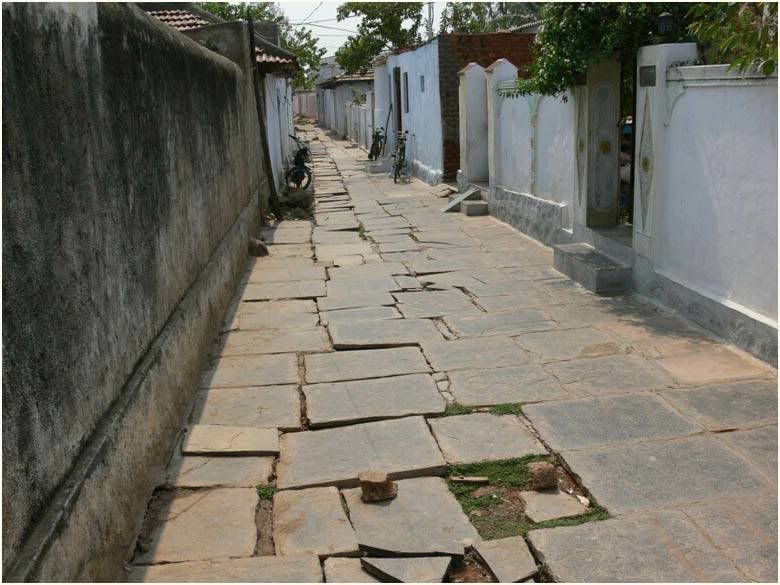 Well known for Handloom Silk Sarees, and famous for the design and patterns. i asked the price, it is 1900 rupees in the showroom and they get less than one fourth for each sari for their 15 days of labour.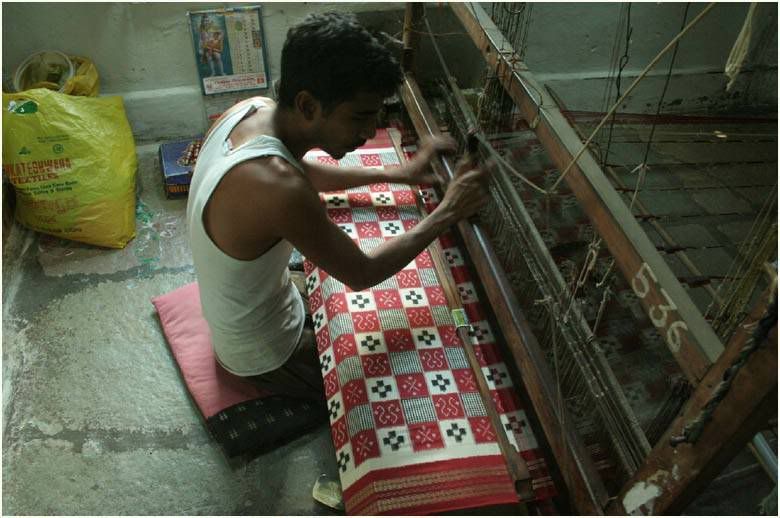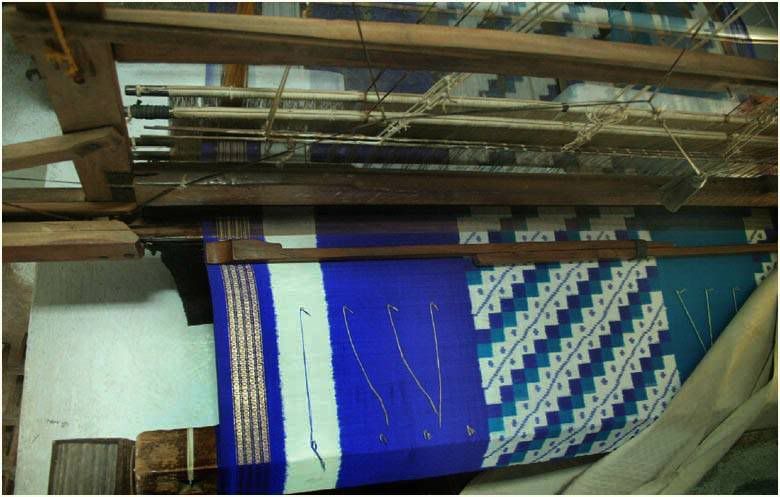 If you wear a Pochampalli sari you are a college professor. Beautiful pattern with a dash of jazz.
I'll tell you about silk later, Pochampalli will appear in the silk series. i am not talking about silk
or how clean the village is, i am talking about something else here, about more adjustments.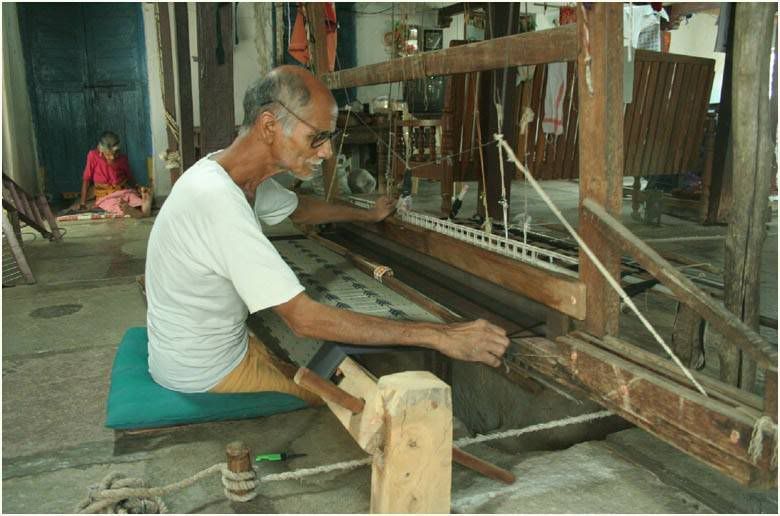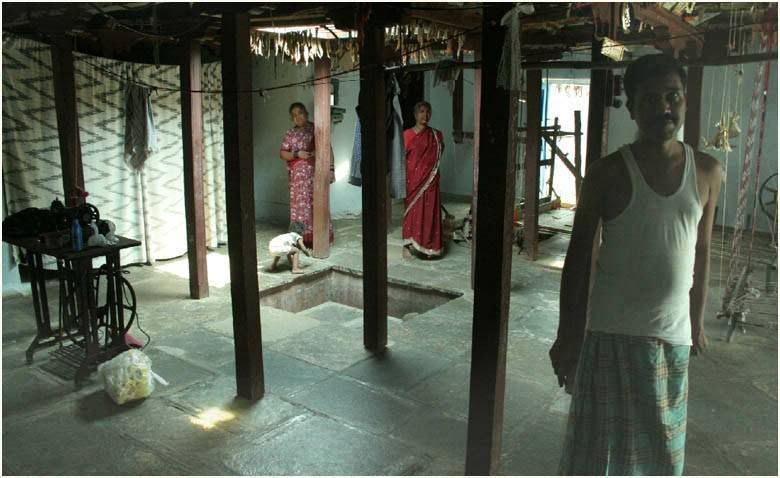 i walked in to a house of a weaver, and darted towards this gorgeous old lady, and started clicking pictures, for some strange reason her lovely eyes went moist. i stopped taking pictures and started my monkeying, i am a professional monkey and a good clown, there it came, her precious smile.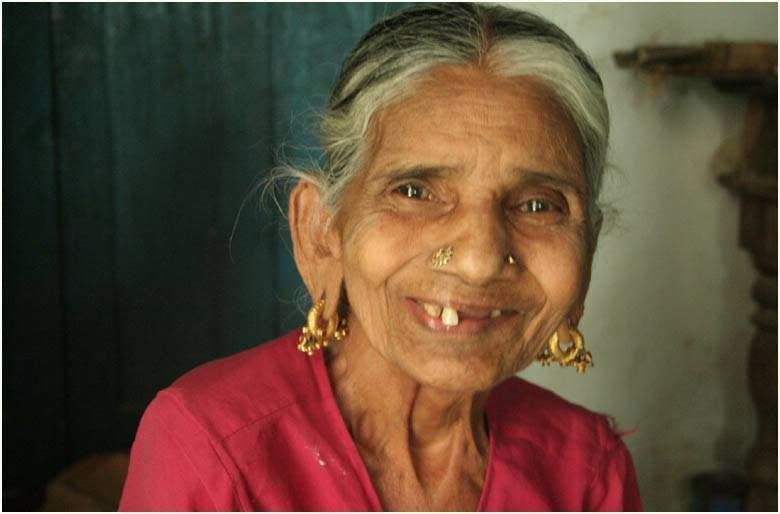 Isn't she a darling ? Look at her gold ear rings, nose jewels, She started talking to me in Telegu. i don't understand a word of the language though it is my neighbouring state. i knew she is talking about her past glory, her daughter tried to shut her up. i said let her talk, she wants a patient listener, and i have all the time, i told her in Hindi, i squatted on the floor with all my attention to
her story, nodding my coconut as if i understood what she said. i could understand that she is hurt about fast changes around her. She told her daughter to give me coffee. sipping hot coffee i sat listening to her story for more than half an hour. Her narration was beautiful. Telegu is a beautiful sounding language, even the fights in the crowded trains sound so musical. Then she said she is tired and wanted to sleep, i folded my hands in respect and said thank you. This her daughter
Why are these silly girls laughing at me ? The chap with me lied to them that i am taking pictures for a Telegu magazine. i said no no no thats not true. . the girl in the middle, the most mischievous one said that the magazing would go bankrupt with no readers if he takes our pictures, tell him to go take pictures of beautiful film stars. This was translated to me, and they started giggling more. girls don't need a reason to laugh. They are very poor but happy, they are picking up tamarind fallen from the trees, they'll clean it and sell it in the shop. i knew they were pulling my legs, good that i did not understand what they were saying. Movies and movie stars are always on their minds. they go to sleep dreaming of a good life like they watch in the movies. i walked towards the village temple.
i am coming to the point now.
WHAT IN THE NAME OF GOD IS THIS ???
This is a temple alright, but what are the children doing there ?
there is a school building but there is no room for them, they are writing their exams in a temple. These are their classes.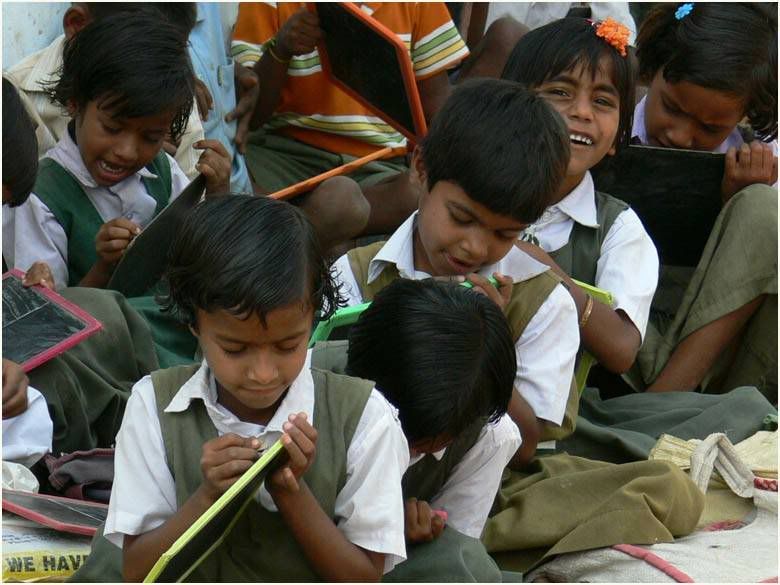 They are busy writing their exams.
No desks, no chairs, no fan, yes i have heard of airconditioned class rooms we have those too. These children want to learn, they have dreams, they don't ask for comforts, they want to be there.
This is a hindu temple, but you'll find muslim and Christian children too.
Aha ! she has written Daddy and door, she is learning the alphabet D. good girl. This girl is telling me what she has written in Telegu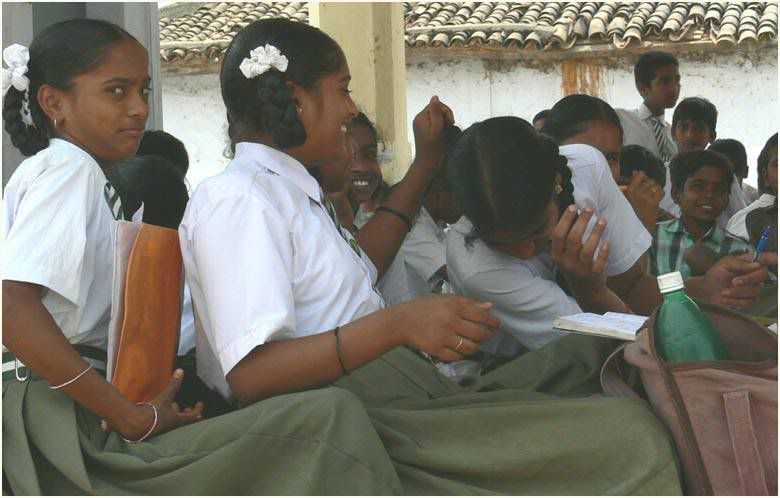 This girl is blushing, because i took a picture of her note book. The other girls are teasing her.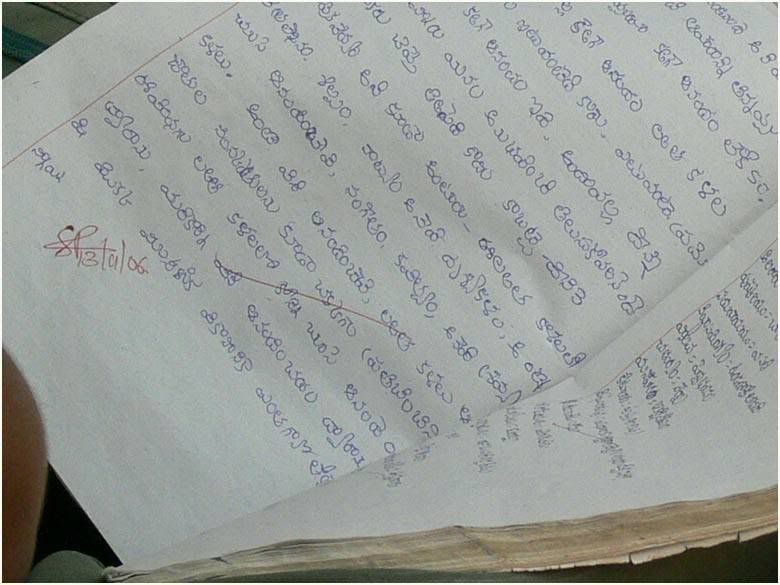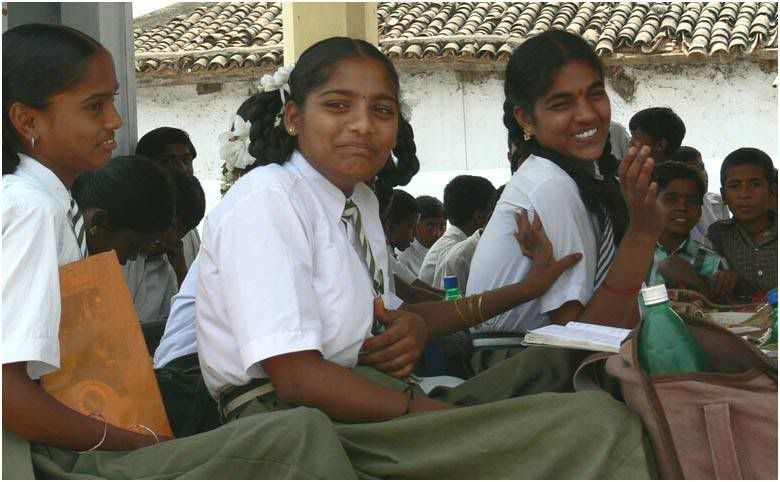 Telegu has a lovely script. i have such contempt for handwritings,
No, it is below my dignity to write with such an inferior pen. i will write only with this pen and i chose my nibs. But i forgot to learn. These kids are learning happily under some pathetic conditions.
Am i ashamed of showing these pathetic pictures ?
No i am proud of these children. i am proudly presenting them to you.
They don't even have a mat to sit on. they are sitting on the ground, moving inch by inch trying to sit in the shadow area.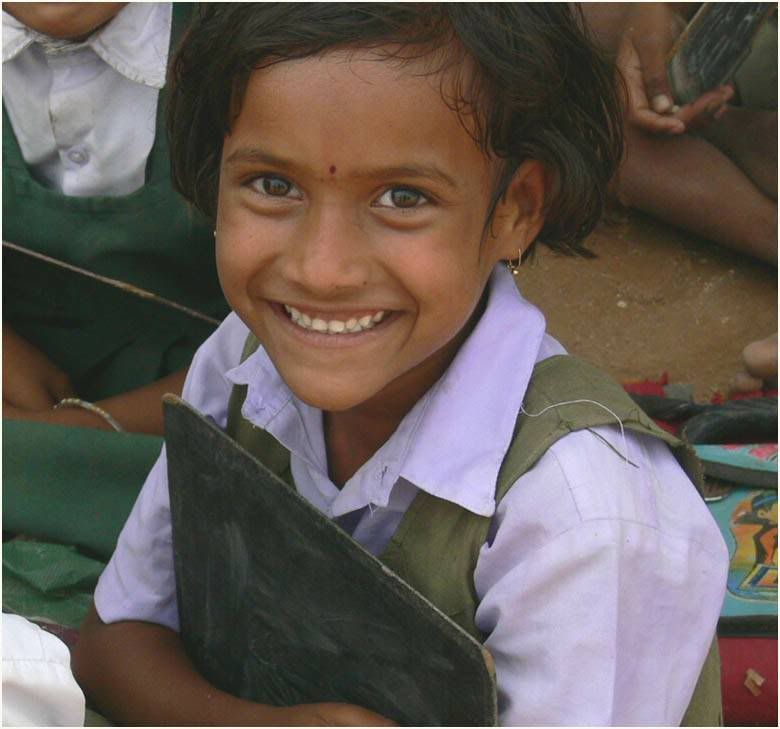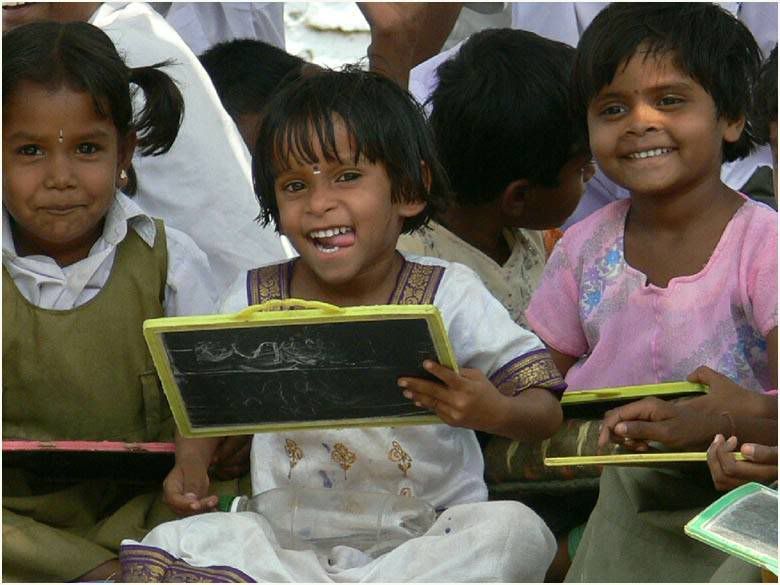 Hello ! Perhaps it was her birthday, she is wearing a jazzy dress and others are wearing uniforms. They are allowed to wear a 'dress' on birthdays. Happy she is. God ! how i love them.
Ah ! the teacher is blushing too.
Now i suddenly realised that i have to stand in the middle and let all the kids kick me. i deserved it. i just go there and disturb their class and writing of their exam and none of the teachers protested and told me to get lost.
There is a generous amount allocated by the ministry of education in every budget, i don't know where the money goes.
Our politicians are nthing less than vultures.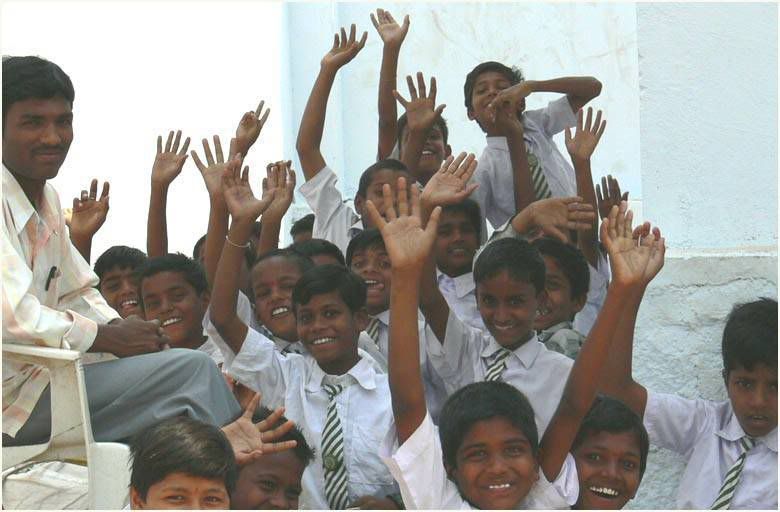 Our democracy is alive, though bleeding, infecion on wounds every where, legs smashed, walking with crutches, dragging itself forward by inches, eaten by vultures, yes the democracy is still alive.
These are the people who make the democracy work, these children, and not the I.T industry and software giants. This is our culture, accepting conditions without protests, making adjustments.
Hope one of these children grows up to be the President of India, It is possible. its a democracy. i love them. i am proud of them.