My jeans are tearing off, my shoes have holes in them. There are holes, please believe me, there is one hole, not in this one but in the other one which you don't see here. Jeans are dirty, wearing

the same for the fifth day. Its very hard for me to throw the jeans away which fit me so well and traveled with me for so long. Same for the shoes. I can buy a new pair but it takes long to feel comfortable in them and I don't like wearing new jeans.
I am in a train and I am sitting by the door, the train was crowded and I wanted to take pictures of the breath taking journey.
Yes it costs eight rupees, less than 20 cents ?? three hours of sheer ecstasy and I love the company of villagers.
I have posted the pictures of the most romantic railway stations in Blunt knife
The journey is from Punalur to Sencottai and back. It was raining when I left. I have already written about it some months ago in Blunt knife. I took an early morning train from Sencottai then and it was pretty dark. This is my second visit this year.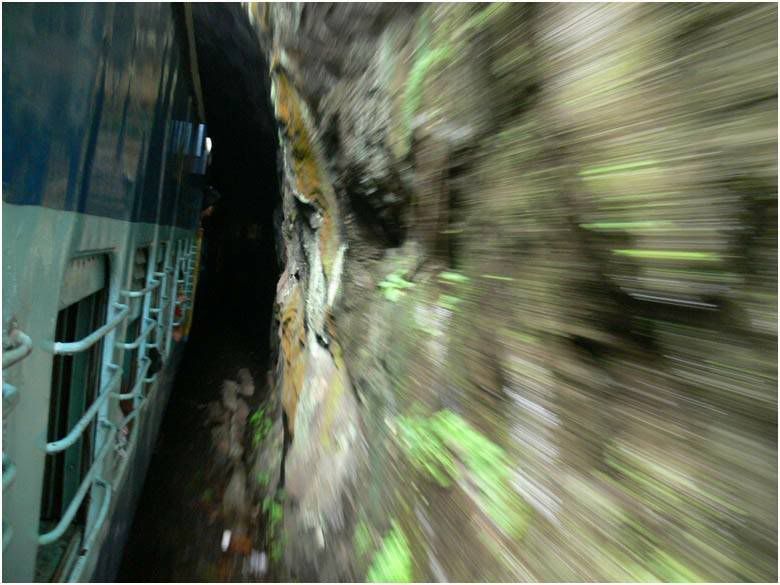 This picture could be misleading. The train goes pretty slow, not much speed, good for me. Here the train is entering a tunnel, only a few of them. It was pretty safe to sit by the door and lean out of the train and take pictures. I did not take any kind of risk. I just had to watch out for approaching rocks.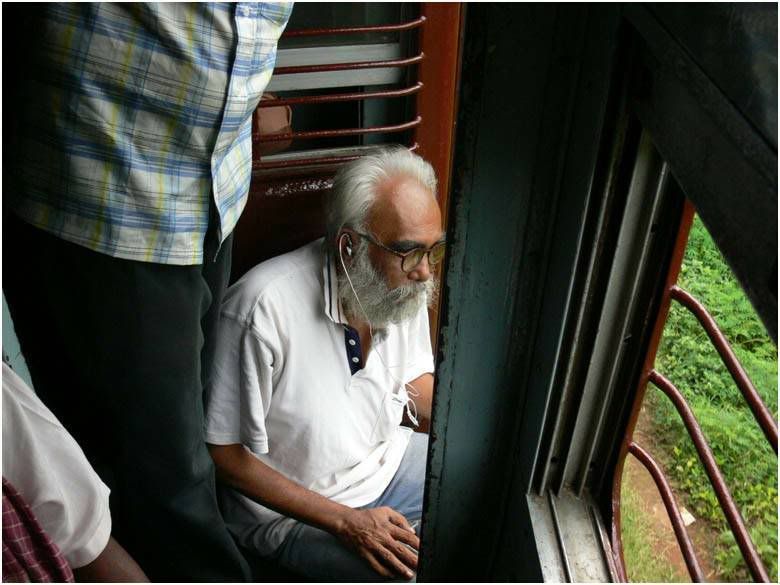 Last thing I wanted was rain. And it rained, had to pack the camera back in to the bag. No space to move inside, the train was packed.
This is me. I asked one villager to take my picture who probably is touching a camera for the first time in his life. When I saw the picture I was very jealous. A man who doesn't know where to click can take such a clear and well composed picture. This is one of my best. I don't look this good in person. I showed him the picture, he was very happy.
I was listening to Simple Minds.
This a gift from my friend Krishna. Its a very good MP3 Player can store about 500 songs. 1GB.
The train is coming out of a tunnel.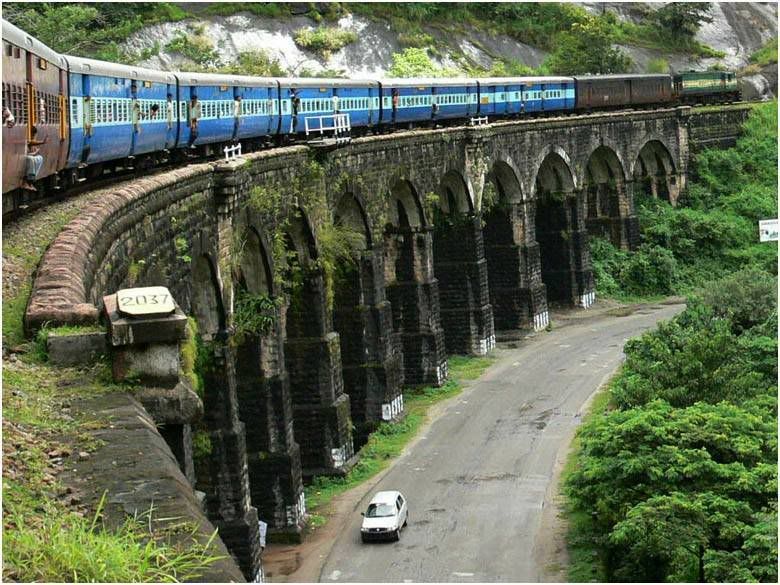 This perhaps is one of the most beautiful bridges of south India. Shot the same bridge while coming back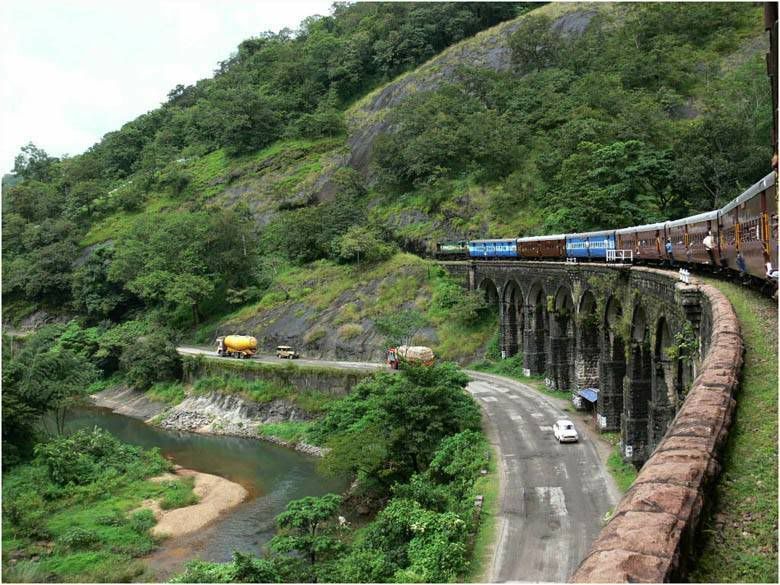 Sweet Smiles, Here a couple of old ladies came out of the house to watch the train just like children. I would do the same. I'll sit there for the whole day and count the trains passing by. It looks like the train is passing through their back yard. Lucky people.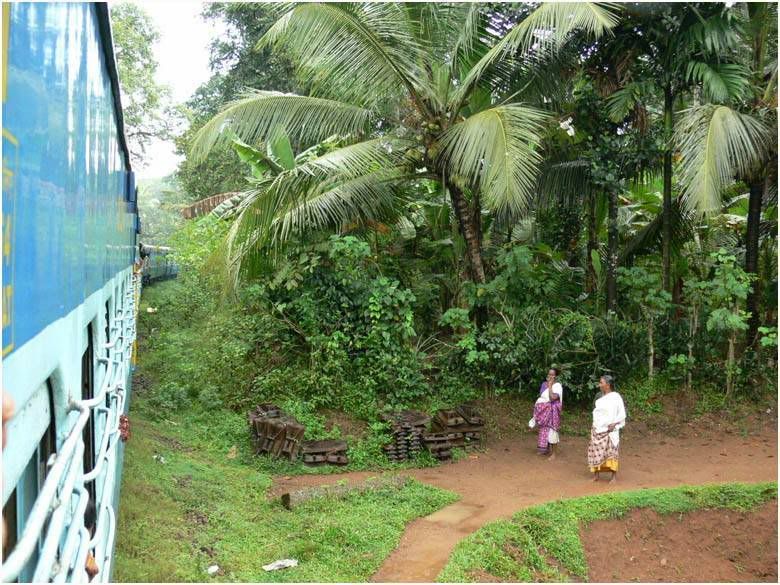 All the pictures are taken single handed as one hand was engaged in holding the bar.

One chap was holding my collar the other one had his fingers through the belt loop of my jeans.
Don't worry sir we are holding you tight. But they were holding me a bit too tight, I was afraid all three of us could fall out of the train. Oh ! these villagers are so helpful. sweet gentle folk, who risk their life to make me secure.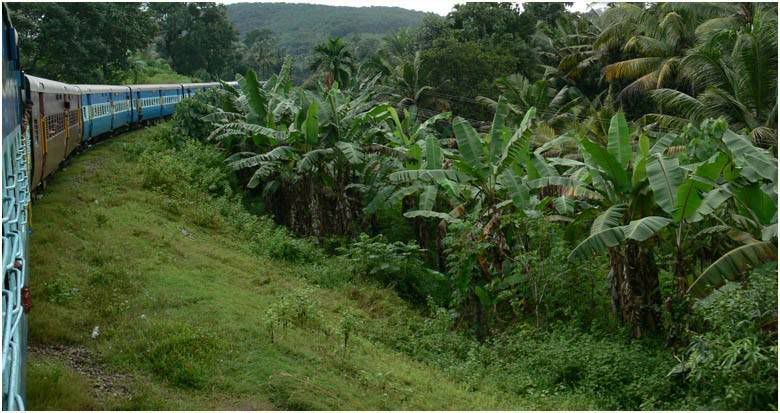 Last time I took an early morning train and it was pretty dark. I had to brighten the pictures and it was raining cats and dogs.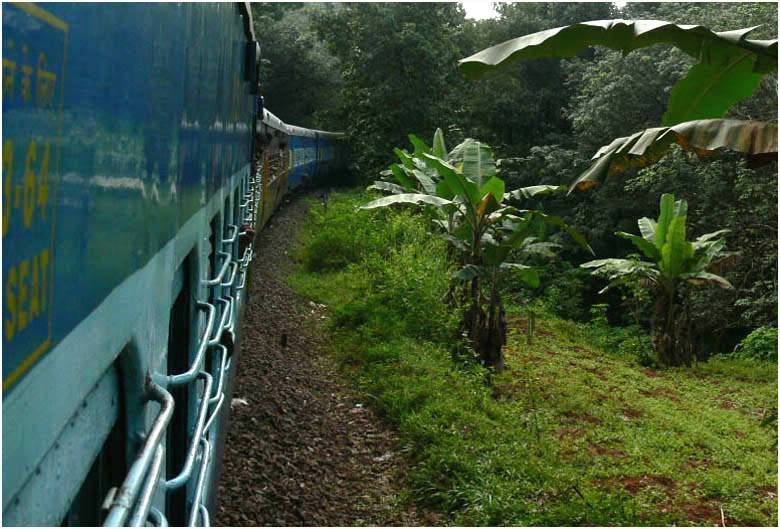 Had a tough time selecting the pictures, I mean tough time rejecting the pictures.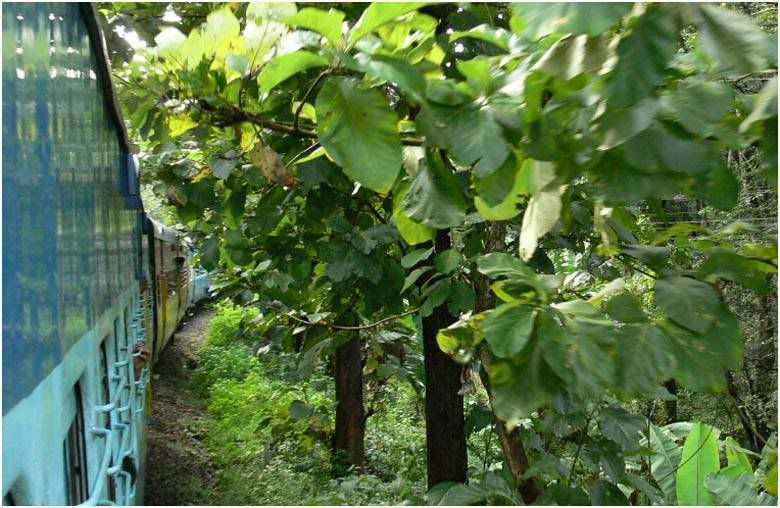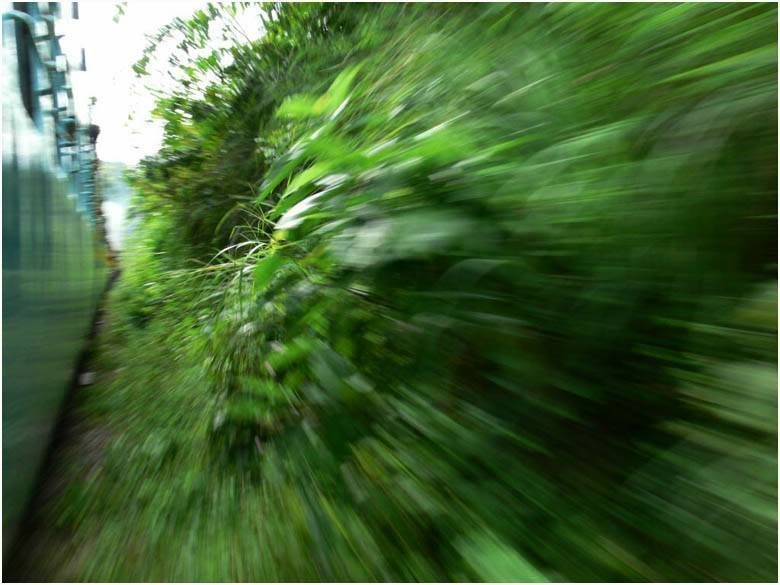 The sun was playing hide and seek. suddenly it turned very dark.

I was slapped on my face by an approaching banana leaf. I turned my other cheek but the banana leaf was hundred feet away in a second.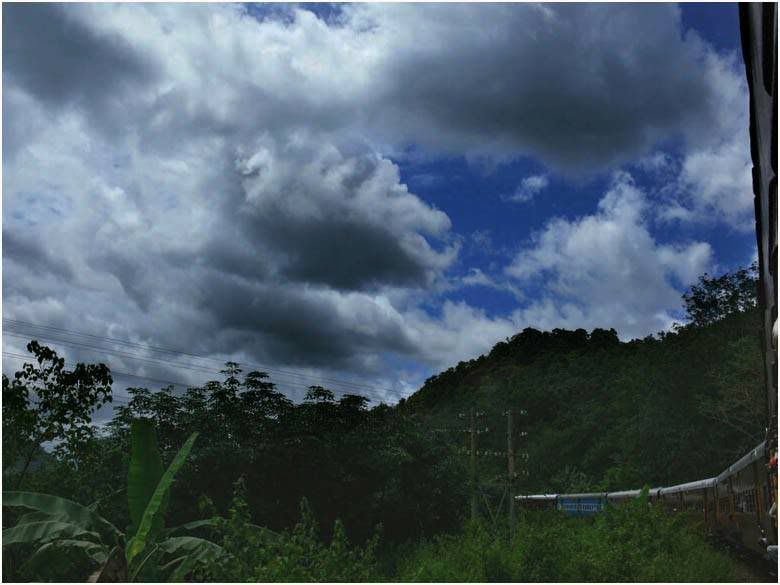 This is where I jumped to the other train. My destination was one station away but I had to wait for nearly 3 hours for the next train. I saw the station master waving the flag. The train was about to start. I rushed to him and asked for a return ticket. He dropped the flags came to the office and issued me a ticket. Eight rupees again. Usually it is a one man show. No other staff in the stations. I saved three hours of waiting. Sweet guy he was

.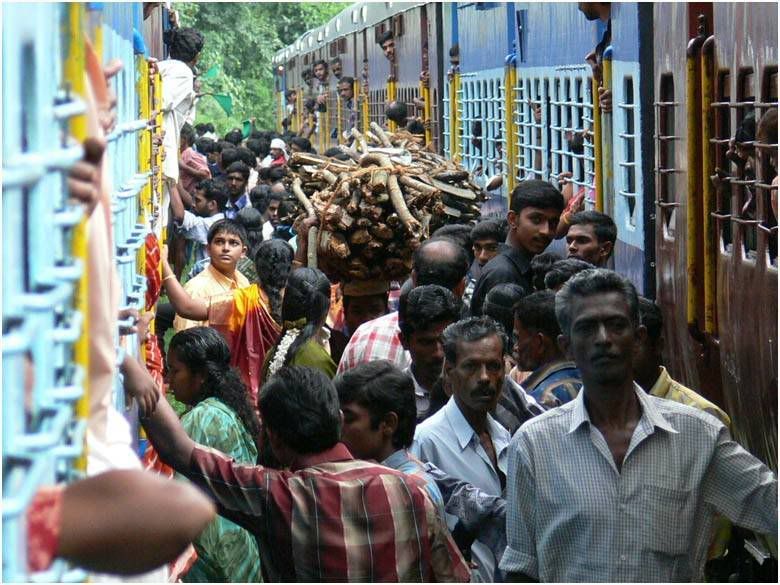 Please don't be scared by this picture. This is not the usual situation here. Only Tirunelveli bound trains are crowded and it was a sunday. Trains that terminate in Sencottai usually run almost empty. Last time I was a lone passenger in my coach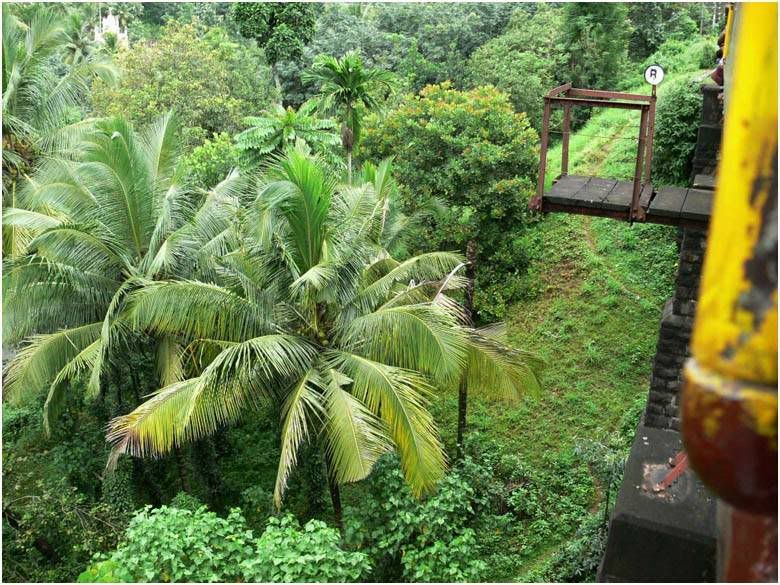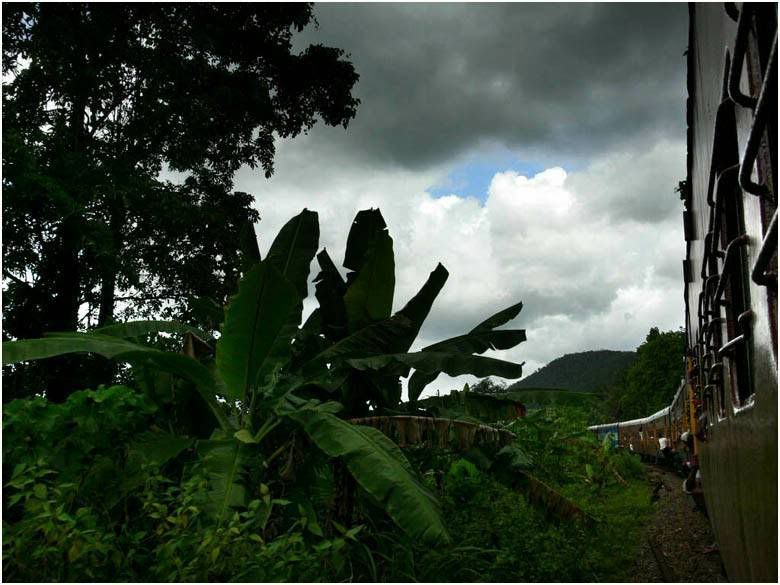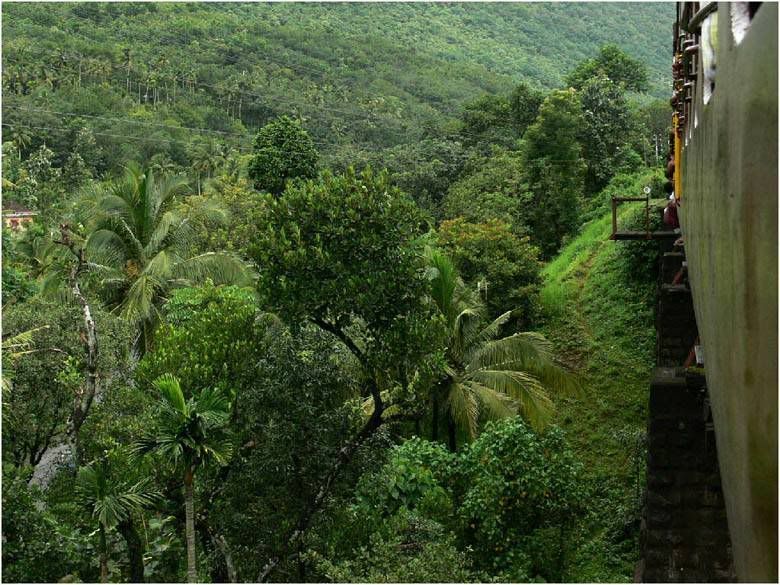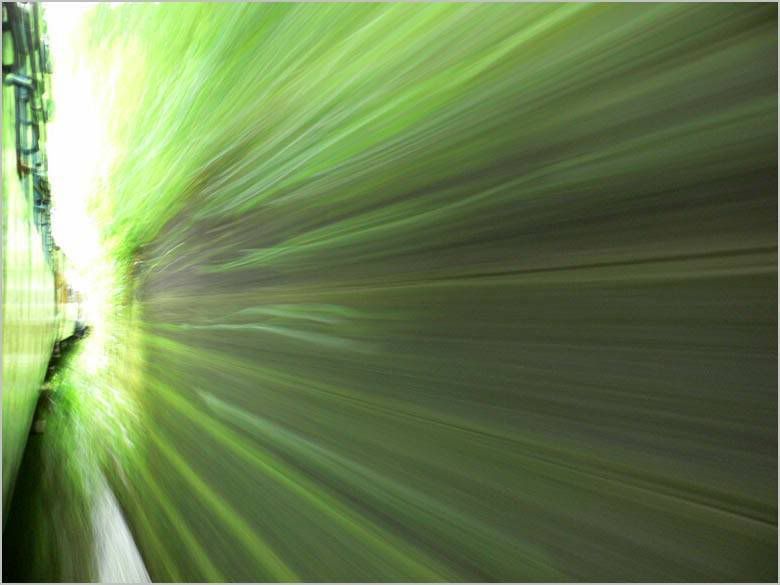 Please click
here
to see the most romantic railway stations
on this route
BLUNT KNIFE
WILDPIC