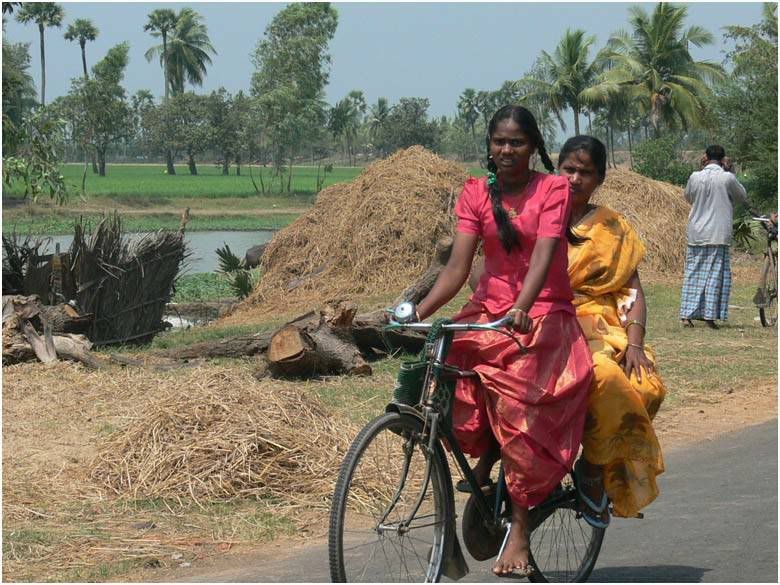 Hellew ! Are you going to Office ?
What ?

This man is going to office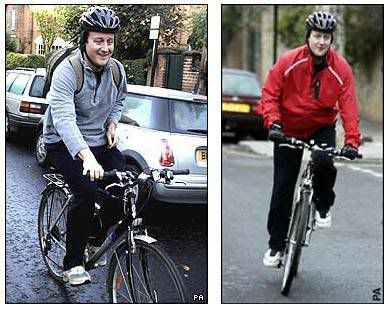 Well ! David Cameron goes to his office on his bicycle. His shoes, a change of dress, brief case and files go in a car. Security guys in a couple of cars following him. Let 20 cars follow him, what i really appreciate is that he is making a point. He is young. Hope the leaders of other countries follow him.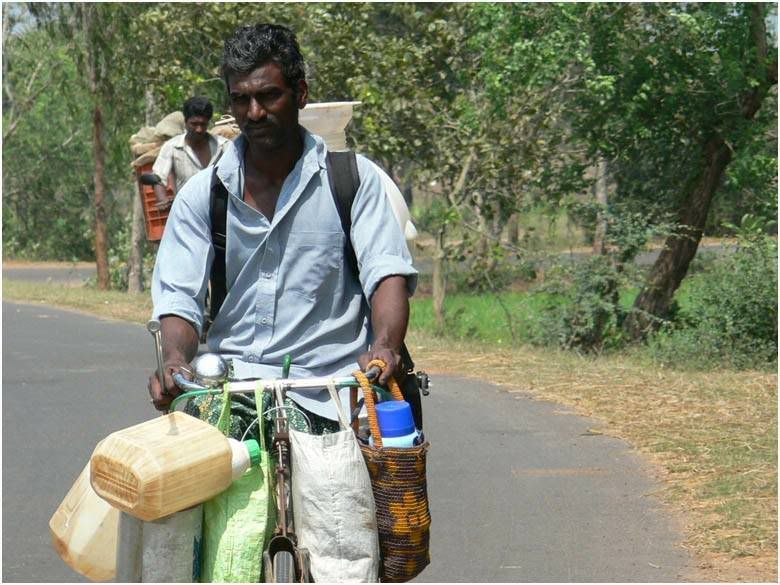 He's going for work, Deep in thought, no traffic here to bother him.
This is bad, i am sitting in a very ECO UN-FRIENDLY bus
BAM BAM BAM This poor couple is pushed off the road, i think the lady is carrying an infant.

In my opinion, all the

eco friendly modes of transport should be given right of way.

They should have the road to themselves.

This is one of the reasons why i call the environment series SPEED. Speed is taking us towards extinction. We have to slow down. This can happen only if eco friendly modes of transport is given Priority. Driving hybrids is no answer.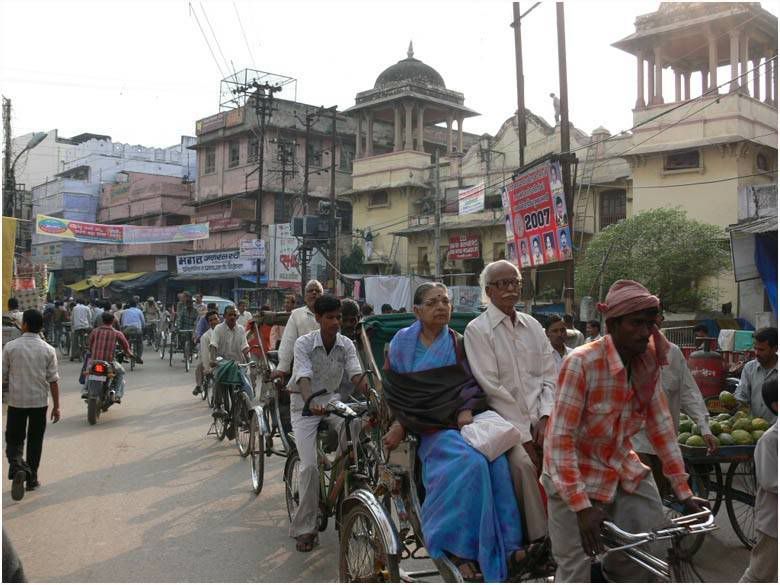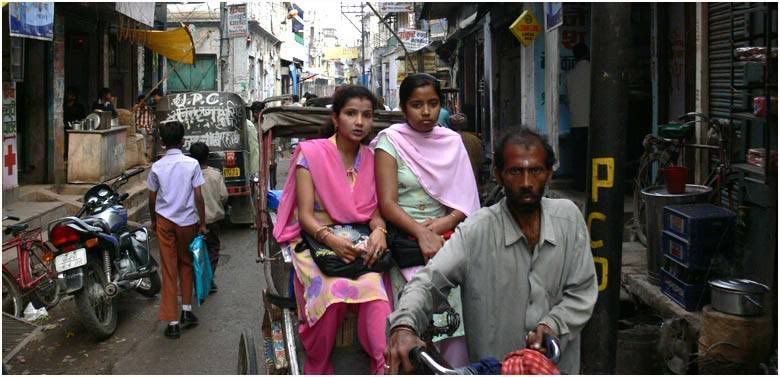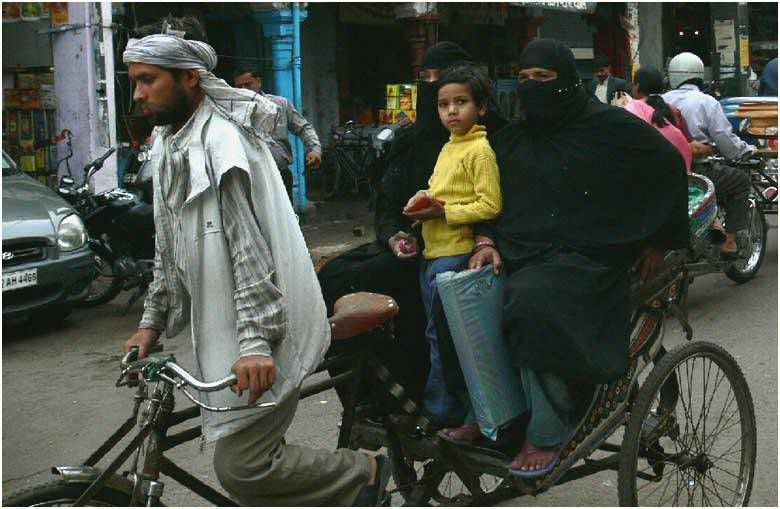 Last year when i visited Rajasthan i was very reluctant to take a cycle rickshaw, prefered Smoky and polluting autos.
Then i realised how wrong i was.
I am contributing to their livelihood and then these rickshaws are eco friendly, cheaper, but i end up paying double than what they demand and i always have my lunch or tea with them. i get to hear their philosophy on the way, i have to tell them about my city, they always ask, they talk about politics but mostly they talk about movie stars. i have only only sweet and pleasant experiences with them.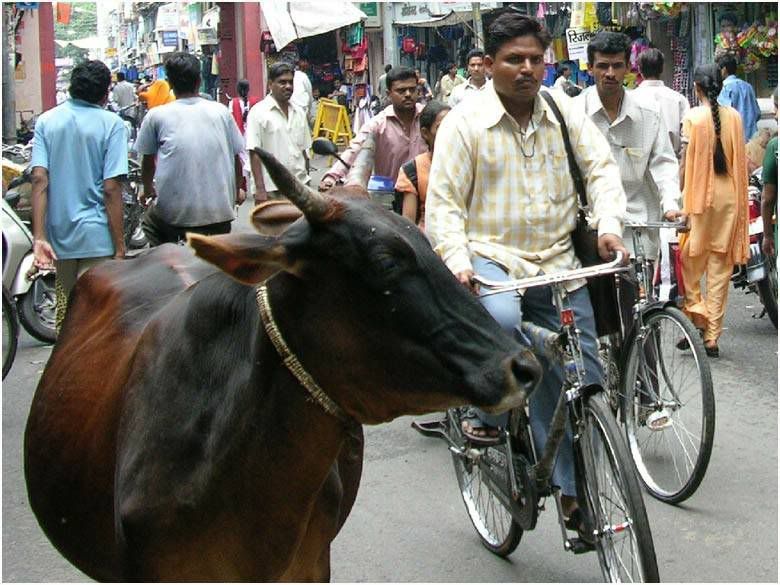 Old man looks very slim and healthy.
Hello Sir, Look where you are going.
This is the best way to stay healthy. Eco friendly, and it burns your energy. You stay fit and alert with very sharp reflexes all your life. There is a lot of difference between this cycling and the static cycling you do at home. The bottoms spread with static cycling.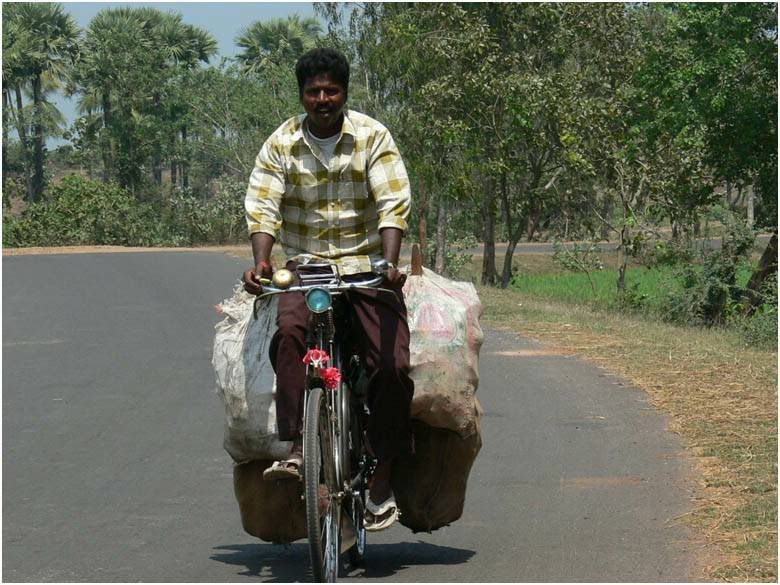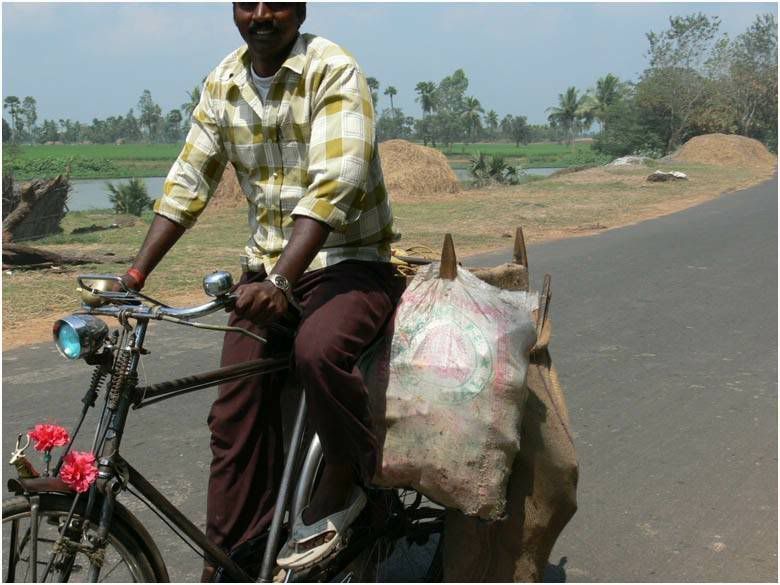 Here comes a man with a full load of onions
How do I know that he is carrying onions ?
I know because i was stupid enough to stop the poor guy, and he showed me.
Do you want to take more pictures Sir ? Sideways perhaps, me crossing the frame ?
Well, every one has ideas about making a movie, actually he was describing a perfect shot. Uneducated but with good imagination.
no no no, He went along with his idea and took a u turn and came back, allowing me to take one more picture. He was directing me.
He was acting and directing like clint Eastwood.
Thank you i said, felt sorry for stopping him and wasting his time.
i should have bought some onions.
What will i do with onions in my camera bag ?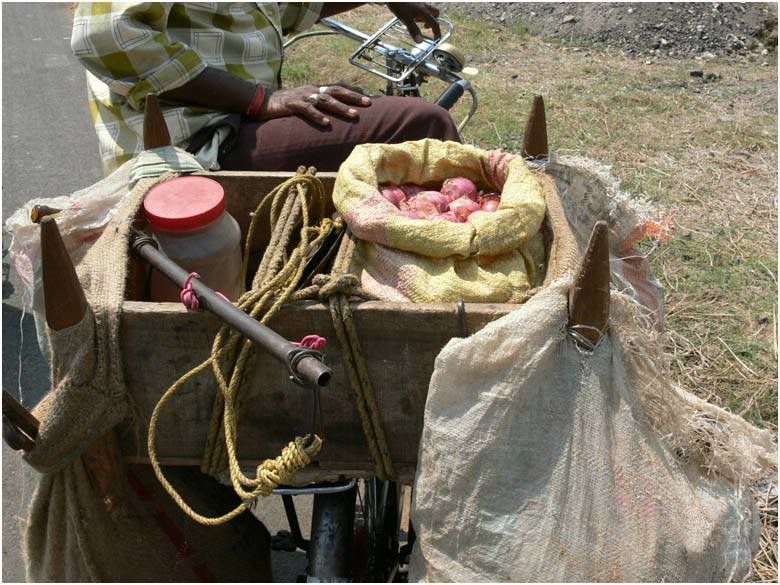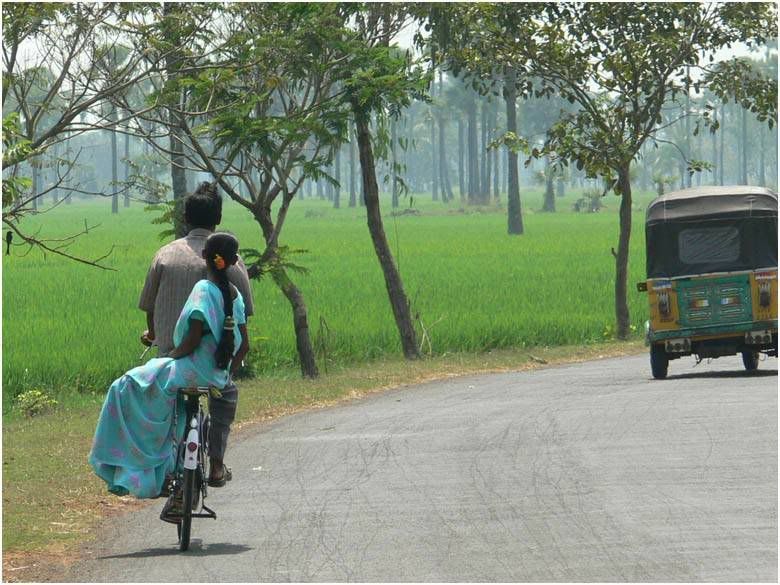 Just look at this ! T
he following pictures
This is SPECIAL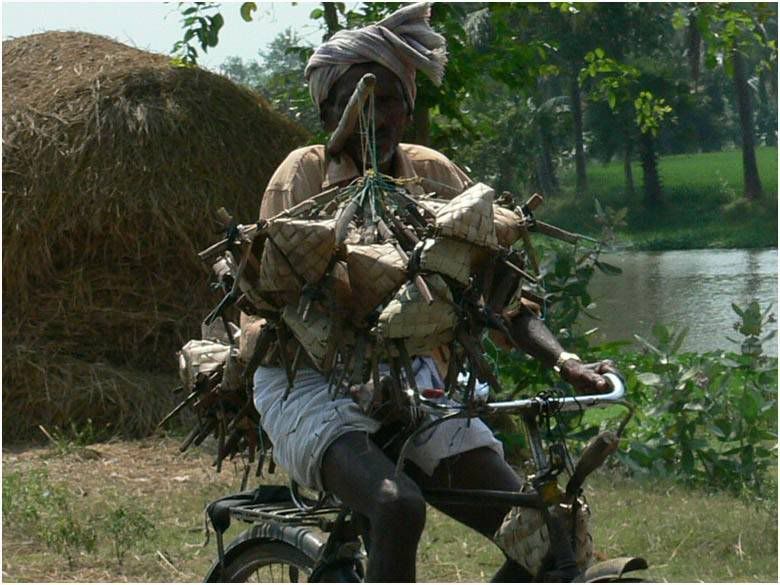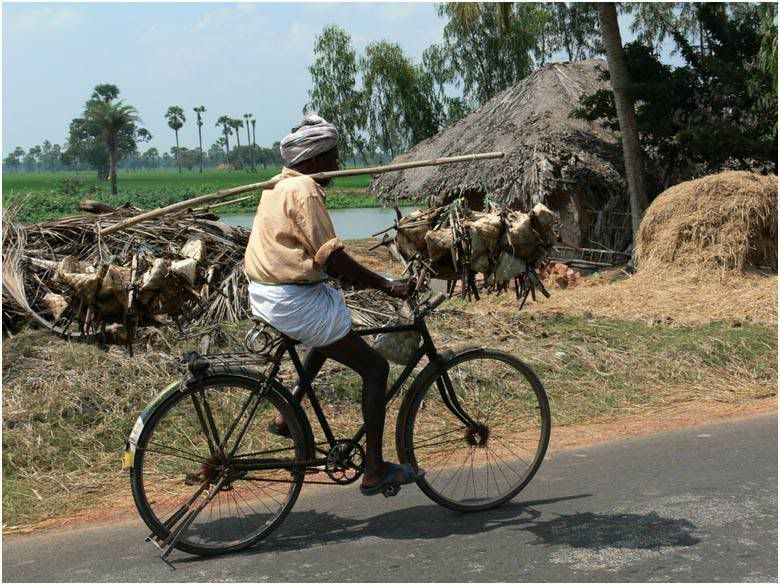 Wisdom and intelligence is not bestowed upon a chosen few. i was wondering what he was selling. not good to stop him and waste his time, unless i intend to buy what he is selling, poor chap. What if he is selling crabs ? they will cut everything in my bag. i couldn't figure out what he was selling. got any ideas ?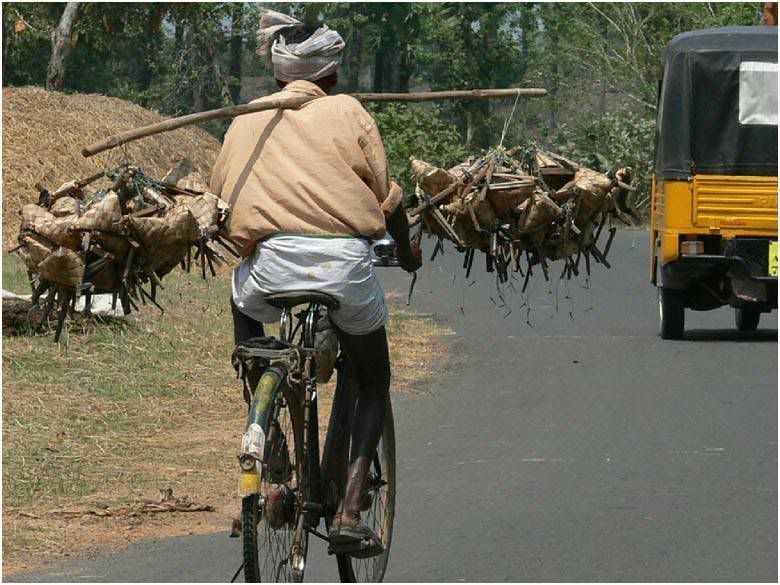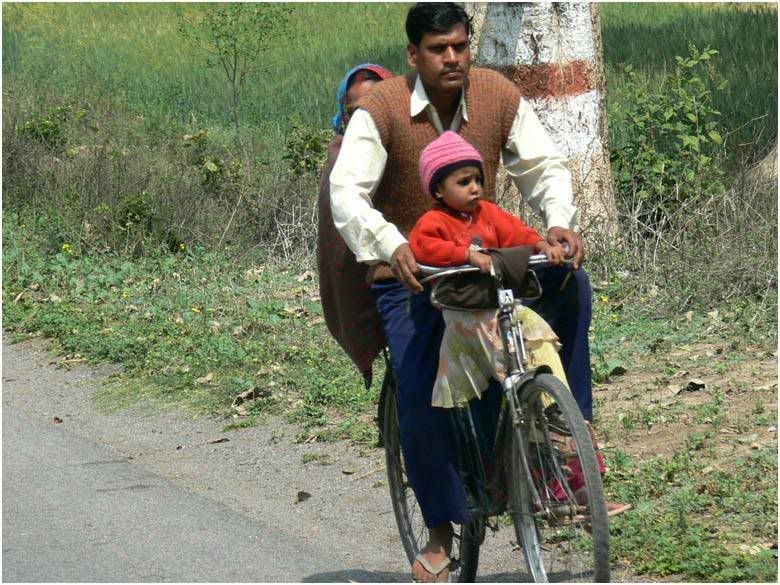 little adjustment on the load, wind is on his side helping him.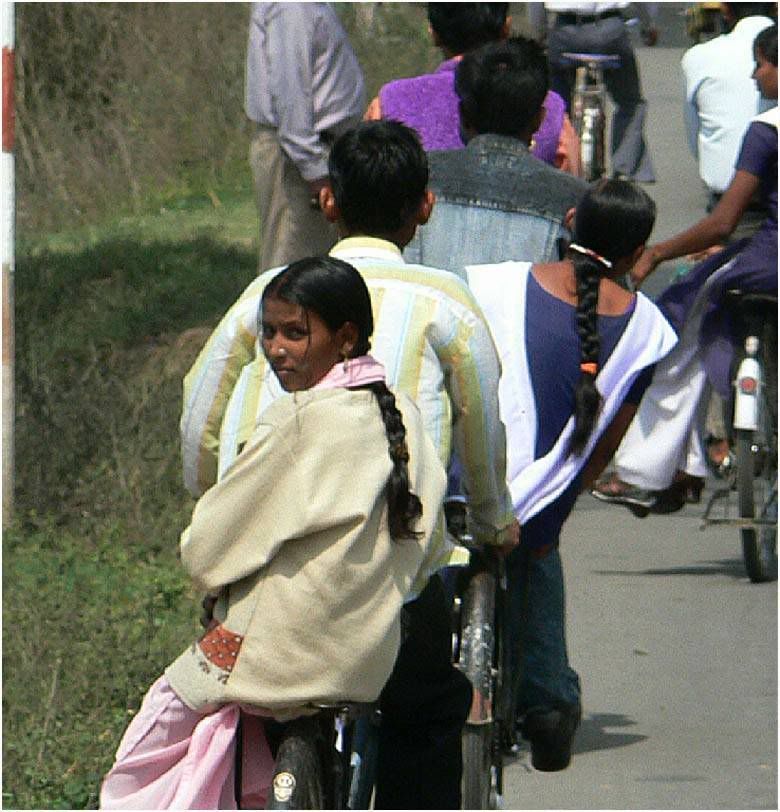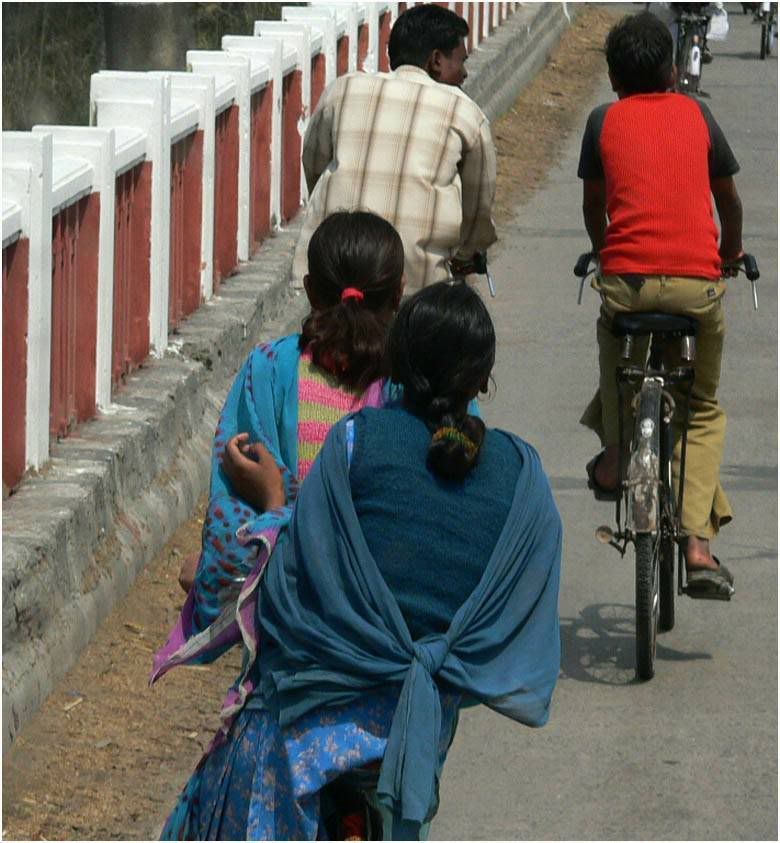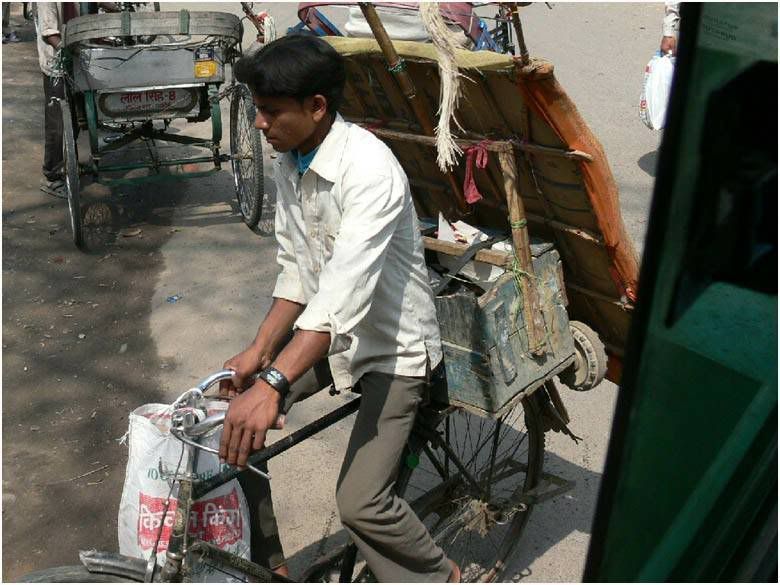 This boy is carrying his workshop. He would stop at a right place and set it up. Business as usual.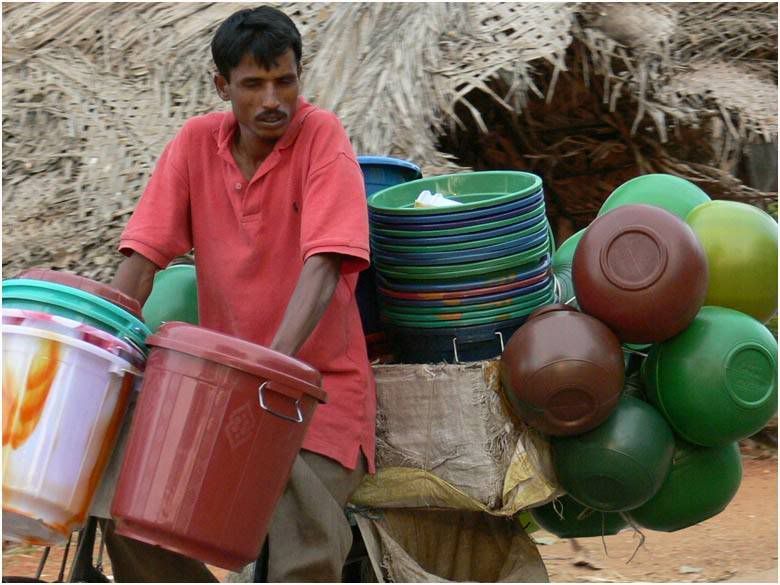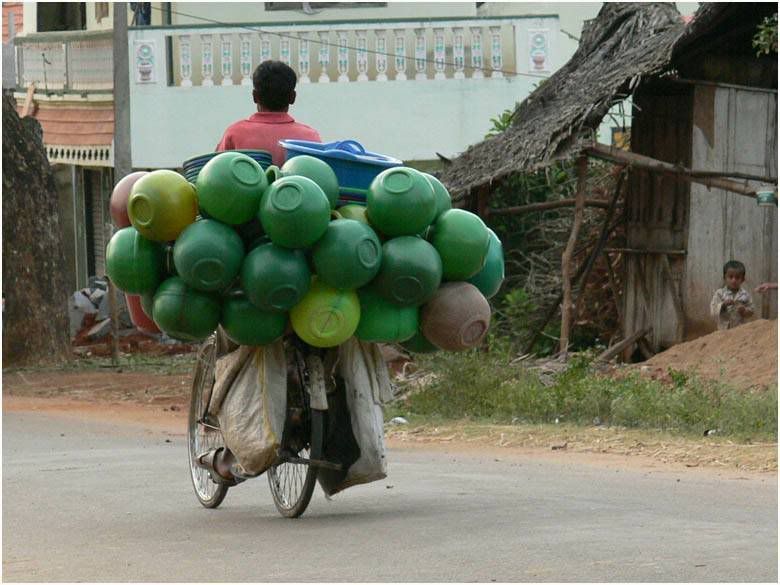 This man is carrying glue in the bucket and posters at the back, his job is to stick posters. Reminds me of Vittorio DeSica's film ' bicycle thiefs ' Such a beautiful movie
.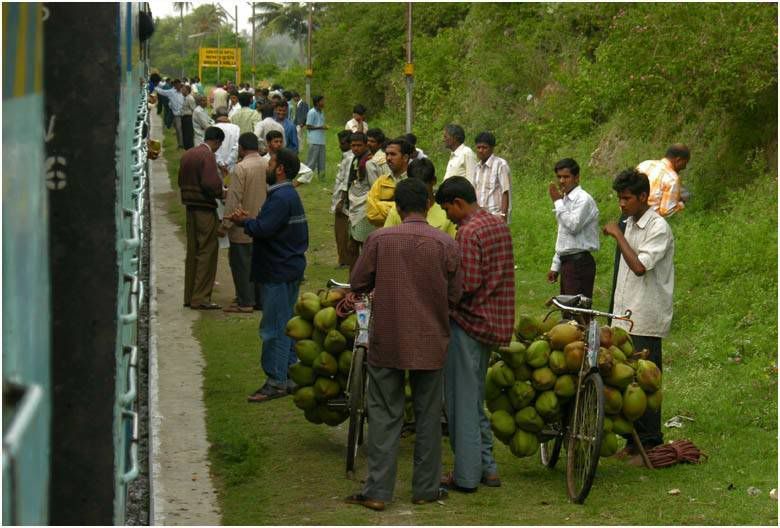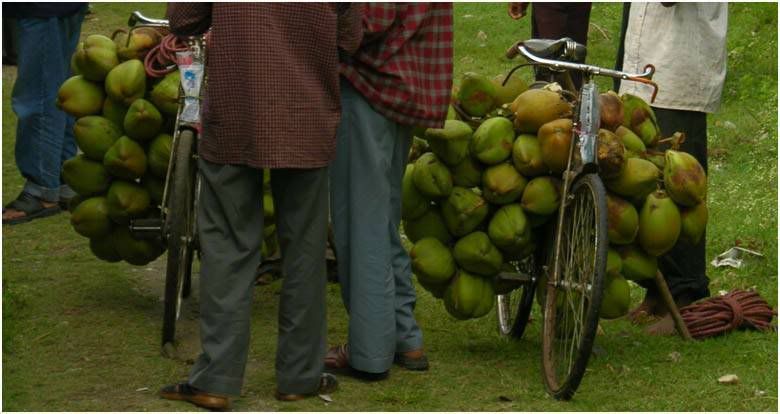 Selling coconut water at a railway station, yes this is a railway station.

'To buy or not to buy' that is the question
i bought a few from this gentleman, i love goa fruits.
This is Hyderabad, you can see Chaar Minaar in the background.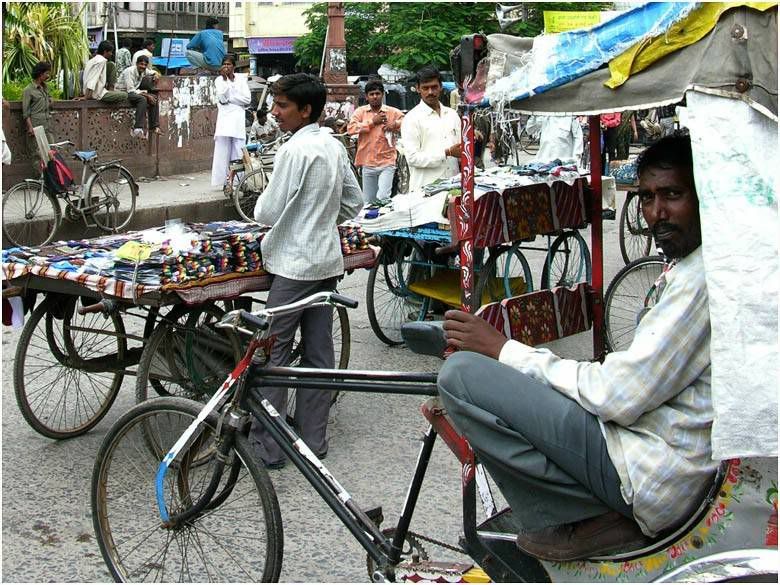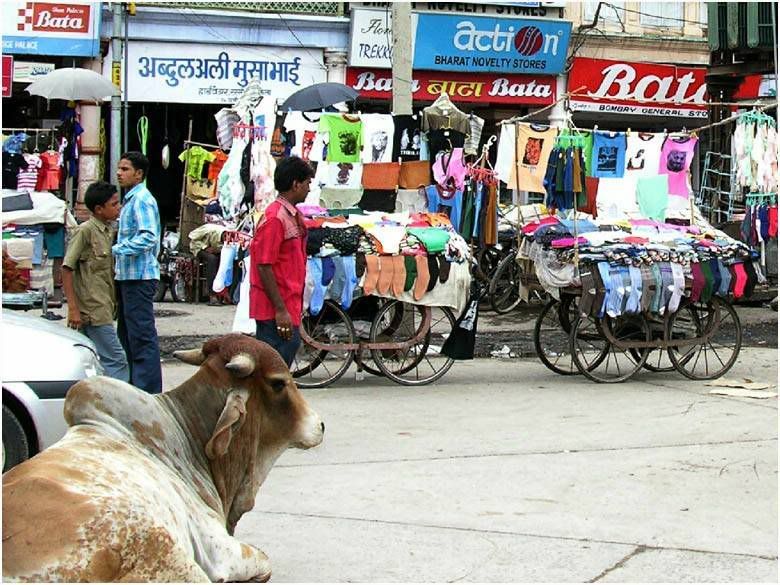 Eco friendly business on the cycle carts in Ujjain.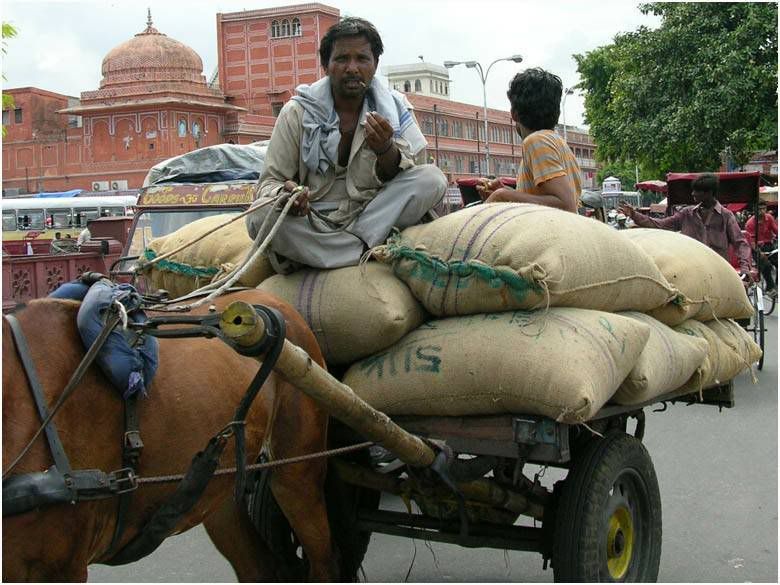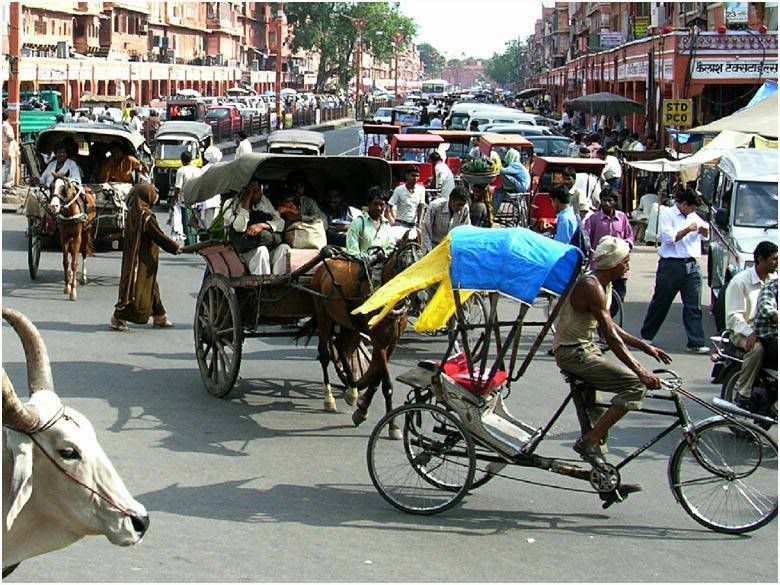 Chaotic ? Well ! This is Jaipur, imagine the amount of fuel these people are saving
.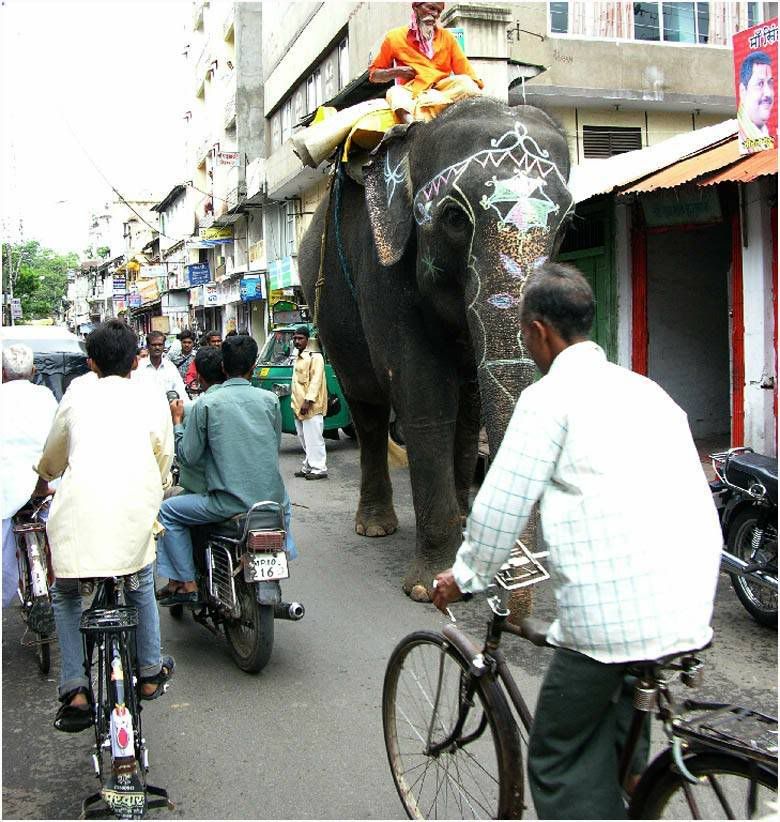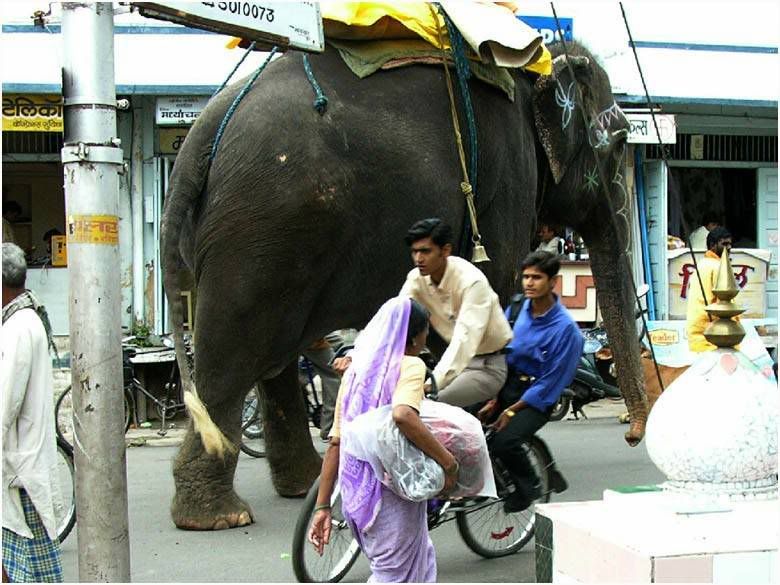 You don't have to buy an elephant, then you have to buy a car and get four jobs a day to feed the elephant. just a simple bike would do.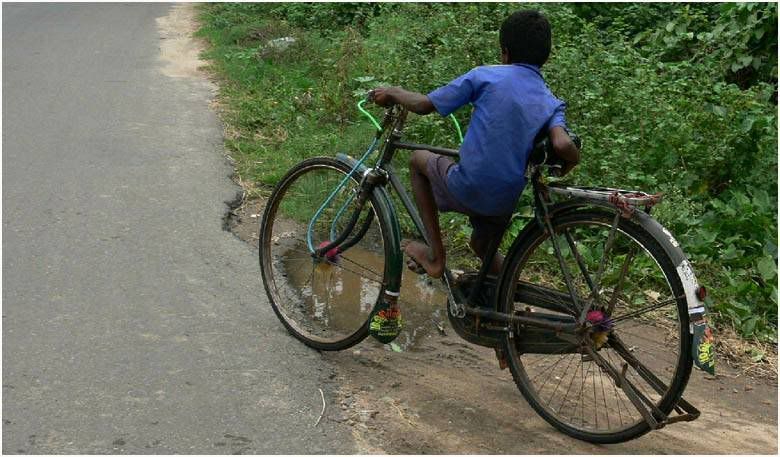 Oh! happy he is, This is the way i learnt, my feet could hardly reach the pedals. Parents can't afford to buy their kids small bikes to learn. Well ! you can't stop them. they will learn somehow.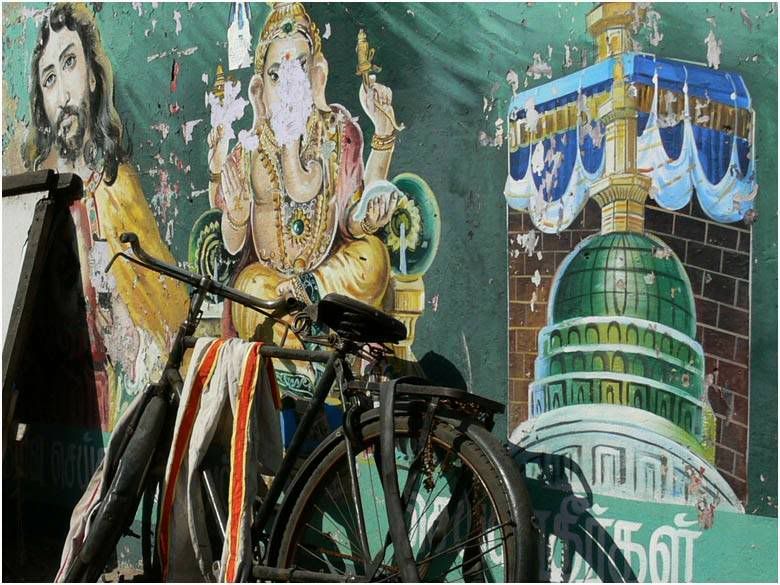 Major religions have nothing to say on our environment, we have discussed this issue already in the environment series.
Priests of all religions could bring about a change of attitude much faster, but they are not doing it. They will never say, please don't bring your cars to the church or mosques or temples please come on your bikes. It will work if they insist. Chopping a tree or polluting the atmosphere is not a sin according to them.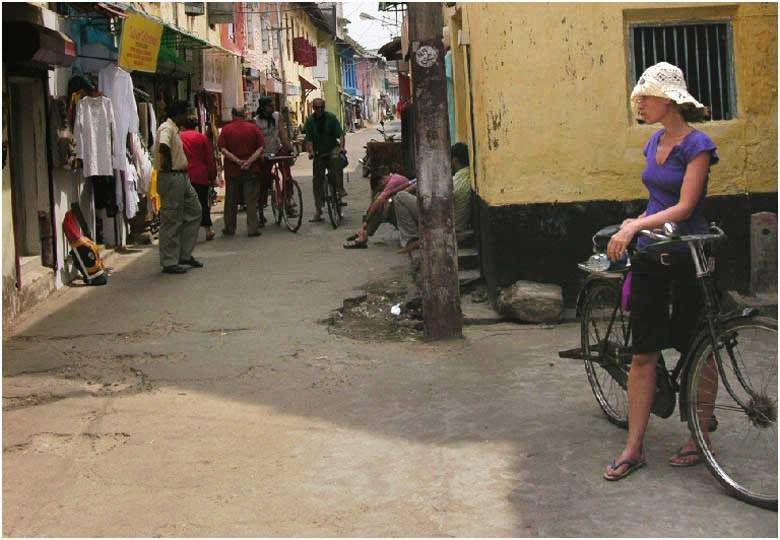 Very Stylish isn't she ? this is Fort Cochin.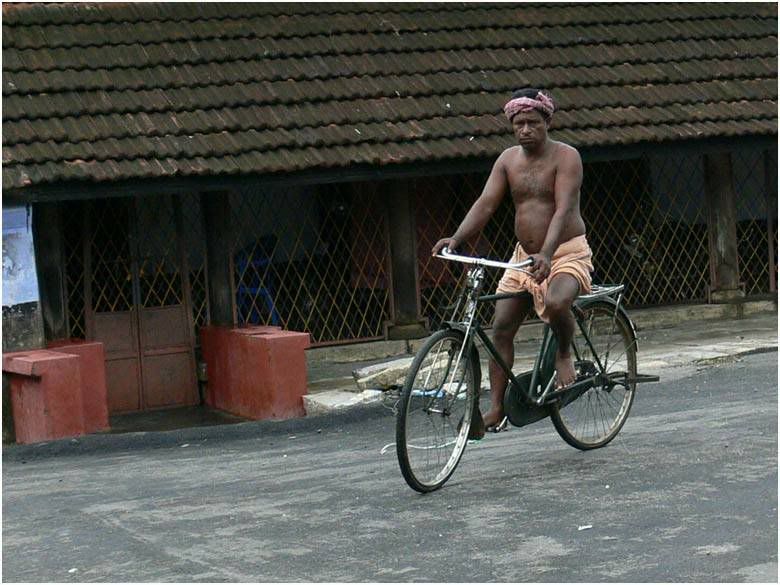 Not so stylish but the cycle is taking him where he wants to go.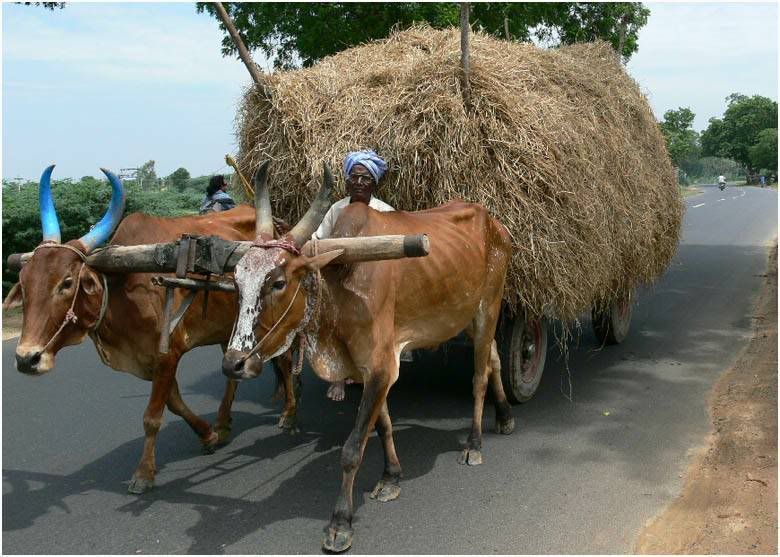 You cannot fit an air conditioner here but you can fit a 2000 watts stereo, You have to stop the music if the bulls don't agree with your taste.
I think Camels would love Jazz, traditional Jazz in particular.

How do we slow down ? Demand for SPEED is increasing every day.
We want to go faster and faster.
If you have patience, you are called dumb or a loser.
you have to stay in the rat race and go faster even if you have all the patience in the world.
We are not supposed to travel faster than the speed of a camel. Our body cannot take it. It takes 36 days for the body to come back to normal state of functioning after a jet lag.
We are torturing ourselves besides draining our resources faster
.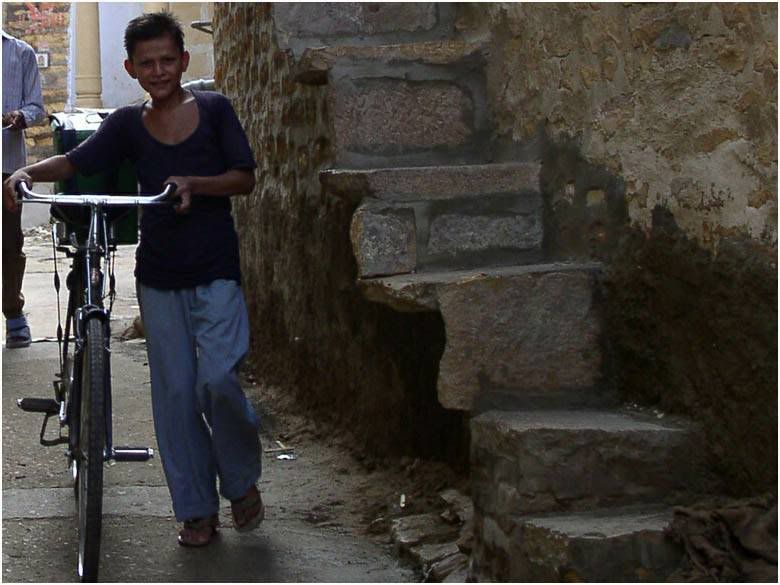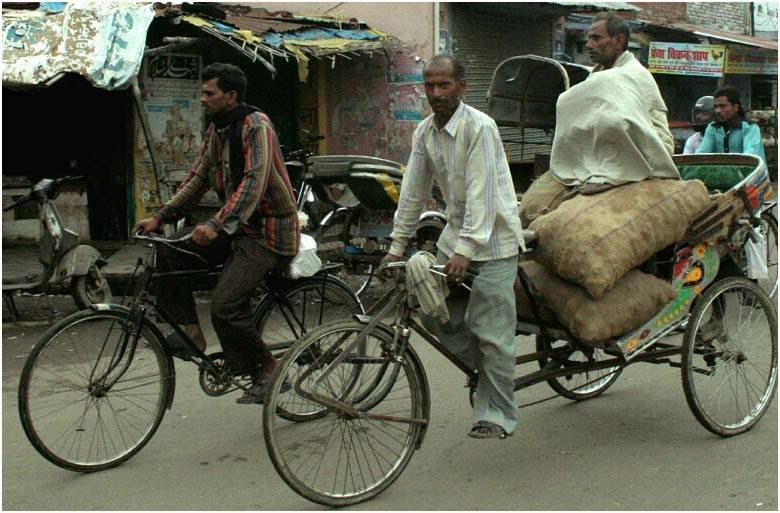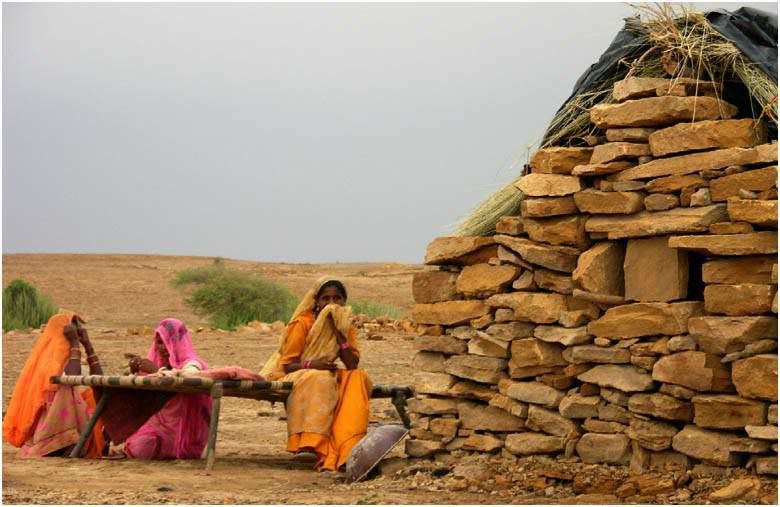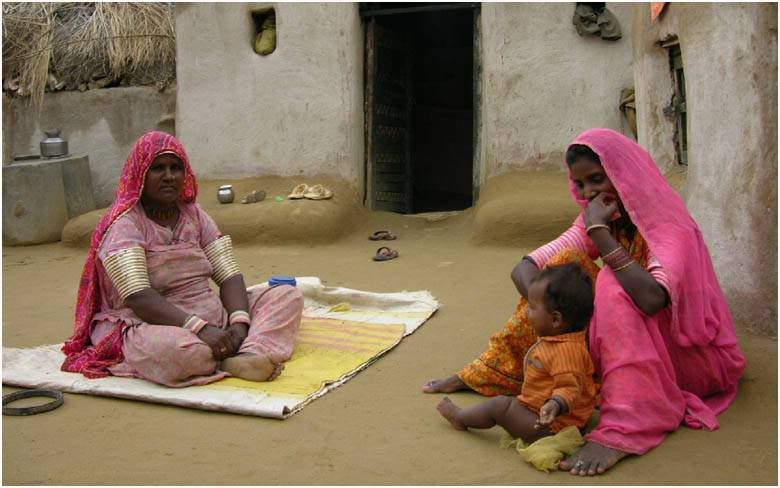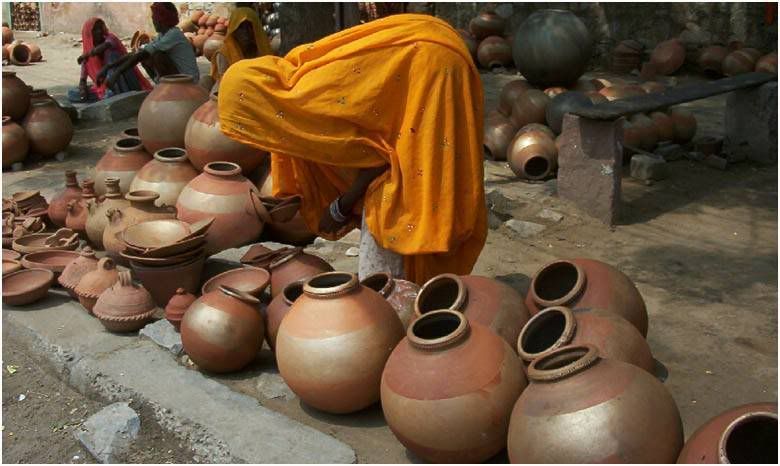 These people are not aware of global warming. They are not draining the earth's resources. They will be punished along with rest of us for no fault of theirs.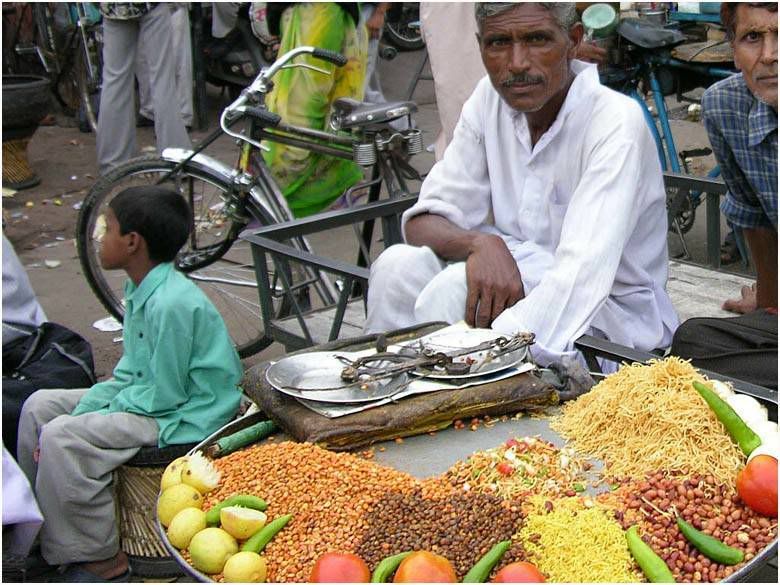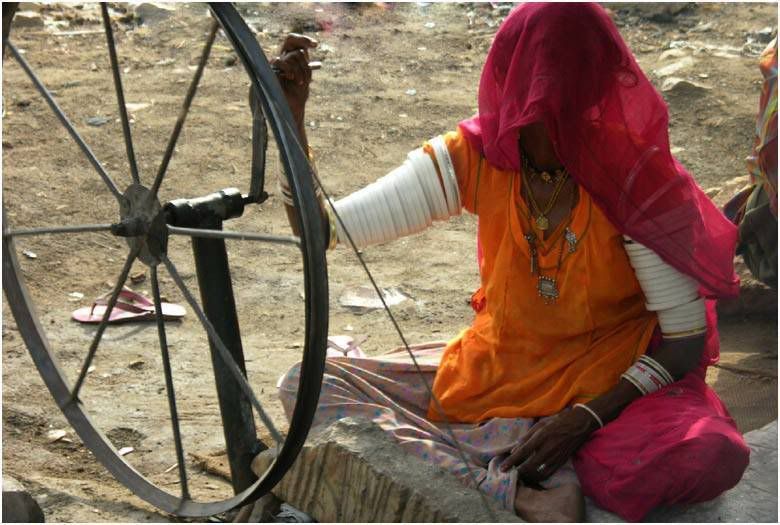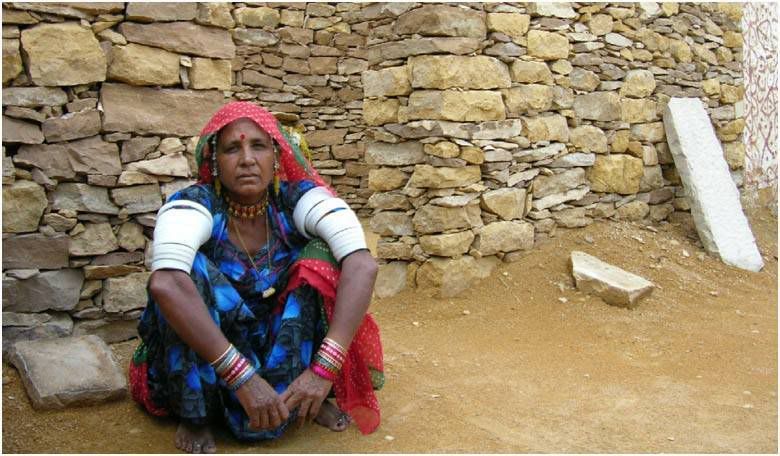 she will ask God
What have we done to deserve this punishment ?
They will be the innocent victims of our blunders.
Our future generations will hold us responsible for not taking any steps. i still maintain that the earth has the capacity to heal itself. Earth is not in danger. We are. We have to slow down for the sake of our future generations. It requires a change of attitude. A change of heart.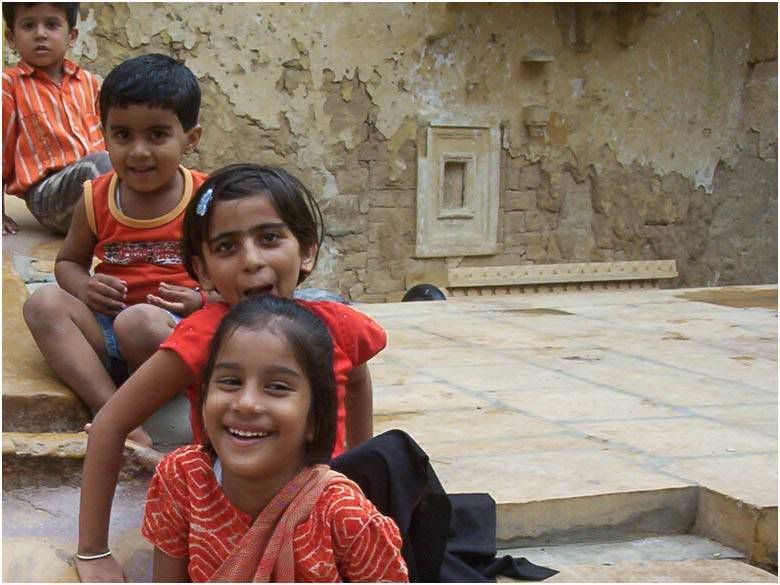 Blunt knife
Portraits
Passion Green

Wildpic