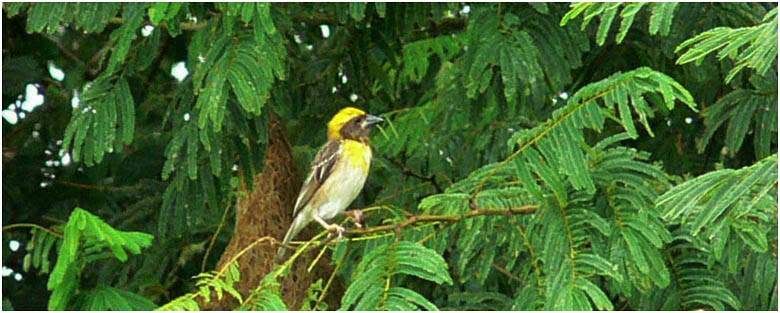 Please say Hello to the weaver bird.Amazing craftsman and a terrific architect. Very tiny, hardly four inches long, but for such a tiny life the effort is equal to building Sears Towers all alone without any help. The work has to go on schedule. It can't afford any delay.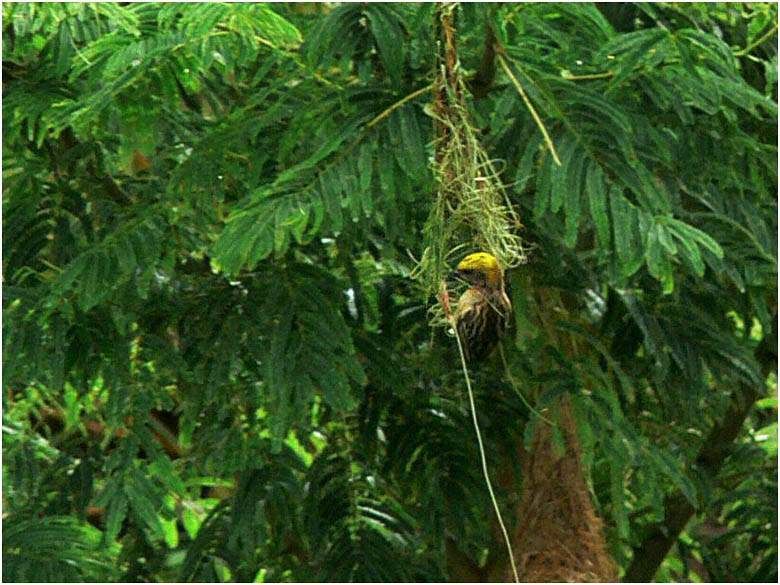 Works very fast, Perhaps works alone ?? Not sure, I have not seen any help or two birds working on one nest. Gathers twigs from nearby fields. Has to fly quite a distance with each twig in its beak. This is how the weaver bird starts weaving the nest.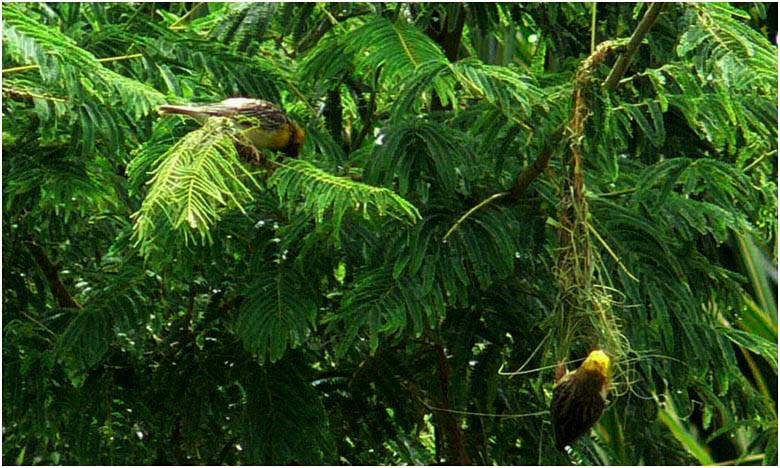 They build or weave different nests together, six or seven were on the job weaving different nests at the same time.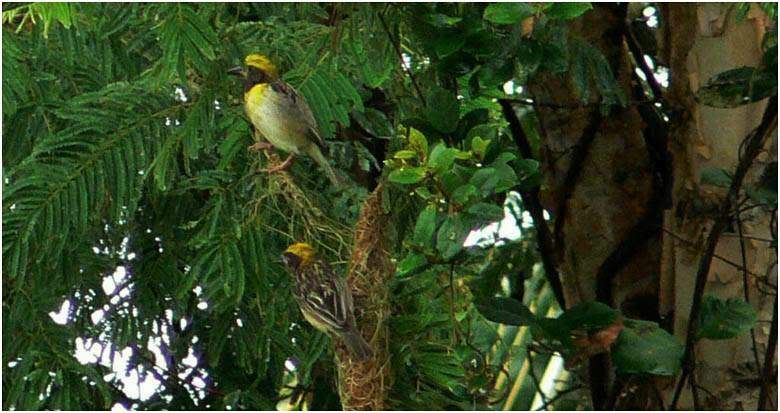 I couldn't go any closer. I was standing very far in a harvested field and watching the action.They all would fly away when a car or a truck passed on the nearby country road. I decided not to go any closer and scare them away, which might cause delay in their tight scedule. They continued weaving in pouring rain.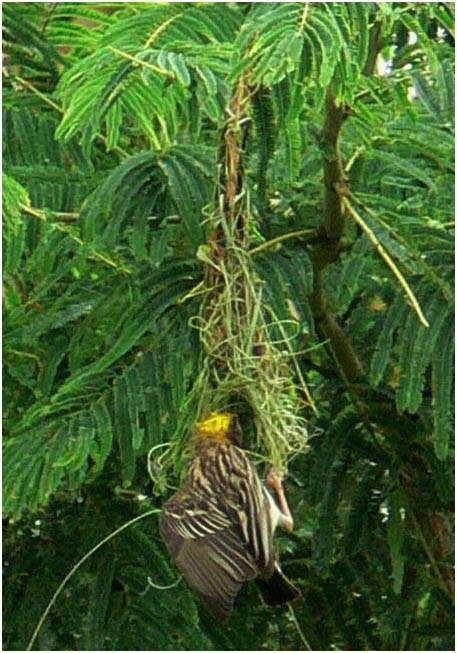 The top is loosely connected to the weakest part of the tree branch, almost to the tip, so that heavier birds don't sit on it, so flexible that it swings frantically in the wind and they continue weaving their home at an amazing pace. If it is rigid and tight eggs and the chicks would be thrown out of the nest.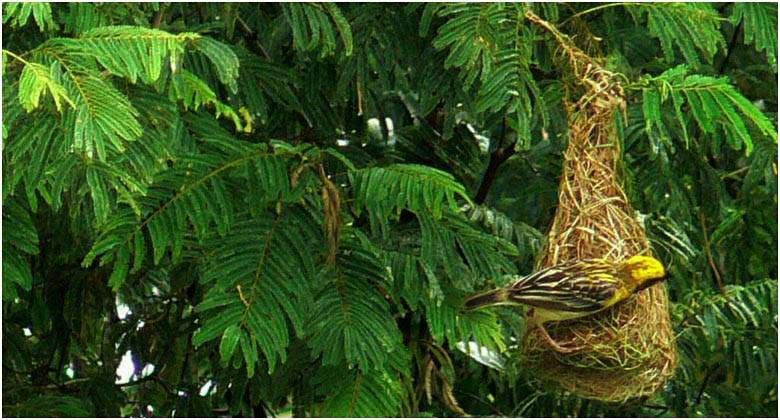 Saw dark clouds, it was getting pretty dark. Suddenly it started to pour in buckets. I kept the camera covered in plastic, back in the camera bag. I was out in open standing on a field, no shelter, the only option was to rush to the tree and scare away the weaving birds. I remained where I was completely drenched looking like a damn fool.
Saw a couple of cars slowing down at a distance, perhaps taking my picture.
Is that a scarecrow ?
No, he's got a bag and looking up
Scarecrows don't wear jeans and t shirts you dummy !
and they don't hang a camera bag !
Imported scarecrow may be ??
I am just standing there out in open in a heavy downpour doing nothing, No umbrella, Just standing there like a statue.
Never travel with me. This was near the banks of river Cauvery.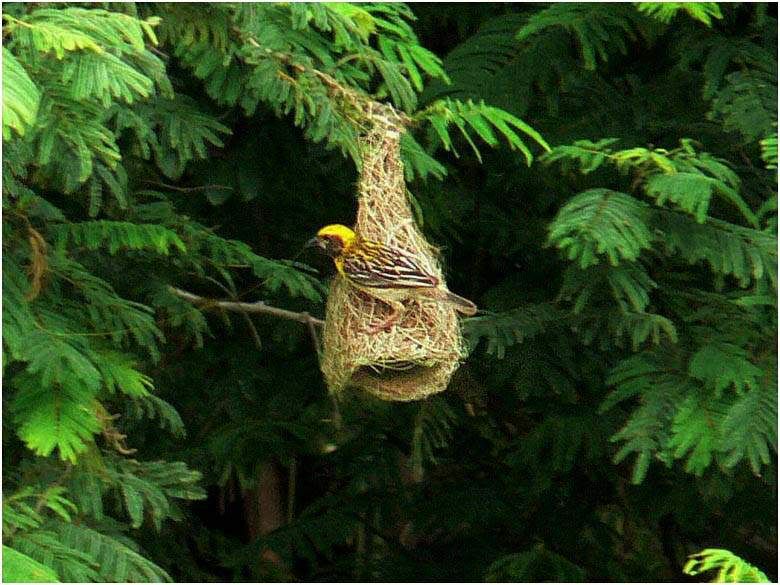 The rain stopped, I continued taking pictures. Through the lens I could see the interior of the nest which was surprisingly dry. It is water proof, believe me, and very very strong.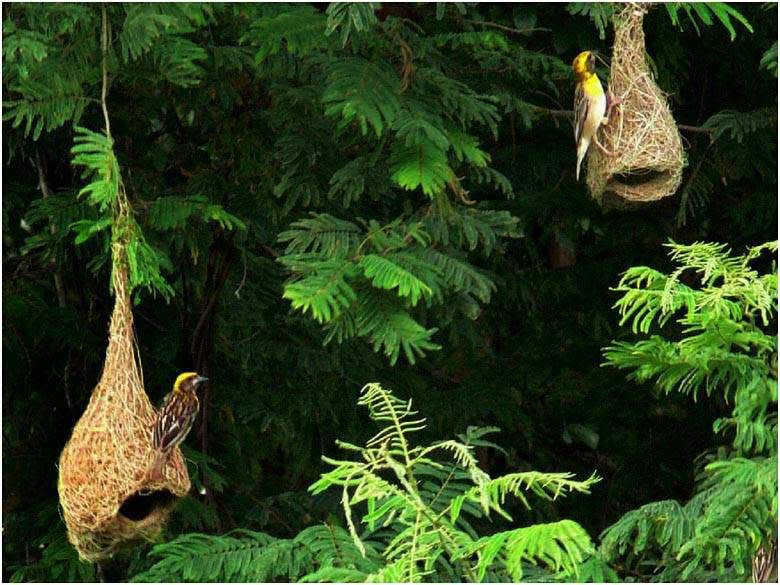 Comparing notes ? Is there any contest ? who finishes first or admiring each other's nest ?.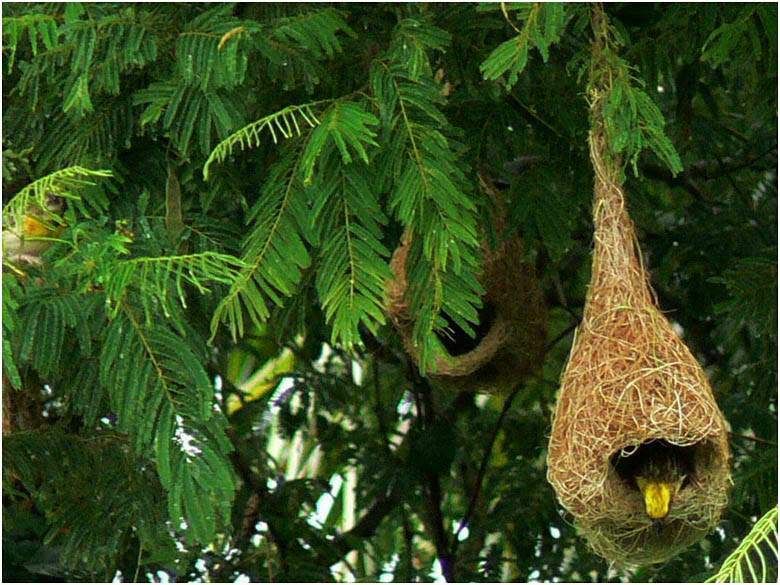 Checking Checking ! The opening is very small, so that bigger birds don't enter and eat away their eggs and chicks.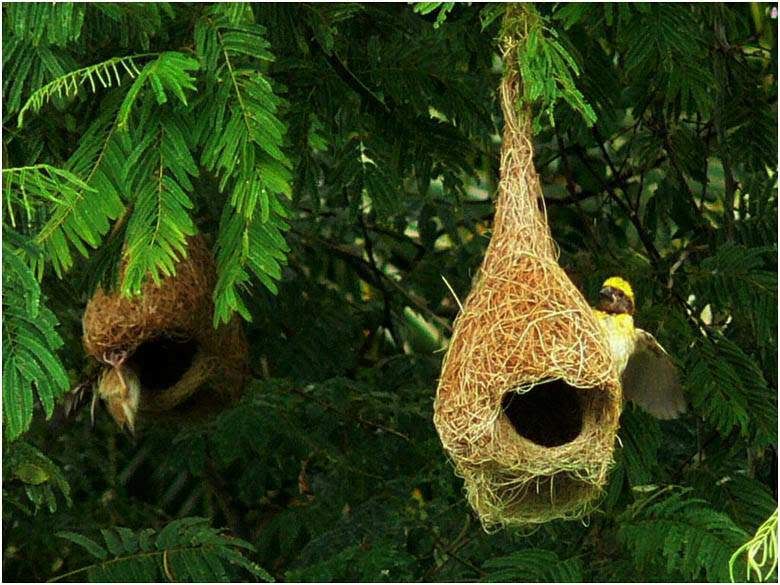 Who teaches them to weave ?We think only we the humans are the most intelligent creatures on the planet.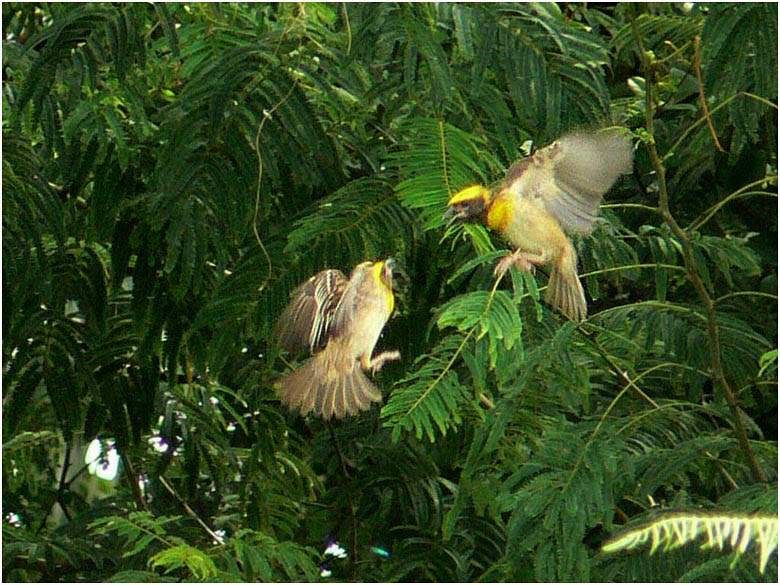 Two of them here, very busy, They get angry and fight.
I'll take you to the court and sue you for stealing my design ?
Yea they have problems too !
who doesn't have ???
Any way they continued weaving their nest.
This is how the nest looks from behind, It was facing me, I did not go and check, it will have the opening on the other side. thats what I assumed.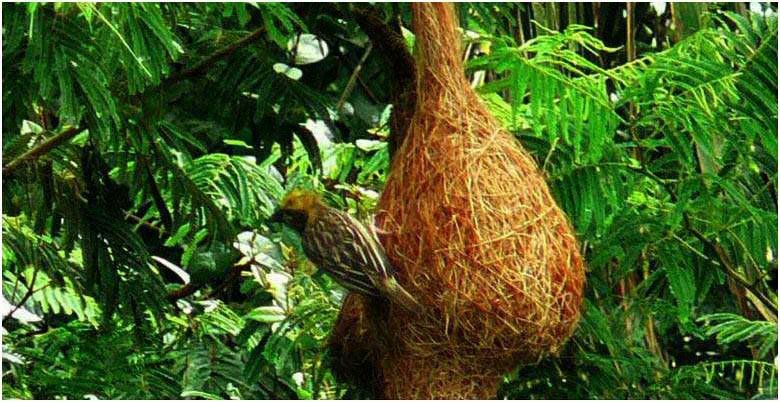 They stop and watch the neighbour weaving. Time for a break.
Sometimes they are completely outside and insert the twig without touching ? Don't know.
They keep fluttering in the air and weave.
They bring only one twig at a time, they keep flying back and forth to collect twigs.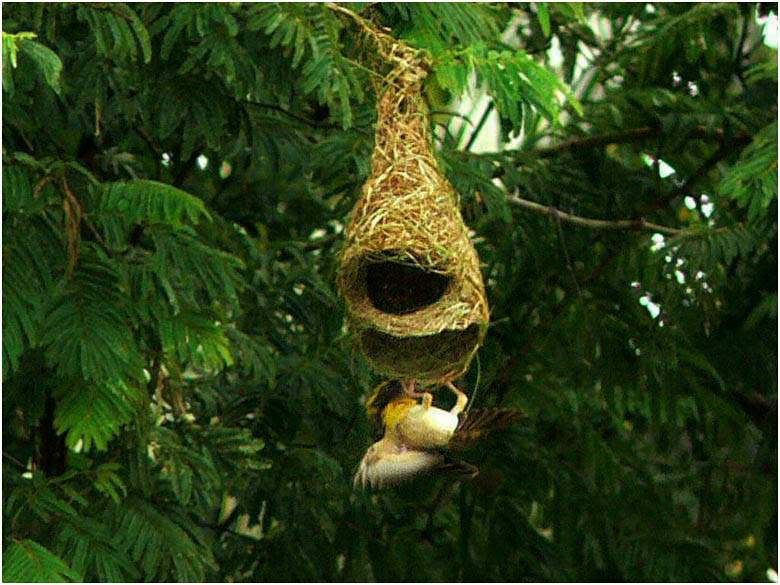 The picture is not upside down, the bird is hanging upside down and weaving defying gravity, clinging on with its tiny claws.
Checking the interior ? Hellow !! How is your home coming up ? You need any help ?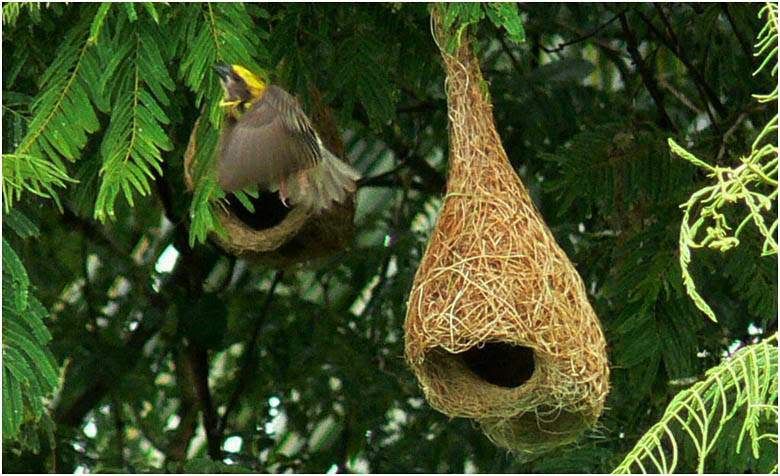 Off to get another twig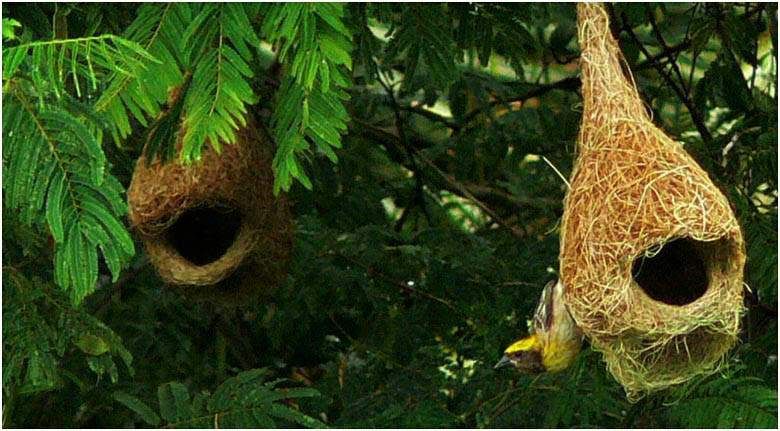 It was getting dark, saw the clouds gathering, It started to pour again. Took a bus and went straight to Reeni's house dripping wet. Her dad pressed my t-shirt dryCherian and Reeni are in chicago.
Had a hot cup of tea.
Thank you Mr. Samuel.
Blunt Knife
WildPIC