AHHHHHHHHHHHH! October sun !, still so harsh and stinging, this is early morning sun here in Chennai, went to Pondy bazaar early in the morning to take some pictures, Special day. Today is Ayudha puja, a festival.
The sun is harsh or soft, we need the sun, This is a tropical country, vibrating with countless forms of species good and bad, the sun takes care of half the disease spreading viruses. So the day begins with sooriya namaskaaram, sun worship, took this picture long ago, man worshiping rising sun on the River Ganges.
Then to the temple to offer prayers, Today is Ayudha pooja, a week long festival, called dasehra in other parts of the country. It is called godess Saraswati pooja as well. She is the godess of knowledge, education or skill. So you worship all the holy scriptures, your books, the tools of your trade. Idea is, knowledge brings prosperity.

Godess Saraswati is somewhere here, I think the one holding veena, a musical instrument., The one pouring gold coins out of the pot is Lakshmi, godess of money or prosperity.


Godess Saraswati is giver of all the knowledge through your teachers. Here my friend Nirmal is teaching a bunch of village kids. Today is Nirmal's birthday, Happy birthday Nirmal !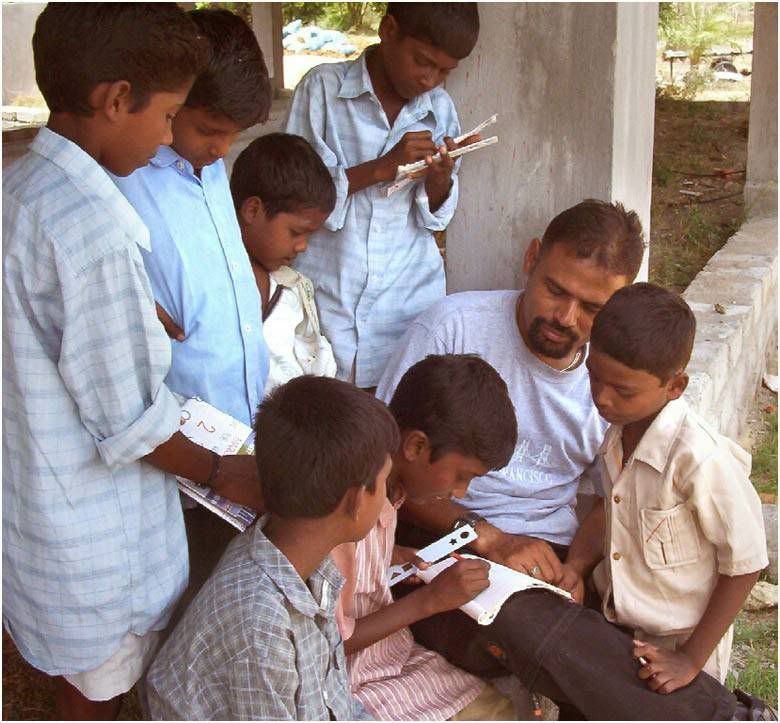 Main source of knowledge is holy scriptures, carefully preserved. This is ancient Tamil scripture written on palm leaves. Source of knowledge like Books, internet, yes pooja is performed on your computer as well. Studios where computer is a source of income. I have seen garlended computers. Red kunkumam on the CPU and monitors.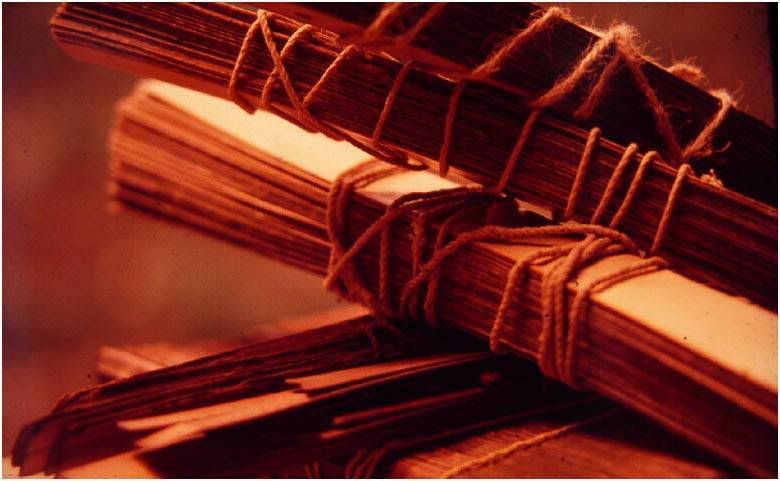 When my computer went kinky, no technician could locate the problem, I was seriously contemplating bringing a faith healer perform a pooja, chanting of mantras and hitting the CPU with a broom. SHHOO SHHOOO BHISHOOOM !!!!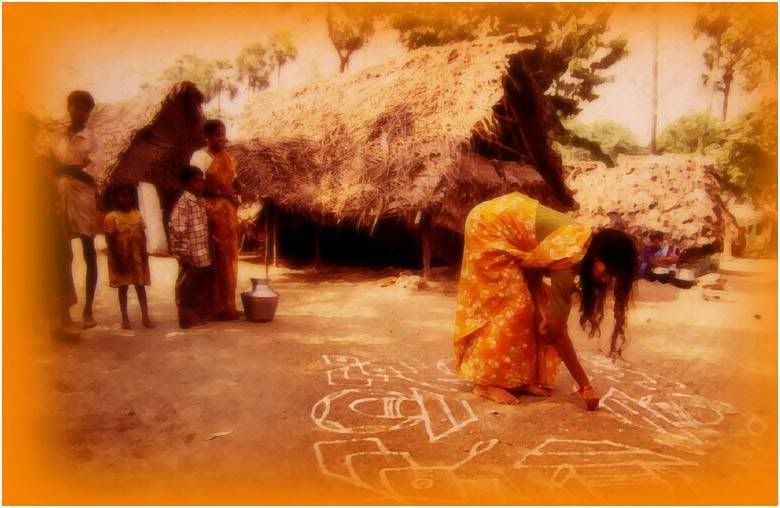 House is washed and decorated, rich or poor, Here, this woman is drawing kolam.
Prayers and pooja on tools of the trade. cameras, sewing machines, taxis, autos all commercial vehicles like trucks buses, bikes motor bikes TV radio, You name it, we worship it.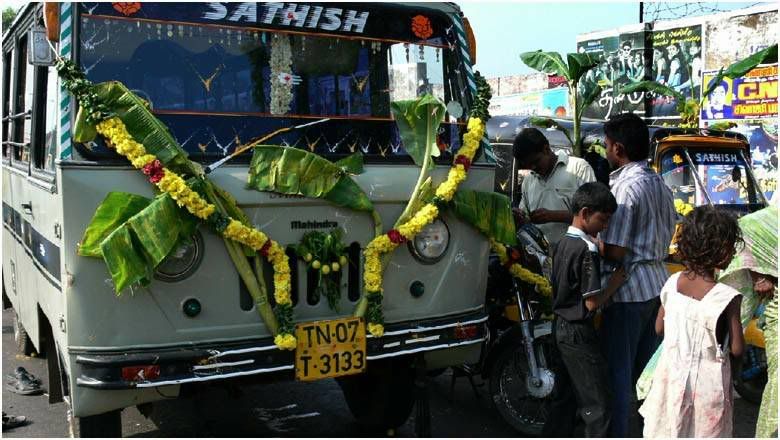 You have to buy these things early in the morning, all the items used in poojas, lots and lots of flowers and other decotation material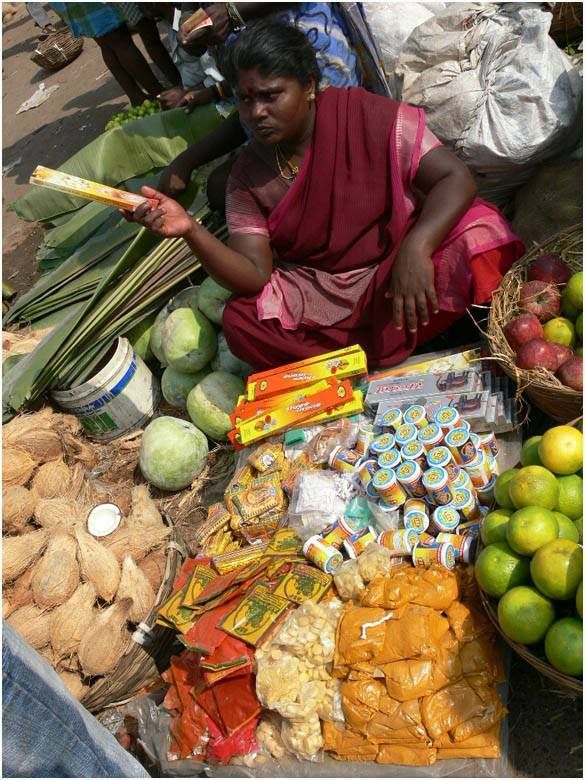 You find pooja material here.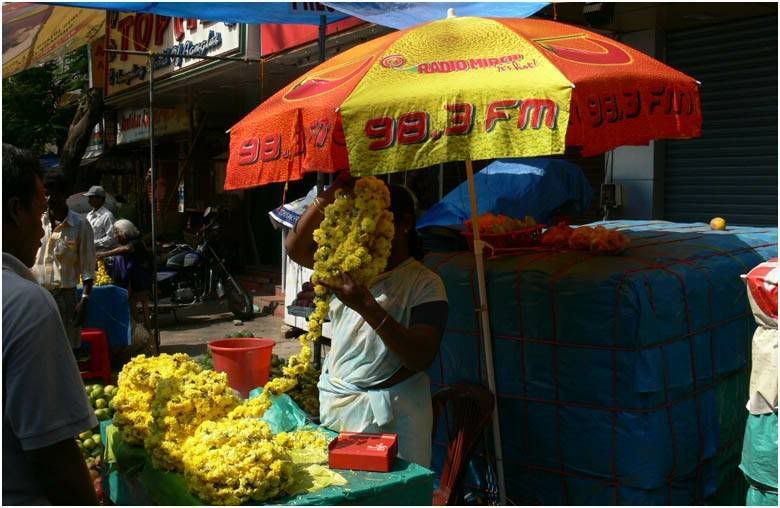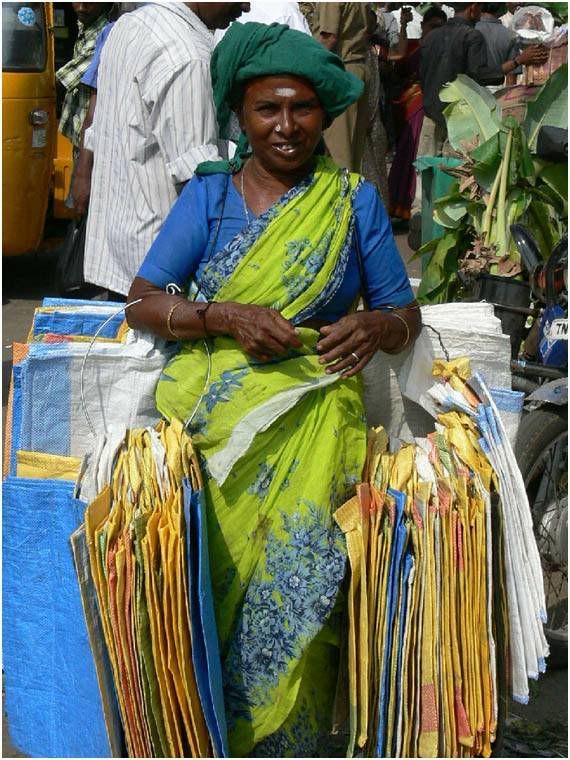 You need bags to put all the things you bought to decorate your house, this sweet lady is selling colourful bags.
What do we eat on this festival ? Well, nothing exotic, can't write a poem on it.
South Indian food is pretty exotic any day.
I was thinking of changing the template today. My next post will have a different template.
HAPPY AYUDHA POOJA to all of you, HAPPY LEARNING, Wish you all the knowledge in the world, and wish your knowledge bring prosperity to you
Love you all.